2022 Best of BBSP
December 28, 2022
Ten of our most popular stories from this year, all of which showcase replicable ways for making bike share better.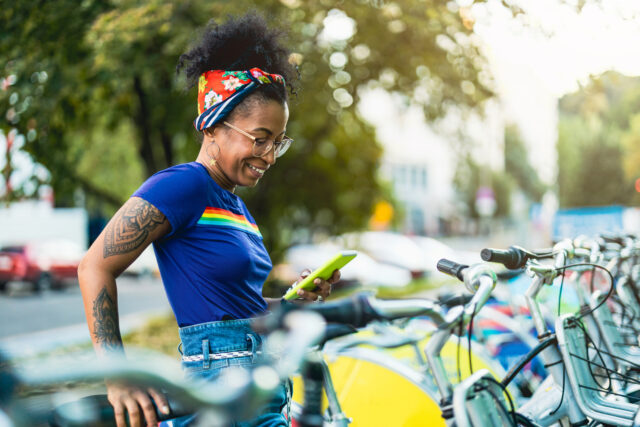 It was another banner year for bike share, with reports from the North American Bike and Scooter Share Association and the National Association of City Transportation Officials both emphasizing shared micromobility's resilience in the face of the pandemic and overall growth, largely due to the uptick in electric bikes. It was a big year for BBSP, too: We helped launch the second cohort of Transportation Justice Fellows and in addition to overseeing the work of our five Living Lab grantees, we awarded $75,000 in mini-grants to 10 incredible projects.
This year, our grantees delivered actionable learnings and had plenty of programs worth replicating. Philadelphia's Wheels to Work program entered its second year and inspired a similar program to launch in Houston. In Detroit, residents made it clear they wanted better alignment between bike share and transit, and MoGo bike share listened by making cash payments even easier and by co-locating more stations with bus stops. Tulsans now have access to equity memberships and thanks to the work of advocates, residents in Belmont Cragin now have bike share.
Our most-read stories of 2022, however, go beyond the work of just our grantees. They highlight innovations in shared micromobility, important research, and the many ways trying something new can make for a more equitable transportation system. Make time to read these ten articles and tune back in next year for more stories celebrating ways to advance equity in bike share.
1. An Adaptive Bike Share Convening
A year ago, MoGo bike share hosted two virtual workshops focused on the disabled community and the way cities, organizations, and advocates can better serve them. This piece summarizes those learnings and includes the full workshop videos.
2. Seattle's Shared Micromobility Evolution
The Emerald City was a pioneer when it came to bike share — here's how its offerings have changed over the years, along with some potent lessons learned along the way.
3. NYC Wants to Get Adaptive Mobility Right
Through partnerships, programming, and new technology, America's biggest shared micromobility market is trying to ensure everyone can access it.
4. Achieving Gender Parity in Bike Share
This piece serves as a primer on why women use our bike share systems less and what can be done to instigate change. Alongside research, we highlight a cool case study from Guadalajara, Mexico.
5. Pittsburgh Is Reimagining Mobility
As the first mobility as a service (MaaS) project of its kind in the U.S., Move PGH is making different forms of shared mobility easily accessible — and car ownership obsolete.
6. Reimagining Bike Share for the Suburbs
Thanks to a first-of-its-kind program, residents in California's San Gabriel Valley can now buy monthly electric bike subscriptions.
7. Portland's Transportation Wallet
What started as a pilot program geared toward alleviating congestion has morphed into an innovative subsidy for the city's low-income residents. Qualifying residents receive a pre-paid card, which can be used on buses, the light rail, Uber and Lyft, or Biketown bike share's fleet of electric bikes.
8. New Homes For Old Bike Share Bikes
What to do with all those old bike share bikes? The international nonprofit World Vision has a history of taking former bike share bikes, refurbishing them, and placing them with communities in need.
9. New Podcast Alert: Arrested Mobility
We're big fans of researcher Charles T. Brown and his podcast, which discusses the connection between mobility and equity, and how the movement of marginalized communities is overly policed.
10. Poor Infrastructure Is Holding Micromobility Back
This piece brings together several new studies highlighting significant barriers to bicycling, including a lack of protected bike lanes, poor bike design, and negative perceptions of bicyclists.
---
The Better Bike Share Partnership is funded by The JPB Foundation as a collaboration between the City of Philadelphia, the National Association of City Transportation Officials (NACTO) and the PeopleForBikes Foundation to build equitable and replicable bike share systems. Follow us on Facebook, Twitter and Instagram or sign up for our weekly newsletter. Got a question or a story idea? Email kiran@peopleforbikes.org.