2021 Best of BBSP
December 21, 2021
Ten of the Better Bike Share Partnership's most popular stories, all geared to creating more equitable shared micromobility systems.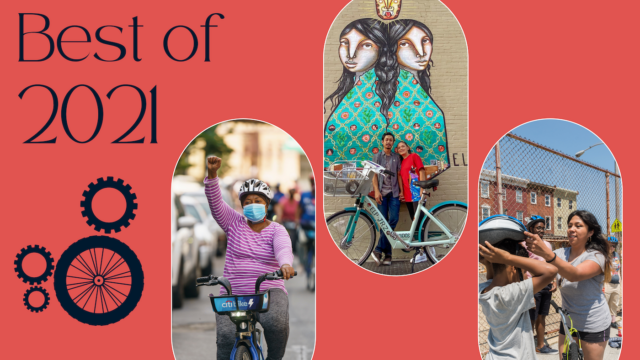 It's been a big year for bike share in general and BBSP in particular. In addition to launching five Living Labs in cities across America, we awarded 12 mini-grants to projects designed to reach and engage traditionally underserved populations through shared micromobility. In March, we also announced our first Transportation Justice cohort and throughout the year, we've been lucky enough to have three of the fellows pen op-eds for us, on advancing equity in bike share, planning's disability blindspot, and the limits of rural mobility.
Readers loved hearing about D.C. initiatives to boost art in the right-of-way, as well as efforts to beautify bike share bikes and stations in Omaha, Nebraska, Columbus, Ohio, and El Paso, Texas. We highlighted sustainable mobility innovations and novel ideas for tackling aggressive climate goals using e-bikes. Throughout the year, we've also interviewed some amazing industry leaders, including Carniesha Kwashie, chief equity and strategy officer with Bicycle Transit Systems, Jodi Godfrey, a researcher focused on hiring and retaining diverse candidates, Angie Schmitt, the author of "Right of Way," and KeAndra Cylear Dodds and Naomi Iwasaki, key players in Los Angeles Metro's office of equity and race.
It was also a big year for bicycle research, with studies that touched on how protected bike lanes are better for bike share, how bike lanes aren't associated with displacement, the benefits of bike share for the environment, and the ways in which disparities in bike share access persist. There were some studies, however, that we'd be remiss not to draw special attention to. Our "Best of 2021" below highlights those stories, alongside others that were either popular with our audience or pieces we consider must-reads. Carve out some time this month to read and reflect on these ten articles—and tune back in next year for more stories celebrating ways to advance equity in bike share.
Lessons For Nailing Community Engagement
Philadelphia's bike share system, Indego, sets the standard when it comes to resident outreach. Here are seven of the organization's top tips for effective public engagement, courtesy of Stephanie Ridgeway, Indego's community coordinator.
Bike Share is a Boon for Public Health
A study out of Colorado State University, led by researcher David Rojas-Rueda, has found that, on average, bike share systems are saving the U.S. healthcare system more than $36 million a year.
Better Bike Policy Can Prevent Deaths
Rojas-Rueda, the same environmental epidemiologist and professor that led the research above, was also behind this study. In it, his team highlights how comprehensive mode shift could prevent more than 15,000 deaths a year—and not just in crashes.
What Do We Mean When We Say "Low-Income?
This term has become something of a catch-all phrase—in this article, we think critically about what we mean when we use it. Our intention with this piece is to start the conversation; we invite you to reflect on the terminology and consider how we might do better.
Biking Where Black
A study from researcher Jesus M. Barajas, Ph.D. and the Equiticity team shows that areas with less bike infrastructure experience disproportionate ticketing, compounding the effects of racially biased policing and transportation policies.
Solar E-Bike Stations Are the Future We Need
This Colorado pilot program is positioning bike share as an even more potent tool in the fight against climate change. As more systems continue to go all-electric, solar-powered charging stations can help make the transition as clean and efficient as possible.
Operationalizing Equity in Scooter and Bike Share
Contractors have a crucial role to play when it comes to ensuring shared micromobility is accessible to everyone. The various efforts being made by Spin and Superpedestrian are highlighted in this piece. 
Lessons from the 2021 SUMC Conference
Every Tuesday this past July, the Shared-Use Mobility Center hosted virtual, themed discussions. Here are 16 high-level learnings we took away from the series, with a particular focus on how we can all organize our work around transportation equity.
Boston's Vision for Equitable Bike Share
By the end of 2021, Bluebikes, Boston's publicly-owned bike share system, will be in every neighborhood in the city and many of its suburbs. The expansion effort is part of "Go Boston 2030," the city's long-term transportation plan.
Where America Fails, So Have We in Bicycling.
A candid conversation with Charles T. Brown, founder and CEO of Equitable Cities and the lead investigator of PeopleForBikes' 2021 report, "Where Do We Go From Here? Breaking Down Barriers to Bicycling in the U.S."
---
Was there a BBSP article you read this year that really resonated? Or is there a topic you'd like us to explore further in 2022? Email kiran@peopleforbikes.org.