Portland's Transportation Wallet
January 4, 2022
What started as a pilot program geared towards alleviating congestion has morphed into an innovative subsidy for the city's low-income residents.
In 2018, the Portland Bureau of Transportation (PBOT) announced a program focused on reducing parking needs in some of the city's most congested neighborhoods. Known as the Transportation Wallet, the initiative encouraged Oregonians living and working in Northwest Portland and the Central Eastside to forgo a parking permit in favor of prepaid cards—funded by permit surcharge fees—for public transit.
In its infancy, the program sparked an innovative idea amongst PBOT officials: What if low-income residents were also offered transportation funds? The organization developed a pilot program and partnered with trusted community organizations in order to reach residents across linguistic, cultural, and economic lines. Through the pilot, people living in affordable housing developments received access to free transit passes and shared micromobility memberships, as well as rideshare and carshare credits.
Since it launched in 2019, Portland State University's (PSU) Transportation Research and Education Center has evaluated the program to determine how participants were using it to get around. Researchers Huijun Tan, Nathan McNeil, John MacArthur, and Kelly Rodgers found the following:
The financial support of this program encouraged some participants to use certain mobility services, including Uber/Lyft, bike share, and e-scooter, for the first time. Still, the majority of participants used the funds for transit.

The program increased access for participants, helping them make more trips and, for some, get to places they otherwise could not have gone.

Transportation fairs, where participants could learn about services and talk to providers, promoted both mode sign-up and mode usage, particularly for new mobility services.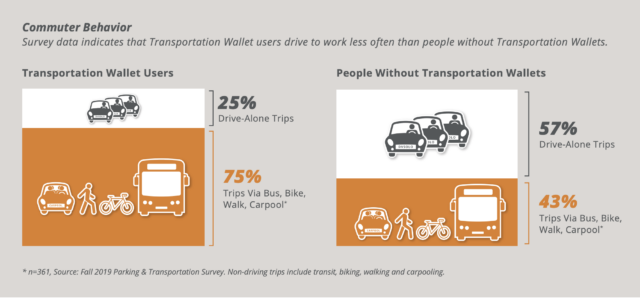 The research showed that the program was effective in providing low-income populations with transportation choices, as well as encouraging the adoption of new mobility options. In particular, survey participants noted that the Transportation Wallet program saved them money and helped alleviate stress surrounding their monthly budgets. Some 71% of those enrolled in the program did not have access to a car. The survey also showed that the program was successful in reaching communities of color (24% of participants were Black, 16% were Latinx, 8% were Asian, and 6% were Native American) and people making under $15,000 a year (almost 75% of participants). 
In November of this year, the Transportation Wallet pilot program was extended. Like cities across America, Portland has grown exponentially more expensive in the last decade and low-income residents have increasingly been pushed further and further away from the city center, where jobs and reliable transportation options are more prevalent. By subsidizing transportation options for historically underserved populations, the Transportation Wallet program has morphed into a rather innovative equity initiative. 
PBOT funds the program using $300,000 annually from city parking revenue and state gas tax and vehicle registration fees. That money pays for 500 people to receive pre-paid cards with $250, which can be used on buses, the light rail, Uber and Lyft, or Biketown bike share's fleet of electric bikes. There are also family options that allow for an extra $25 for up to five family members. Of course, a program like this does little if there isn't adequate transit or shared micromobility options nearby—something the city is trying to simultaneously tackle. 
The Transportation Wallet is just one of the ways PBOT is trying to increase mobility options for low-income residents. Recently, Biketown, which the city operates alongside Lyft, announced that its low-income Biketown For All membership would slash fees from $5/month (plus 5 cents a minute for ride time) to zero. The changes are possible thanks to grant funding from the Portland General Electric (PGE) Drive Change Fund, which supports electric transportation adoption and promotion. That change has led to enrollment in the program more than doubling.
Portland isn't alone when it comes to subsidizing public transportation for certain residents—in fact, students, the elderly, and persons with certain disabilities commonly receive access to subsidized fares. To extend them to low-income individuals is both logical—these are the populations that tend to be without cars and that spend a disproportionate amount of their income on transportation—and a climate win, since more people using transit and shared micromobility only help to bolster those systems.
The concept of Universal Basic Mobility—like a guaranteed basic income, but for transportation—has gained traction in several U.S. cities, including Oakland, Pittsburgh, and Los Angeles. By subsidizing bus rides, e-bikes, and scooters, municipalities are hoping to better connect people to jobs and services, thereby stimulating the economy. The movement positions a minimum level of mobility as the right of every human being, crucial for getting to work, the grocery store, doctor's appointments, or seeing friends. Not only does having that access help improve one's quality of life, but things like free transit and bike share also help create less car-dependent societies, the benefits of which are well-documented. 
As of now, Portland's Transportation Wallet remains a pilot and its future will be determined following an evaluation sometime in 2022. While the program might seem like a small win, for the individuals it serves, it's no doubt life-changing. Here's hoping it's made permanent and other cities follow suit.
---
The Better Bike Share Partnership is funded by The JPB Foundation as a collaboration between the City of Philadelphia, the National Association of City Transportation Officials (NACTO) and the PeopleForBikes Foundation to build equitable and replicable bike share systems. Follow us on Facebook, Twitter and Instagram or sign up for our weekly newsletter. Got a question or a story idea? Email kiran@peopleforbikes.org.