Better Bike Share Partnership Awards $75,000 in Grants
June 7, 2022
These 10 projects will reach and engage traditionally underserved populations through shared micromobility.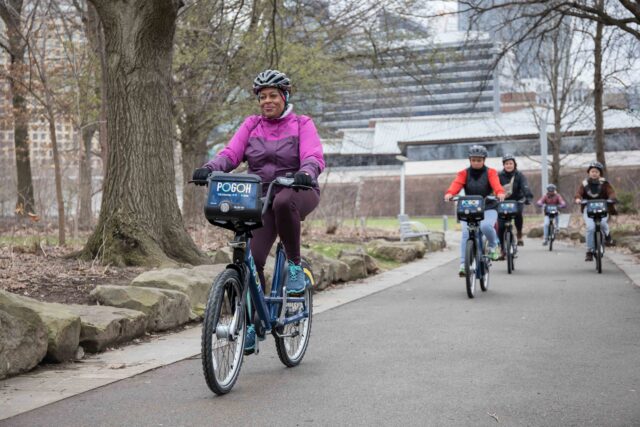 The Better Bike Share Partnership (BBSP) awarded $75,040 in grants to 10 projects that will reach and engage traditionally underserved populations through shared micromobility. This is the seventh round of mini-grant funding the national bicycle advocacy organization PeopleForBikes will administer through its partner role with BBSP.
"Better Bike Share mini-grants allow us to support short-term, impactful projects that directly improve access to shared micromobility for lower-income and/or BIPOC communities," said Tangier Barnes-Wright, senior partnership and program manager at PeopleForBikes and BBSP. "We are inspired by the 2022 grantees and look forward to learning from their projects and sharing lessons broadly across the nation."
The following projects were selected by a grants panel to receive funding: 
Increasing Low-Income and Latinx Ridership on Portland's BIKETOWN | $9,400
Community Cycling Center, Portland, OR
The Community Cycling Center will partner with Andando en Bicicletas y Caminando (ABC) to increase BIKETOWN bike share access through signups and education in low-income communities of color. Over the course of three sessions, 10 neighborhood leaders will be trained on the process of signing up for reduced-fare membership, positioning them as a trusted resource for other community members.
The Go Hub Community Mobility Rituals | $9,000
Equiticity, Chicago, IL
In partnership with Divvy, Superpedestrian and local community-based organizations, Equiticity will host a monthly bike ride and scooter roll. Each ride will have a different theme, socializing participants around the act of mobility and increasing a sense of safety, ownership and autonomy. Depending on the ride, Divvy bikes or Superpedestrian scooters will be provided and participants will learn about each system and its corresponding low-income membership program. 
Golden Rollers: Introduction to BCycle and Micromobility for Older Adults | $5,640
Ghisallo Cycling Initiative, San Antonio, TX
The Golden Rollers program will provide annual bike share memberships, training, guided rides and safety equipment at no cost to 24 seniors and older adults with the aim of increasing ridership. The program will be based out of a senior center adjacent to a BCycle bike share station. This mini-grant will allow interested participants to gain familiarity with the BCycle system and access their fleet of two-wheeled, electric-assist bicycles.
Art, Bikes and Books for All! | $9,500
Arts and Business Council of Greater Nashville, Nashville, TN
The Arts and Business Council of Greater Nashville, the Nashville Public Library and the Music City Dope Pedalers, a majority-BIPOC bike club, will partner to grow the existing Bikes and Books for All program, which makes checking out a BCycle bike as easy as borrowing a book. Funding will help the program expand to more library branches, create bike routes and host a community bike ride with art bikes designed by local artists. 
Blue Bikes Community Liaisons Program | $6,000
Blue Krewe, New Orleans, LA
Blue Bikes will recruit liaisons from the three neighborhoods within its system that rate highest according to the New Orleans' Bike Equity Index, which helps identify underserved, priority areas. The liaisons will participate in monthly training and be compensated for leading one community outreach activity of their choosing each month from June to November. They will also represent Blue Bikes at neighborhood events, sharing information about the system and gathering feedback on how to improve bike share.
Wheels to Work | $7,000
Houston Bike Share, Houston, TX
Modeled on Indego bike share's Wheels to Work program in Philadelphia, this mini-grant will support employment and increase health and mobility through bike share. Houston Bike Share will work directly with New Hope Housing's Harrisburg location to combine services such as resume writing and soft skills classes alongside bike share system training and bike safety. Participants will receive a free BCycle membership and participate in group rides designed to be inclusive.
Building Mobility Justice in Pittsburgh | $9,000
Bike Share Pittsburgh, Pittsburgh, PA
This mini-grant will fund aspects of the POGOH bike share system's equity initiatives, including cash payment administration, support for its $10/year low-income Mobility Justice Pass and its 2022 Community Day event execution. The Community Day will bring families and the neighborhood together around outdoor activities, food, music and a helmet giveaway, raising awareness about POGOH and the Mobility Justice Pass. 
Equity Memberships | $8,500
Tulsa Bike Share/This Machine, Tulsa, OK
This Machine will partner with local nonprofits, including the Tulsa Housing Authority and two prison alternative programs for female drug offenders, to provide a form of reliable transportation to access essential services. The pilot program will offer reduced-priced memberships to folks working with its partner organizations and anyone with a SNAP or SoonerCare card. The goal is to collect comprehensive data before applying for funding to make the equity membership program permanent.
West Dayton Community Outreach | $6,000
Bike Miami Valley, Dayton, OH
The Dayton Bike Share system is expanding by adding hubs in the city's priority areas of West and Northwest Dayton. These geographies were historically redlined and are still today majority Black communities. This mini-grant will fund work on the front end of that expansion, gathering input from residents, providing marketing materials and helmets for the demo days and stipends for door-to-door outreach in the community.
Beautification of Downtown BCycle Station | $5,000
Des Moines Street Collective/Des Moines BCycle, Des Moines, IA
In partnership with ArtForce Iowa, the Des Moines Street Collective hopes to bring refugee, first-generation youth to bike share through the beautification of a downtown BCycle station. Marginalized youth will have a hand in the entire creative process, from the initial brainstorm to the final product. Every youth artist will participate in two group rides, receiving bike-riding lessons, an annual BCycle membership and a helmet and bike lock.
---
The Better Bike Share Partnership is funded by The JPB Foundation as a collaboration between the City of Philadelphia, the National Association of City Transportation Officials (NACTO) and the PeopleForBikes Foundation to build equitable and replicable bike share systems. Follow us on Facebook, Twitter and Instagram or sign up for our weekly newsletter. Got a question or a story idea? Email kiran@peopleforbikes.org.