Oklahomans Now Have Access to Equity Memberships
September 14, 2022
This Machine, Tulsa's bike share system, has launched a pilot program offering reduced-price memberships to low-income residents.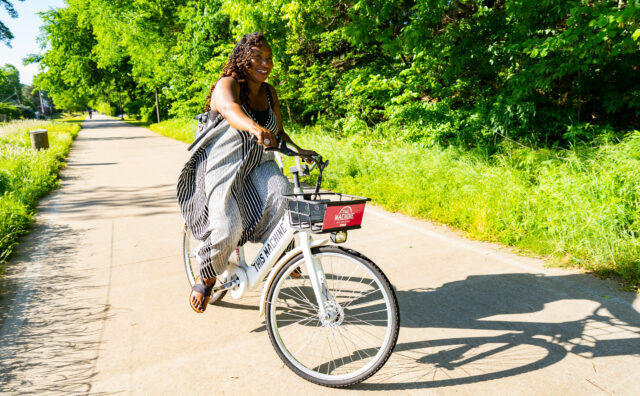 Equity memberships in bike share aren't as widespread as a regular BBSP reader might assume. Although we often highlight low-income programs and other initiatives geared toward historically underserved communities, that's not necessarily the norm. In fact, a quick scan of the new shared micromobility Equity Dashboard — funded by the National Institute for Transportation and Communities (NITC) — shows that just 25 of 239 e-scooter and bike share programs across the United States offer a reduced rate.
While equity isn't a priority for some systems, many would love to do more but are constrained due to funding limitations. This Machine, the bike share system in Tulsa, Oklahoma, launched with the goal of creating an equitable bike share system but hasn't been able to fund a low-income program or secure sponsorship in order to launch one. In June, This Machine was awarded a BBSP mini-grant in order to launch a pilot program offering reduced-priced memberships to folks working with certain partner organizations, as well as anyone with a SNAP or SoonerCare card. The goal is to collect comprehensive data before applying for additional funding to make the equity membership program permanent.
"It's always been part of our model to be for everyone and although our membership options serve a lot of people, we want to serve even more," says Katie Sawicki, This Machine's executive director, noting that about one out of every five people in Tulsa lives in poverty. "The Equity Membership provides that lower price point option."
When This Machine first launched, in 2018, its system footprint was primarily concentrated in the downtown area. Over the years, it's gradually expanded, reaching more businesses and economic centers alongside residential areas with more diverse populations. In 2020 and 2021, BBSP awarded This Machine two separate grants to support its outreach work, first in the Latino community and second in North Tulsa, a historically Black neighborhood and the site of the 1921 Tulsa Race Massacre. This more recent $8,500 grant will subsidize the cost of an annual bike share membership for low-income residents throughout the city.
Typically, an annual This Machine resident would pay $30 for a 30-day pass and $150 for an annual pass. With the Equity Membership, residents only pay $5 for 30 days and are allowed 60 minutes total of riding per day. While all users are required to pay by card and sign up using a phone, residents can pay cash for a prepaid card at most grocery stores in Tulsa and one phone can be used to sign up for up to four bikes. As with the full-price memberships, there are no additional unlock fees and any riding over 60 minutes is charged at $.15 a minute. Signing up for the program is as easy as taking a photo of your SNAP or SoonerCare card and sending an email or uploading it to the This Machine app.
In order to reach more residents and help spread the word about the new pass option, This Machine has partnered with several nonprofit and community-based organizations. Some organizations have shared information about the equity memberships in their newsletters, including Resonance, which works with formerly incarcerated women, Women in Recovery, an outpatient clinic for those facing long prison sentences, and YWCA Tulsa, where the focus has been on providing Afgan refugees with transportation.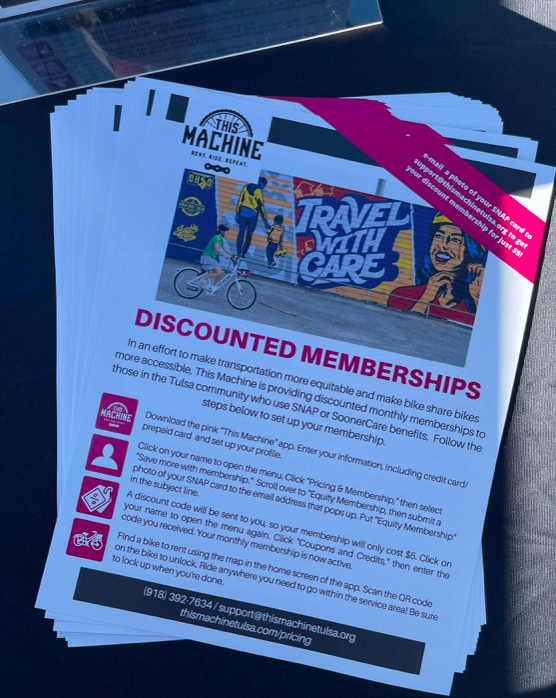 "We share that participants do need SNAP or to be on Medicaid to qualify, although if someone is a non-resident or has extenuating circumstances we can figure it out on a case-by-case basis," says Sawicki, emphasizing that working with social workers can help ensure those in need have access to the program.
This Machine also gave a presentation about the equity memberships and bike share in general to a group of regular volunteers at Legal Aid, which is located a mile away from a downtown transit center and nearby bike share station. The hope is to disseminate information about bike share to Legal Aid clients, emphasizing that it can be used to replace the mile-long walk to and from the Legal Aid office. 
The Tulsa Housing Authority is another partner, who sent postcards about bike share and the equity memberships to its several thousand residents. Another partner, Tulsa CARES, an organization that supports people living with HIV/AIDS, runs a farmer's market where This Machine set up a booth. Similarly, Food on the Move, a roving food pantry, allowed This Machine to maintain a bike share booth alongside folks from the health department handing out free COVID tests.
"Working with partners is so important to help spread the word but it still takes time for information to get disseminated," says Sawicki. "You often have to try a few times before it gets in front of the people who need it."
The program has been live since early August and while only 10 equity memberships have been utilized thus far, Sawicki anticipates that the number will grow as the weather gets nicer and more people gain familiarity with the program. Since it is a pilot, This Machine plans on running it as long as there's funding available, which will likely be around six months. Throughout the pilot, This Machine is collecting data on the equity memberships that it hopes to eventually use to bring on a long-term sponsor. According to Sawicki, the data component is crucial when it comes to convincing funders that might understand the need for transportation amongst underserved communities but have reservations about bike share specifically.
"In just one month, we've already had almost 200 trips taken using the equity membership thus far," says Sawicki. "This is real data and I hope that after a couple more months of people getting to know us we can reach out and get more details on how they've used the bike."
Even at this early stage, several family foundations have expressed interest and encouraged Sawicki to circle back with more data once the pilot is complete. For people outside the bike share industry, an equity program premised on the idea that people will use a bike for transportation can be a hard sell. For those of us that see bike share as an integral part of public transit, however, it's a logical next step when it comes to getting more people riding.
"For the last couple of years, we've been working to make This Machine more accessible no matter your income or zip code," says Sawicki. "You can't do it all at once but you have to try and make it better each day."
---
The Better Bike Share Partnership is funded by The JPB Foundation as a collaboration between the City of Philadelphia, the National Association of City Transportation Officials (NACTO) and the PeopleForBikes Foundation to build equitable and replicable bike share systems. Follow us on Facebook, Twitter and Instagram or sign up for our weekly newsletter. Got a question or a story idea? Email kiran@peopleforbikes.org.