NACTO Releases Shared Micromobility Working Paper
December 9, 2022
The new paper outlines emerging trends in how cities manage micromobility, as well as tactics for making systems more equitable and effective.
Released this month, "Shared Micromobility Permitting, Process, and Participation" is the third 2022 working paper from the National Association of City and Transportation Officials (NACTO). The paper, which was a collaborative effort from NACTO and a select group of folks working in its member cities, identifies emerging trends and best practices in how cities are managing shared micromobility networks.
"With half a billion trips between 2010 and 2021, shared micromobility is an important transportation option for cities," says Cary Bearn, senior program manager at NACTO. "To create a successful, affordable, and dependable shared micromobility program, cities need to actively and thoughtfully manage programs with strong support from city leadership. This working paper highlights trends in regulating shared micromobility from a city perspective and is an important resource for city staff managing, launching, or expanding an equitable shared micromobility program."
The report serves as a shared micromobility roadmap for city officials, emphasizing how thoughtful regulations are essential tools for aligning public benefit and private profit, and how to best select operators based on strategic goals. Building upon NACTO's Guidelines for Regulating Shared Micromobility, the report showcases regulations to organize devices better and offers tactics for making systems work better and for more people. These recommendations range from creating collaborative planning processes to investing in bike infrastructure and piloting low-speed zones for vehicle traffic.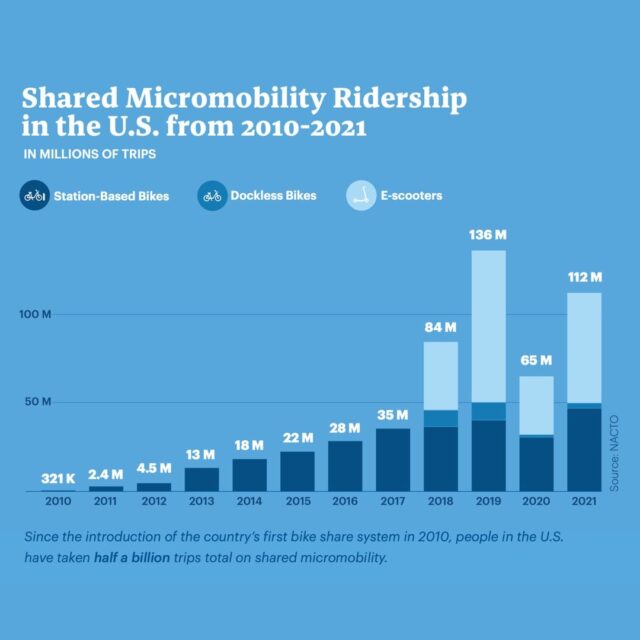 Alongside the working paper, NACTO also released its "2020-2021 Shared Micromobility in the U.S." report, which is chockfull of U.S. data. Since 2010, the organization estimates that at least half a billion trips have been taken on bike and scooter share. Similar to NABSA's 2021 State of the Industry report, NACTO also found a significant uptick in electric bike share rides in the last two years, and that shared micromobility ridership has rebounded to pre-pandemic levels (in contrast to other forms of shared mobility, such as transit, which continue to struggle).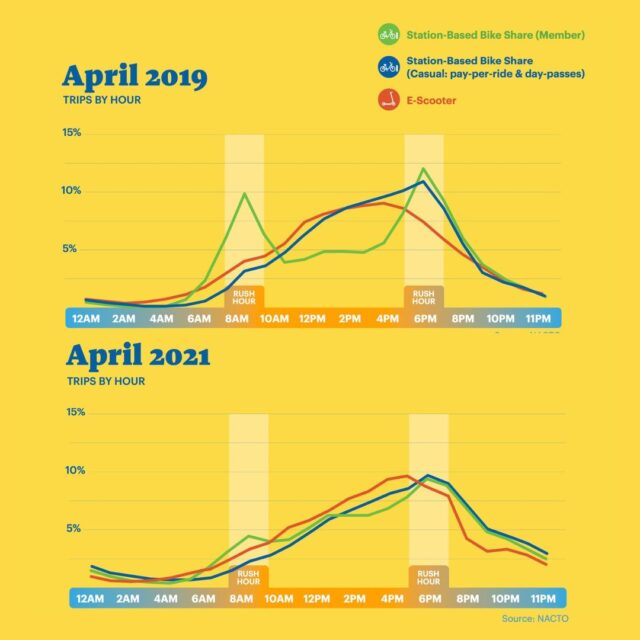 Key findings include changes in trip patterns—when, where, and why people ride—since before the pandemic, as well as a substantial increase in pricing across the board. Station-based bike share systems, which typically operate according to a public-private model, proved more stable than other forms of shared micromobility, something NACTO attributes to strong partnerships between cities and operators, as well as a continued investment from cities.
Notably, in the last two years, NACTO has seen cities expand systems, with many placing a heightened emphasis on targeting previously underserved communities and implementing other equity initiatives. The snapshot pointed to the major U.S. cities of Chicago, New York, Los Angeles, and Boston as places that expanded bike share systems between 2020 and 2021; in Boston, as of last year, more than 80% of households are now within a 10-minute walk of Bluebike stations.
The report also points to some of the key strategies that accompanied these expansions. These include CDOT's efforts to grow Divvy bike share to reach priority areas and to develop a more equitable e-scooter permit program. The e-scooter permit program in particular ranks permit applications on things like equitable hiring, training, outreach plans, and the ability to serve those with disabilities and additional economic, health, or social barriers. In Minneapolis, the city started requiring operators to deploy a third of their fleet to low-income communities, and to provide a reduced fare option (it also started tracking compliance to increase transparency and accountability).
NACTO's shared micromobility working paper has an entire section dedicated to the ways cities can best support systems. Chief among the recommendations is maintaining a robust community engagement strategy, complete with a collaborative planning process, on-the-ground engagement teams, and strong partnerships. Another major recommendation is investing in safer streets by redesigning infrastructure, reducing speed limits, and building more protected bikeways.  
"Well-designed micromobility programs mean safer, more sustainable, and resilient cities," said Corinne Kisner, executive director of NACTO, speaking with Mass Transit. "By redesigning streets, lowering speeds, and prioritizing bikeway projects, local leaders can ensure the bike and scooter boom continues to gain momentum, connecting people to the opportunities in their cities."
Taken altogether, both NACTO reports speak to how shared micromobility is integral to millions of Americans and our city transportation systems. Not only has it proven resilient through the pandemic but in the face of the mounting climate crisis, it's only going to become more necessary to maintain our current infrastructure and expand into new markets. The working paper, in particular, can help cities do so in a more equitable and efficient way. 
---
The Better Bike Share Partnership is funded by The JPB Foundation as a collaboration between the City of Philadelphia, the National Association of City Transportation Officials (NACTO) and the PeopleForBikes Foundation to build equitable and replicable bike share systems. Follow us on Facebook, Twitter and Instagram or sign up for our weekly newsletter. Got a question or a story idea? Email kiran@peopleforbikes.org.