Reimagining Bike Share for the Suburbs
November 4, 2022
Thanks to a first-of-its-kind program, residents in California's San Gabriel Valley can now buy monthly electric bike subscriptions.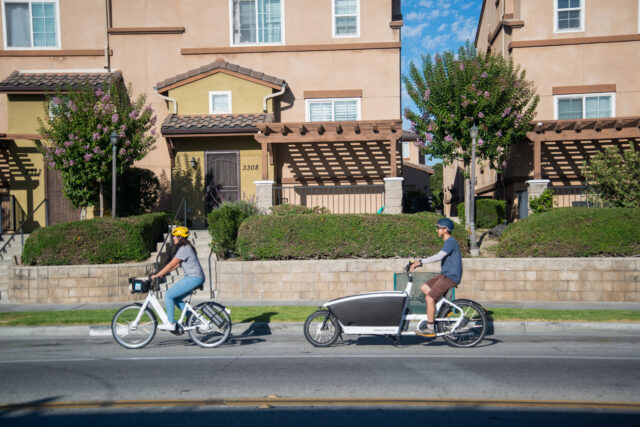 Traditional bike share — that is, docked systems where users pay a fee for a certain amount of ride time — don't work for all municipalities or all individuals. There are obvious reasons for this, such as the fact that many systems don't accommodate adaptive riders or that the needs of a rural area differ substantially from that of a city. We know that cost, bike laws, and poor infrastructure can also serve as barriers to adoption and that for women, in particular, bike share can be difficult to use due to the design of the bikes and the inability to carry goods or trip chain. Plus, when you're trying to serve a large area with limited resources, a station-based model inevitably leaves folks out.
In the San Gabriel Valley, California, a sprawling area east of Los Angeles with more than thirty cities, a more traditional bike share system, operated by Gotcha, was launched just before the pandemic. When Gotcha was acquired by Bolt, it essentially ceased to exist, and the San Gabriel Valley Council of Governments was forced to rethink the concept. ActiveSGV, a non-profit focused on creating a more sustainable, equitable, and livable San Gabriel Valley, collaborated with the council on what a new bike share system could look like in the region.
"We said, let's reimagine bike share for the San Gabriel Valley, which is very spread out," says Jose Jimenez, education director at ActiveSGV. "We wanted to take a new approach since we're not centralized and it's not downtown — we were in talks to see if we could reimagine it to be a little bit more of a long-term bike share, something that would actually provide people with bicycles for them to use as needed."
After more than a year of planning and considering its various options, the Council of Governments ultimately chose ActiveSGV to operate the new GoSGV bike share system. On September 29, GoSGV launched 828 electric bikes and 12 electric cargo bikes, becoming the first U.S. program of its kind to employ a monthly subscription model for bike share (other similar programs exist in Europe and from private companies). With the new system, residents are able to check out a single-person bike for a month at a time and a cargo bike for a two-month period. 
The San Gabriel Valley Council of Governments received funding from the State Active Transportation Program (ATP) and purchased the bikes outright, choosing BCycle as its e-bike supplier and Urban Arrow for the cargo e-bikes. Under the new system, any resident of the San Gabriel Valley is able to sign up on the GoSGV website and schedule a time for delivery or pick-up at ActiveSGV's headquarters in El Monte. Every bike handoff is done by a League Certified Instructor and includes a 30-minute tutorial where users are given a lock and a helmet and walked through the specifics of their chosen bike with personalized instructions.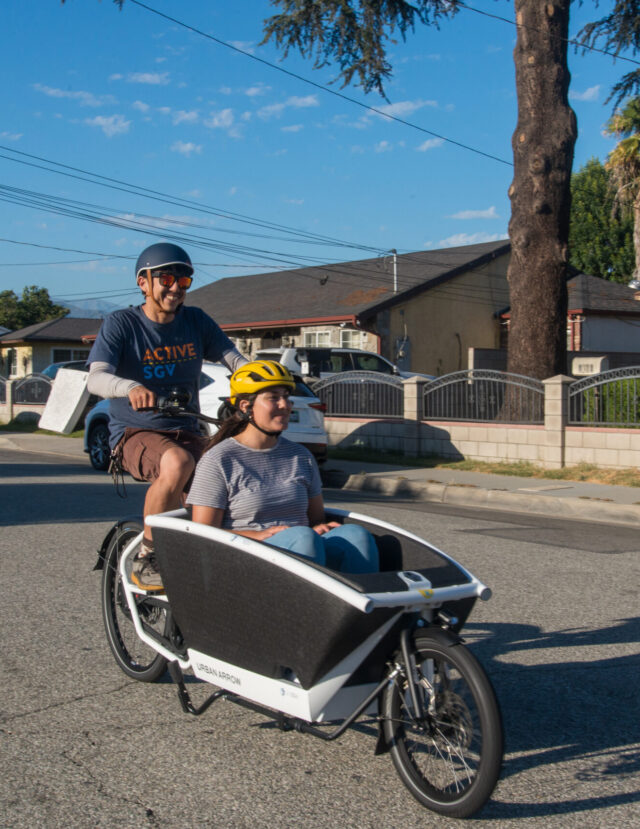 For those that need more in-depth instruction, ActiveSGV hosts monthly bike education classes and group rides, allowing folks to check out the e-bikes and get comfortable with them. All of ActiveSGV's staff is bilingual and Spanish instruction is available if needed, with most materials translated into Spanish, Vietnamese, and Mandarin. Instructors focus on bike safety and the rules of the road.
"With the San Gabriel Valley being so many different cities, and unincorporated L.A., a lot of the policies and laws are not exactly aligned," says Jimenez, noting that the legality of sidewalk riding changes from city to city. "So we try to give our community as much information as possible."
Equity is at the heart of ActiveSGV's mission and as such, the organization has a goal of at least 50% of its participants coming from traditionally disadvantaged communities. Naturally, GoSGV offers income-qualified price points: While the standard bikes are available for rent for $69/month, for low-income residents the cost is slashed to $29/month. Jimenez acknowledges that the required deposit remains a limiting factor for many low-income residents — for a standard e-bike a $250 deposit is required ($125 for low-income participants) and for a cargo bike it's $500 (making the low-income deposit an unaffordable $250). Thus far, income-qualifying residents have only opted to check out the BCycle e-bikes. 
"We're working with our community and trying to figure out what's acceptable for them or what they can do," says Jimenez. "We're trying not to burden them as much as we can."
While grant funding was used to launch the GoSGV system, it's maintained by ActiveSGV, and as such, operating expenses and staff time come out of the organization's annual budget. Because of this, outreach thus far has been minimal — it's something Jimenez hopes to now be able to focus on post-launch. ActiveSGV already does a lot of community outreach, events, and tabling, but the eventual plan is to step up media efforts with billboards, social media campaigns, and ads in the local paper. Currently, there are 50 bikes out in the community and there's a waiting list for the cargo bikes, which parents are primarily using to transport their children to and from school. 
All users who sign-up for GoSGV fill out a quick survey at the beginning and an exit survey once they return the bike. The Southern California Association of Governors (SCAG), the nation's largest metropolitan planning organization, is also planning on evaluating the program and its outcomes as a whole. It seems likely that once people take part in the system — using the e-bikes for months at a time to run groceries, commute to work, and visit friends — they'll want to purchase one of their own. 
When Jimenez first started with ActiveSGV, in 2016, he was tasked with running one of the country's first e-bike rebate programs, which gave residents $750 towards the purchase of an e-bike. Back then, electric bikes were a rarity and most folks didn't have a lot of opportunities to experience them. Now, as more and more incentive programs continue to pop up, bike share systems with e-bikes are well-positioned to help facilitate a big change in the way people move. For Jimenez, the goal is more immediate, and wouldn't have been possible without putting residents in the San Gabriel Valley first.
"A docking system doesn't work great in suburban areas and spread out communities," says Jimenez. "Our goal was to reimagine bike share and make some small edits that would suit our community members better."
---
The Better Bike Share Partnership is funded by The JPB Foundation as a collaboration between the City of Philadelphia, the National Association of City Transportation Officials (NACTO) and the PeopleForBikes Foundation to build equitable and replicable bike share systems. Follow us on Facebook, Twitter and Instagram or sign up for our weekly newsletter. Got a question or a story idea? Email kiran@peopleforbikes.org.