MoGo Adjusts to Better Serve Cash-Paying Customers
December 16, 2022
In Detroit, a new partnership with DivDat, a bill payment kiosk, is helping break down barriers for bike share users.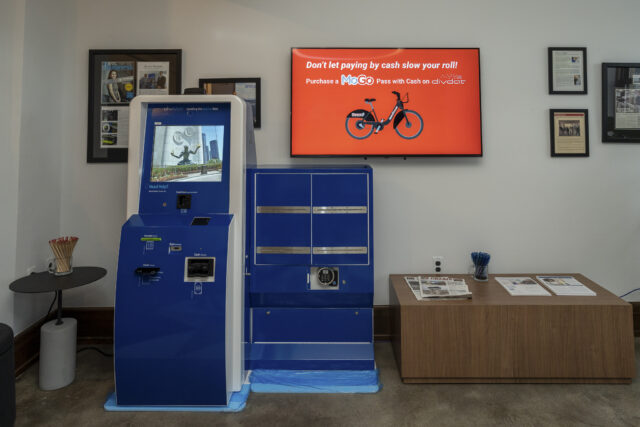 If you're a resident of Detroit, Michigan, you might be used to seeing DivDat machines around town, in and around government buildings, grocery stores, gas stations, and even some stadiums. Marketed as an "inclusive way for everyone to pay their bills," residents can deposit cash into the machines to pay for everything from their electric bill to their property tax to a court fee. As of last month, they can also use it to pay for MoGo bike share.
In May, as part of its BBSP Living Lab work, MoGo conducted a survey in partnership with Wayne State University to gauge transit riders' travel habits and determine the reasons they were (or weren't) using buses to connect to bikes and vice versa. Many respondents spoke about how they frequently pay for the bus in cash, making it clear that for bike share to truly integrate with transit, MoGo needed to do better when it came to cash payment accessibility. Plus, research has shown that cashless fare payment has a slew of equity issues. 
For users that wanted to pay in cash, MoGo was already using CashApp. However, program manager Jacob Graham thought DivDat might be a welcome addition. Across all channels, bill payments paid on DivDat's payment network feature real-time automated posting to accurate customer-specific accounts, reducing the need for manual intervention. Graham reached out to DivDat and was pleasantly surprised by the quick response. 
"I think having done our research and having a real goal in mind around getting more people to use bike share for transportation really meant something to them," says Graham, noting that utility companies and government agencies tend to have a different agenda. "DivDat probably doesn't see a lot of other companies coming to them with a mission."
Seeing that there was important equity work at stake, DivDat worked with MoGo, a nonprofit, to provide an affordable service. After six months of work — throughout which developers at PBSC (MoGo's manufacturer and asset provider, now a subsidiary of Lyft) worked with those at DivDat to connect each system's backend — the collaboration launched on November 21. Now, when riders go to any DivDat kiosk, MoGo is visible on the home screen, allowing them to easily log in to their account and pay for their membership with cash.
While DivDat kiosks are available throughout metro Detroit, MoGo's service area includes some suburban zones where they're not. For that reason, MoGo has decided to continue to use CashApp, which isn't a big lift to operate and is similar to DivDat in how it's reconciled.
"While there are DivDat kiosks close, we want to make sure that we're not disenfranchising anyone in those cities," says Graham. "As long as we have CashApp users, we'll keep CashApp as an option."
Winter isn't typically a time when MoGo sees new sign-ups or high ridership, so it's hard to gauge how the program has been received (there haven't been any complaints thus far). Come spring and summer, Graham hopes to work together with DivDat to help get the word out. Both DivDat and MoGo have ambassador programs and it only makes sense to promote the programs in unison, while also educating people about MoGo's low-income Access program and any other applicable opportunities.
"As a city service, we consider ourselves a regional transportation entity," says Graham "We see a lot of value in working with others and we're really excited to join a platform that other providers in the region are already using in order to better serve our customers and riders. MoGo doesn't want a method of payment to get in the way of someone being able to ride a bike."
---
The Better Bike Share Partnership is funded by The JPB Foundation as a collaboration between the City of Philadelphia, the National Association of City Transportation Officials (NACTO) and the PeopleForBikes Foundation to build equitable and replicable bike share systems. Follow us on Facebook, Twitter and Instagram or sign up for our weekly newsletter. Got a question or a story idea? Email kiran@peopleforbikes.org.