How A Nonprofit Built Buy-In Around Bike Share
April 6, 2022
In Belmont Cragin, the Northwest Center played an integral role in bringing Divvy stations to the Chicago neighborhood and ensuring residents use them.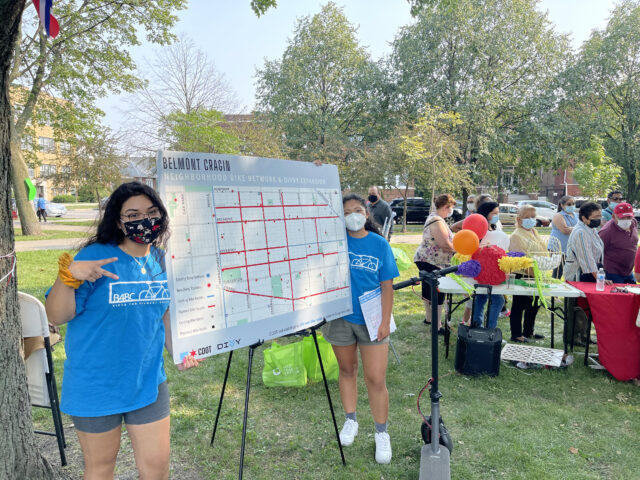 Just a year ago, the neighborhood of Belmont Cragin was largely considered a transportation desert. Not only was it lacking in bicycle infrastructure, but its transit options are unreliable, slow, and scarce, with no trains or subways directly serving the area. And until August 2021, Belmont Cragin didn't have a single bike share station.
The process of bringing bike share to the neighborhood was mostly a grassroots effort, led by a dedicated group of teenagers that make up the Northwest Center Youth Leadership Council. In 2018, the group identified the lack of public transportation as the number one issue impacting their lives. 
"After our young people expressed their issues, we quickly sprung into action reaching out to those in power," says Jeremy Cuebas, youth organizer at the Northwest Center. Before starting focus groups or pursuing any sort of agenda, the Northwest Center level set with officials from the Chicago Department of Transportation (CDOT), which owns Divvy Bikes, and Lyft, the system's operator, outlining a partnership that would help bring bikes to Belmont Cragin. "We set expectations and got on the same page — accountability is big to us, and we expressed that we needed them to be accountable with meetings and the partnership."
After that initial meeting, the Northwest Center began facilitating conversations with stakeholders — everyone from youth to older adults to small businesses — in the Belmont Cragin community. Cuebas estimates that more than 250 different conversations were had, just listening to residents and taking in their concerns about biking. The common theme was a lack of bicycle infrastructure and bike share. Most of these conversations were had during the height of the pandemic, around the same time the Northwest Center received a BBSP Living Lab grant to support its work. 
The Northwest Center and its youth began hosting bike rides, specifically inviting elected local and state officials to the neighborhood. Eventually, all of that lobbying paid off, with CDOT announcing 17-miles of bike lanes were to be built in Belmont Cragin, alongside 25-to-30 Divvy bike share stations. Once the new stations and bike lanes were announced, the young leaders played an integral role in the planning and placement process, as well as in engaging neighbors, family, and friends around the new infrastructure. When the last of the bike lanes were installed in October 2021, alongside more Divvy stations, Belmont Cragin residents truly felt that both were for them.
To celebrate the new infrastructure, the Northwest Center partnered with CDOT and the local Alderman's office to host a ribbon cutting event, complete with a plant giveaway. Members from the youth council and staff were also on the ground with iPads, signing people up for Divvy For Everyone memberships. These typically cost $5 a year for qualifying low-income riders but the organization has been able to offer them for free thanks to its BBSP Living Lab funding.
"To date, we've purchased over 2,500 Divvy for Everyone codes," says Cuebas, explaining that in addition to announcing that folks could come to the center's office to receive a code, staff also canvassed at Steinmetz High School and partnered with the leader of the Facebook group Belmont Cragin United, which has some 25,000 members. "Once we left Steinmetz, we also gave the head counselor codes to give out. It's easier for us to partner with others and just give stakeholders codes — that way they naturally get out into the community."
Last year, the Northwest Center also partnered with the Northwest Side Community Development Corporation (which separately funded 45 neighborhood-branded bike racks), in order to host a ride that showcased where the new bike lanes would go and the small businesses along them. Another ride event, "Bikes for Belmont Cragin Bright Lights," supplied participants with free bike lights and offered a communal atmosphere to help people feel more comfortable bicycling at night.
"We did those rides on streets where the bike lanes were going to come but hadn't yet," says Cuebas. "It helped people know what to expect and shed light on locally-owned businesses."
These efforts all resulted in Belmont Cragin seeing some of the highest ridership numbers in the Divvy Phase II expansion zone, which basically encompasses all 2021 investments to the Divvy system. That area covers about 38-square-miles and touched 19 separate communities and hundreds of thousands of people; Belmont Cragin was one of seven neighborhoods that were fully encompassed by the expansion, as opposed to just having a portion of the community area get new stations.
Divvy data from 2021 showed that 21% of all Phase II trips occurred in Belmont Cragin, which is 50% more trips per capita than all of the other peer expansion areas. Belmont Cragin saw more than 16,000 trips, with an average of 105 daily trips, resulting in the most uptick in Divvy ridership from all the Phase II areas. In a somewhat unusual pattern, the majority of Divvy trips — around 60% — started and ended in Belmont Cragin, showing that many residents were using bike share to travel around the neighborhood to community centers, schools, and other essential services. This utilitarian use of bicycles jives with the Northwest Center's messaging, which has consistently emphasized bike share as a mobility tool for residents to be able to get around their own neighborhood. 
"When government agencies work side by side with communities, we see the deepest and most lasting impact," says CDOT Commissioner Gia Biagi. "This is true in Belmont Cragin, where Divvy ridership has steadily grown due to an expansion in the bike share program that was carefully and thoughtfully planned in partnership with the Northwest Center and the Belmont Cragin Youth Council. We are grateful for their expertise and enthusiasm."
Belmont Cragin's Divvy ridership peaked in October after the last of the bike lanes and the 2021 Divvy stations were installed. Chicago winters are notoriously brutal and ridership, alongside the Northwest Center's community engagement efforts, understandably tapered off soon after. Over the winter, the center conducted a neighborhood survey of some 300 residents to determine how familiar they were with bike share and how comfortable they felt riding in Belmont Cragin.
"The vast majority of people said that they were comfortable riding in Belmont Cragin, just with stipulations," says Trina Grogan, the Northwest Center's data and evaluation manager, noting that 30% preferred marked bike lanes and 28% wanted physical separation from cars. "It turned out that there were still a lot of people unfamiliar with Divvy and 10% of riders said they didn't know how to ride a bike."
This signals that comfort is less of a barrier than a lack of knowledge about the new bike share stations, as well as the ability to ride at all. In 2022, the Northwest Center plans to act on this data to expand education and outreach, hosting more basic bicycling workshops and doubling down its efforts to promote and create access to bike share. In the works is a "How to Ride a Bike" event that will be held in partnership with the Chicago SAFE Ambassadors three weeks before the May 15 Bikes for Belmont Cragin Ride, an event that makes Divvy bikes available to those who need them and brings attention to active transportation in the neighborhood. 
Educational classes with the youth development organization Bikes N' Roses are on the docket once again, as are more activation events to highlight new stations and the Divvy for Everyone program. However, the work Cuebas remains most excited about is empowering local residents to speak up, organize, and push for their own transportation needs.
"One thing we really want to do this year is move beyond the youth council to include the youth team as a whole," says Cuebas. "That way we can find new ways to engage residents and incorporate feedback. The more input we get, the better."
---
The Better Bike Share Partnership is funded by The JPB Foundation as a collaboration between the City of Philadelphia, the National Association of City Transportation Officials (NACTO) and the PeopleForBikes Foundation to build equitable and replicable bike share systems. Follow us on Facebook, Twitter and Instagram or sign up for our weekly newsletter. Got a question or a story idea? Email kiran@peopleforbikes.org.