NABSA's 2021 State of the Industry Report
August 5, 2022
The only report of its kind for North America tracks ridership levels, demographic data, and other trends in shared micromobility.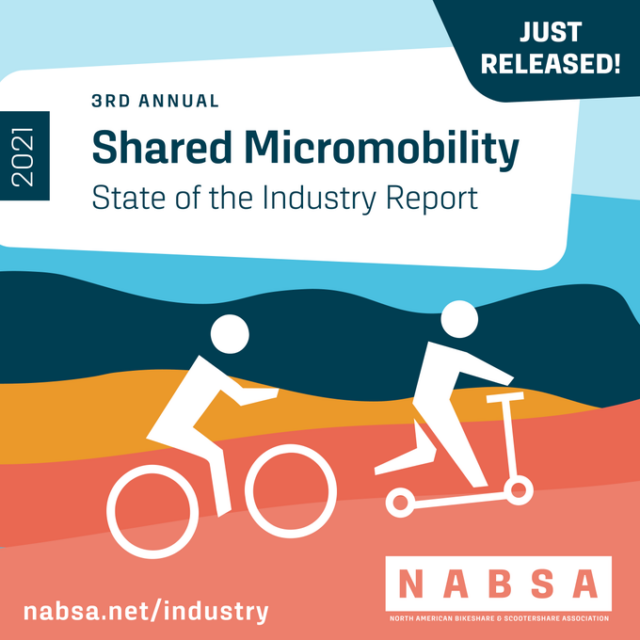 The North American Bikeshare and Scootershare Association's (NABSA) 2021 State of the Industry Report has arrived. Now in its third year, this year's report continues tracking ridership levels, demographic data, and other trends through the COVID-19 pandemic. Once again, NABSA worked with Toole Design and the University of California Berkeley Transportation Sustainability Research Center (TSRC) to help develop the report, using a mix of survey results, statistics gathered from performance reports released by shared micromobility systems, and data from the General Bikeshare Feed Specification (GBFS), the open data standard for bike share.
This State of the Industry Report speaks to the general resilience of shared micromobility in the face of global upheaval. Plus, it continues to follow the expansion and popularity of electric shared micromobility. New this year is a policy section and an expanded section on the growing trend of transit integration within shared micromobility. Additional reported metrics include country-by-country breakdowns of ridership trends and vehicle types, mode shift, rider representation, economic impacts, and much more.
In 2021, more than 128 million shared micromobility trips were taken across the U.S., Mexico, and Canada (while higher than 2020 numbers, ridership remains below pre-pandemic levels). What's more, there are currently systems in 298 cities and some 232,000 vehicles in operation — an uptick from 2019 levels on both accounts. What's more, e-bikes are now present in more than 50% of North American cities, which is a 6% increase from 2019. Accordingly, the number of trips taken on e-bikes shot up from 9.9 million to 18.8 million, with rides on e-bikes coming in at 36% more than pedal bikes.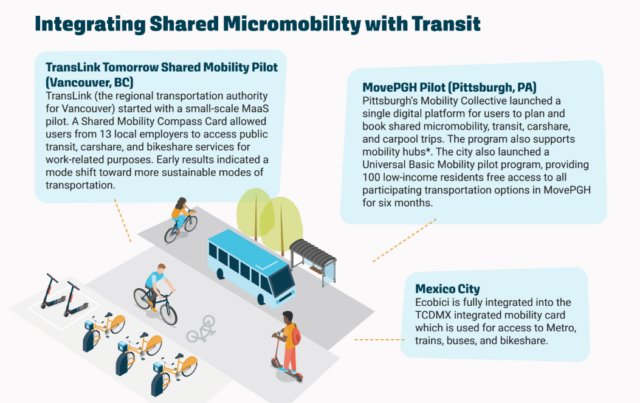 In the policy section, it's clear that shared micromobility plays a key role in delivering climate, equity, health, transportation, and other public benefits. Shared micromobility employs upwards of 9,000 people in North America and has a positive impact on the economy through things like restaurant spending and public health savings. By replacing short car trips, riders gained an additional 15.5 million hours of physical activity. The environmental benefits are also impressive: shared micromobility contributed to an offset of 54 million pounds of CO₂ emissions by replacing auto trips. 
When it comes to codifying shared micromobility in the right-of-way, bike share is almost universally codified in Canada and the U.S. while scooter share still has a ways to go. Approximately 50% of agencies had to change their regulations to accommodate e-bikes while 80% of agencies had to adjust regulations to allow for e-scooters.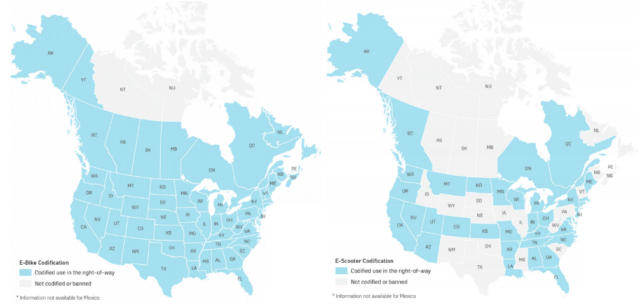 Importantly, 63% of riders stated that they used shared micromobility to connect to transit and 18% of trips overall were to connect to transit. The data shows that transit agencies are also playing an active role in shared micromobility, with 54% involved in shared micromobility station/hub planning, 29% supporting grant writing/funding applications, and 19% providing direct funding support. Some of the ways transit agencies are integrating with shared micromobility include:
37% co-market or co-promote shared micromobility

35% receive information through data sharing agreements

26% offer in-app trip planning

10% offer bundled transit and shared micromobility passes

10% offer bundled transit and shared micromobility payment

8% provide discounts when connecting with transit

One of the most important parts of the State of the Industry report is the section showcasing ridership, which identifies who's under-represented and over-represented in shared micromobility using demographic data. In 2021, the following trends were noted:
Income:

the highest income earners were highly over-represented; the lowest earners were also slightly over-represented; low-to-middle incomes were the most under-represented.

Age:

the 25-44 year age bracket continued to be over-represented; the 18-24 year age bracket was also slightly over-represented; older adults were under-represented.

Race:

People of Color were much closer to being representative in 2021 than in previous years; however white populations were still over-represented.

Gender:

female participation continued to be under-represented.

Encouragingly, there was a significant increase in the percentage of bike share and e-scooter systems offering equity programs. Plus, agencies and operators reported increased participation in NABSA and BBSP's Workforce Diversity Toolkit initiatives. An impressive 92% of systems offer discount programs for low-income and other qualified individuals (averaging out to more than $100 in savings per person per year). Additionally, 85% of systems have alternative payment options, 79% maintain education and outreach programs, 75% have geographic distribution policies, 75% practice equitable hiring, and 21% offer adaptive vehicles. 
There's a ton of other valuable information in the report, which NABSA will be discussing in more depth during an August 16th webinar (a Spanish translation will also be available). Join NABSA's Executive Director Sam Herr, Toole Design's Adrian Witte, and Professor Susan Shaheen, Ph.D. and Elliot Martin, Ph.D. from TSRC for an hour-long session highlighting what's new, impactful statistics, and the methodology used to compile the report. 
NABSA also recently announced speakers for its annual conference, taking place October 25-27 in Guadalajara, Mexico. The three-day affair will bring the industry together in person for the first time since 2019 and features four mobile workshops, breakout sessions, the annual NABSA meeting, and plenty of opportunities to socialize with the who's who of North American shared micromobility. There will also be a round table discussion featuring the 2021 State of the Industry report. We hope to see you there.
---
The Better Bike Share Partnership is funded by The JPB Foundation as a collaboration between the City of Philadelphia, the National Association of City Transportation Officials (NACTO) and the PeopleForBikes Foundation to build equitable and replicable bike share systems. Follow us on Facebook, Twitter and Instagram or sign up for our weekly newsletter. Got a question or a story idea? Email kiran@peopleforbikes.org.