What 2019 Revealed About Bike Share Equity: A Year-End Review
January 3, 2020
Better Bike Share Partnership has grown alongside our partners, supporters, and bike share advocates. For the fifth year in a row, we're excited to share the triumphs of bike share equity advancements that took place in 2019.  Let's take a trip down memory lane to see what happened last year, plus what you can look forward to from BBSP this year!
Shared micromobility continues to evolve
In 2019, The National Association of City Transportation Officials (NACTO) released a report that showed scooters accounted for 38.5 million shared micromobility trips — out of 84 million total — taken in the US in 2018. With 2019 seeing a skyrocketing increase in scooter share's popularity, that number stands to be even higher this year. 
Tamika Butler highlighted the promising aspect of scooters, noting that preliminary research has shown overall ridership is up, even among low-income people and women. 
Portland, OR's Bureau of Transportation (PBOT) evaluated scooter successes and growth areas and found that the new mode was favored by its residents. Keeping equity in mind, Portland prioritized providing accessible options for those unable to use a traditional e-scooter model. Additionally, PBOT required scooter companies to deploy to its underserved areas.
In Austin, B-cycle's executive director made the decision to partner with OjO rideshare company to roll out 100 sturdy shared-use scooters made accessible for differing ages, body types, and physical abilities. 
The North American Bikeshare Association (NABSA) also joined the conversation and shared e-scooter safety principles and resources to help thwart the rising injury rates associated with scooters. It offers information to encourage safety as shared e-scooters are piloted and adopted in communities across North America. 
On-the-ground connection and outreach still matters
In order to give everyone the same opportunities to ride, Basalt, Colorado's bike share system, WE-cycle, provided outreach to the local Spanish-speaking community with assistance from a BBSP mini-grant. For starters, all Movimiento en Bici staff are bilingual in English and Spanish. The operator also offered classes for adults who either don't know how to ride or need a refresher course. 
Pittsburgh's Healthy Ride bike share system's outreach and engagement methods included augmenting the ambassador program, working on team-building across all levels of internal positions, and coordinating Instagram takeovers.
A unique outreach approach from Ohio, Cincinnati's Red Bike bike share system involved a partnership with a local market, Findlay Market. The partnership sought to connect with SNAP recipients, who could double their benefits by shopping at the market. Eligible individuals could also receive free or discounted bike share memberships.
In Hawaii, Biki bike share catered to the community's youth by coordinating outreach efforts that was comprised of face-to-face engagement, investigating ambassador programs, and broadened marketing to include younger people. 
BBSP grantees
In 2019, the Better Bike Share Partnership awarded $83,500 in small grants to increase access to and use of bike share in low-income neighborhoods and communities of color across the country. Some grantees have already been mentioned, but here are others that received mini-grant funding:
Better Bike Share in New York City: $21,000

First Mile Spring Outreach: $7,500

Houston BCycle GO Pass: $7,500

Go Findlay Grow!: $6,500

Arlandria Bike Share Partnership: $2,520

Bike & Brunch: $1,500
Shared micromobility is intersectional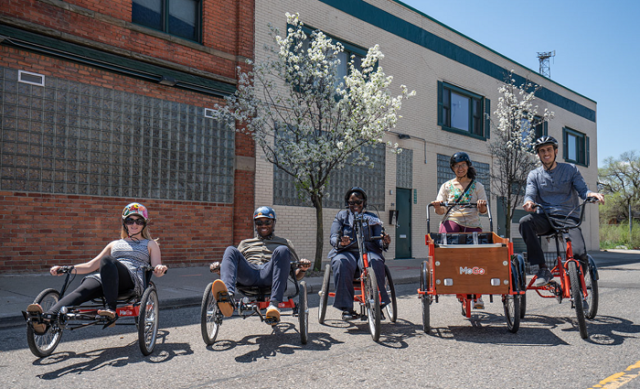 Source: Detroit MoGo
Shared micromobility exists in a landscape affected by gender, race, health, safety, income, access and many other personal or institutional factors and attributes. In 2019, plenty of cities did a great job of prioritizing equity in multi-faceted ways. 
Accessibility
To make a reality out of its vision for full accessibility, Canada's Hamilton Bike Share efforts spanned several different areas: affordable access, engaging and educating riders, and expansion plans. 
Adaptive models
Joining Portland in launching an adaptive bike share pilot program was Oakland, CA. Available bikes include hand-pedal cycles, adaptive trikes, and a side-by-side tandem bike.
Additionally, Detroit's MoGo bike share system also drew inspiration from Portland and considered adaptive cycles from the very beginning. MoGo's fleet offers a range of adaptive cycles for diverse community needs.
Diversity
Representation is crucial, so BBSP and NABSA came together to create a Diversity Toolkit that shares ways organizations can adopt more inclusive hiring processes for leadership and operational roles. 
Library bike share 
Omaha, Nebraska made bike share available as a public library resource in all 12 of the city's library branches. Each library received four passes to loan out, allowing cardholders in good standing to check a bike out for a period of up to five days.
Marketing efforts 
MoGo's marketing and outreach strategies incorporated texting. Besides traditional email communications, the operator used its 4,000 available texts a month for both communications and research purposes: promos and discounts, gift card sales, various other promo codes, and notices of specially-wrapped winter bikes released into the system.
Painting bike stations and docks
Over in Lincoln, Nebraska, the city partnered with BikeLNK to bring bike share to another neighborhood. The art-focused project teamed with the city's well-known community center to engage students in local schools to come up with a design for the new bike share station. 
Rural access
Rural communities present a unique challenge to operators, which has delayed the mobility options available to larger municipalities. However, a number of operators stepped up to the plate to champion marginalized communities facing the first mile/last mile dilemma.
NACTO's Road Show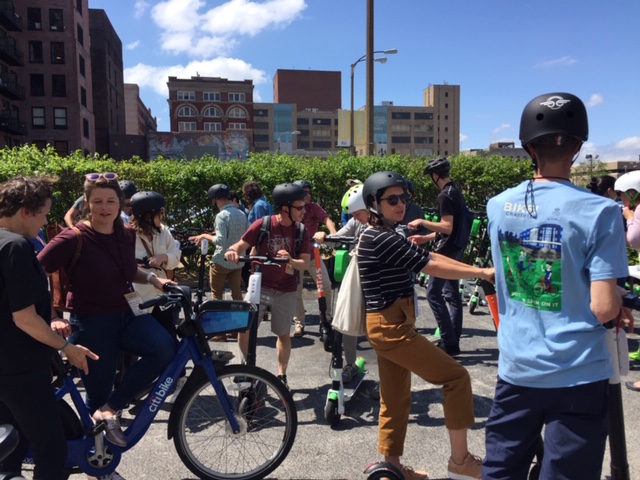 Source: NACTO
Hosted by NACTO, the City of St. Louis, the City of Memphis, and BBSP, the 2019 three-day Bike Share Roundtable provided a unique opportunity for micromobility stakeholders to discuss public safety concerns, right-of-way and ADA-related issues, data privacy, data management, and much more. 
What's to come in 2020
Living Lab Cities

: Building on the work of Philadelphia, this initiative will support, showcase and learn lessons from three to five cities that are addressing a key barrier to access to and use of shared micromobility in low-income and communities of color. Letters of interest are due by January 24.
Fellows program: Two cohorts of culturally diverse practitioners will work with BBSP staff, industry leaders and a trained facilitator to build their tools, strengths and networks to foster personal and professional development, and institutions that are more equitable, culturally responsive and representative.
Learning Network: Opportunities will include hosting roundtables, providing technical assistance and supporting meetings or gatherings at larger conferences.
Finally, stay tuned for our upcoming announcement of cities receiving our mini-grant funding this year. 
As we step into the promise of 2020, we're excited to take this journey together. Thank you for your unwavering support in 2019! 
The Better Bike Share Partnership is a JPB Foundation-funded collaboration between the City of Philadelphia, the Bicycle Coalition of Greater Philadelphia, the National Association of City Transportation Officials (NACTO) and the PeopleForBikes Foundation to build equitable and replicable bike share systems. Follow us on Facebook, Twitter and Instagram or sign up for our weekly newsletter. Story tip? Write farrah@peopleforbikes.org