Hamilton Bike Share commits to bike share access on all levels
August 1, 2019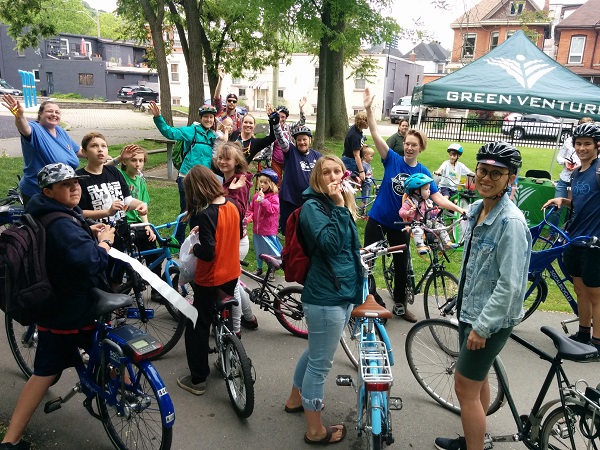 Annual Pride Ride with Hamilton Bike Share. Source: Hamilton Bike Share.
Canada's Hamilton Bike Share has a vision for full accessibility, and is taking that challenge on with energy and imagination. Their efforts span several different areas:
Affordable access
The Everyone Rides Initiative (ERI), established in 2017, gives completely free bike share passes to those in need, with no requirement for formal documentation. The program relies on collaborations with more than 20 community partners, including mental health service organizations, assisted living facilities, group homes, and youth organizations. ERI is also building relationships with organizations that work with those who speak another language than English.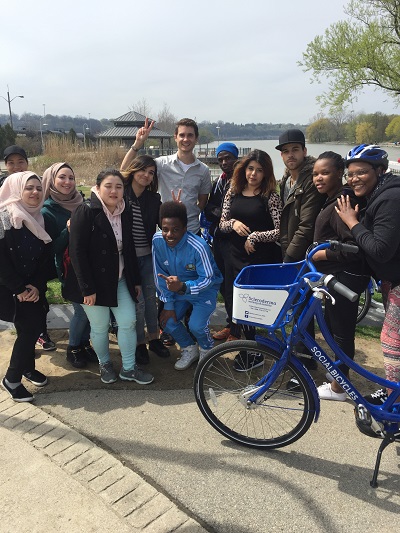 Group ride with Hamilton Bike Share. Source: Hamilton Bike Share.
In addition, ERI provides three levels of membership pass subsidy, such as offering 200 memberships to Pedal Pass riders at $3 a quarter.
"We have also eliminated any need for credit cards or debit cards attached to Rider's accounts," said Theron Pierce, Equity Coordinator for ERI. "We accept cash or rideshare credits for payment — given automatically in our system when Riders return an out-of-hub bike to a hub — unlike any other equity program I've seen. Other programs often require formal documentation of financial hardship and a credit card."
Engaging and educating riders
Hamilton Bike Share's equity work also includes programming. Once a participant has signed up for a membership through ERI, the rider attends a 45-minute BikeShare Basics workshop, either with the system operator, or one of its many community partners. The workshop teaches riders about the program, offers road riding tips, and shares a demonstration of using the bike share system itself.
For those with further interest, there is also a learn-to-ride component, group rides, and an extended bike safety class.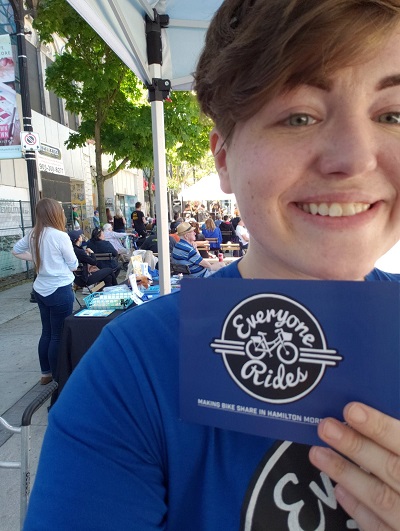 Theron Pierce of Hamilton Bike Share. Source: Hamilton Bike Share.
"We try to engage riders through showing them historical places and other locations of interest around Hamilton," said Pierce. "We're taking people to festivals and other events, and we have a presence at outreach activities and fairs."
Interested local organizations can also take out a group ride pass — good for up to 10 bikes at a time to get their community engaged.
Expansion plans
Hamilton Bike Share is currently undertaking a new initiative to add tricycles to its fleet, following in the footsteps of systems in Portland, Detroit, and elsewhere. The pilot is currently offered in collaboration with L'Arche Canada, an organization serving developmentally disabled individuals.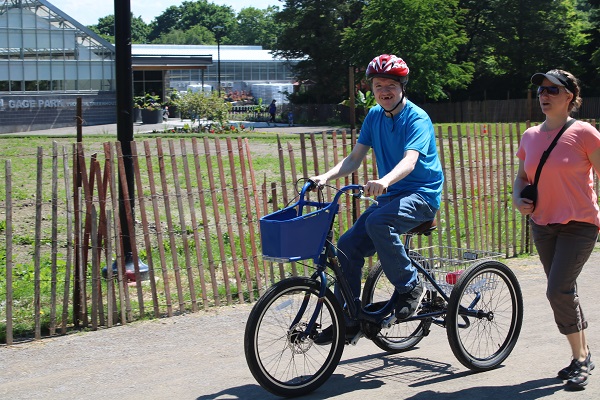 Trike launch for Hamilton Bike Share. Source: Hamilton Bike Share.
Additionally, a recently-received Trillium grant will allow ERI to expand its program by 1,050 new riders over three years.
Pierce and partners have clear energy for the ERI program, and have no intention of slowing down anytime soon:
"We are out in the community every week at least twice, giving out either free or $3 passes," said Pierce. "It is the heart of what we do, and I feel that the awareness of our services has collectively increased within the city. It's a wonderful and humbling feeling, and we continue to promote cycling as equity and social change."
The Better Bike Share Partnership is funded by The JPB Foundation as a collaborative between the City of Philadelphia, the Bicycle Coalition of Greater Philadelphia, the National Association of City Transportation Officials (NACTO) and the PeopleForBikes Foundation to build equitable and replicable bike share systems. Follow us on Facebook, Twitter and Instagram or sign up for our weekly newsletter. Story tip? Write stefani@betterbikeshare.org.