Bike share and healthy eating go together in Cincinnati
August 8, 2019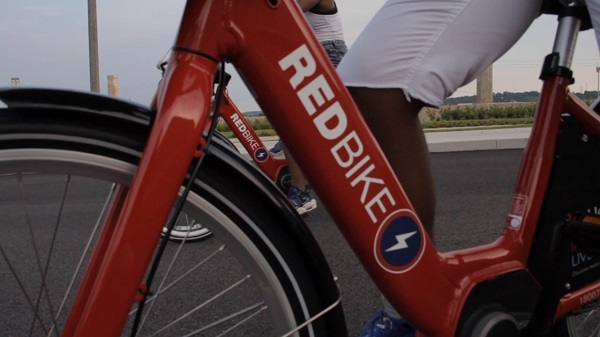 Source: Red Bike.
In Ohio, Cincinnati's Red Bike bike share system engaged in a unique partnership with a local market in order to expand its reach.
Red Bike partnered with Findlay Market, a large public market located in a low-income neighborhood that offers everything from farm-fresh produce to artisanal goods. With assistance from the Better Bike Share mini-grant, eligible individuals from the market have been able to receive free or discounted bike share memberships. The partnership seeks to connect with SNAP recipients, who can double their benefits by shopping at the market.
In order to reach those at Findlay Market, Red Bike sets up tabling on Saturdays and Sundays to facilitate new signups, renewals, member card fulfillment, and general information about the bike share system. Tabling is handled by the bike share ambassador team.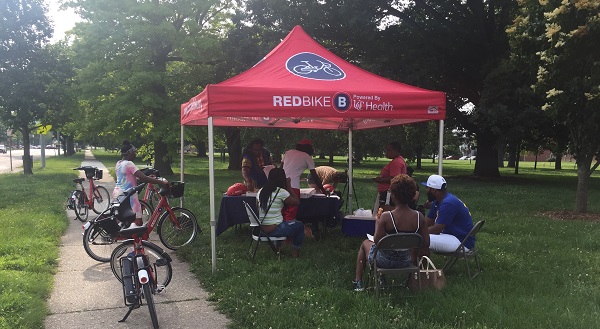 Source: Red Bike.
A group bike ride in the Findlay Market Opening Day Parade — a 100-year-old procession honoring the first day for the Cincinnati Reds team — kicked off the spring and summer months. T-shirts and banners helped draw attention to bike share's presence.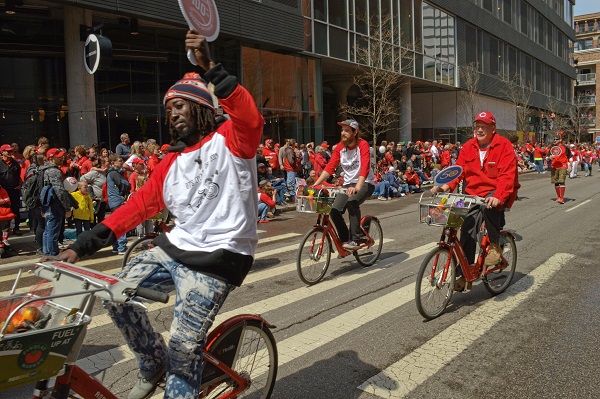 Source: Red Bike.
Additionally, Red Bike included a marketing component to their work, producing program-branded materials such as postcards, stickers, and station wraps. Red Bike also worked to augment their media coverage and advertising, some through social media takeovers. They completed a series of video clips interviewing various Red Bike members about their experience with the program.
Future goals include figuring out how to make the Findlay program sustainable, particularly since the program has been so successful. There are now over 400 individuals participating.
After the launch of e-bikes, the program became so popular that it had to be temporarily halted in order to manage growth and hunt down some missing bikes.
"It was an opportunity to have one-on-one conversations with members," said Elese Daniel, Education and Outreach Manager for Red Bike. "So many people got excited about e-bikes and started choosing to ride. They also shared the Findlay Market program, which is great, but we had a lack of information during signups about renting and returning the bikes."
To keep up with growth, Red Bike decided to start charging $5 per month for the memberships, the same price as Red Bike's Go Pass. The hope is that the change will help ensure longevity of the discount program.
Stay tuned for our final grantee highlight for our Spring-Summer 2019 mini-grantees!
The Better Bike Share Partnership is funded by The JPB Foundation as a collaborative between the City of Philadelphia, the Bicycle Coalition of Greater Philadelphia, the National Association of City Transportation Officials (NACTO) and the PeopleForBikes Foundation to build equitable and replicable bike share systems. Follow us on Facebook, Twitter and Instagram or sign up for our weekly newsletter. Story tip? Write stefani@betterbikeshare.org.