84 million shared mobility trips in 2018
April 24, 2019
The latest NACTO analysis shows a strong increase in trips taken via micromobility, mainly due to the use of scooter and dockless bike sharing systems.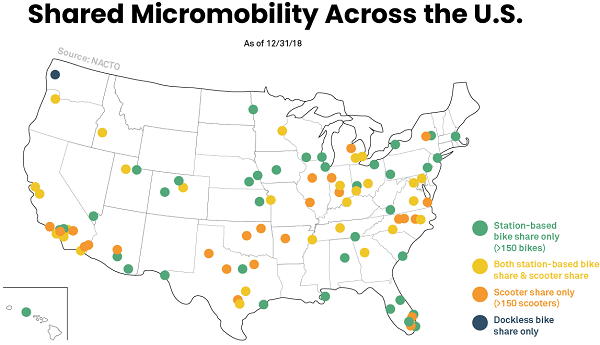 Source: National Association of City Transportation Officials.
Traditional bike sharing companies still play a big role in the micromobility scene, accounting for about half of all trips in 2018. Several station-based systems expanded their number of bikes for a total increase of 9% across the U.S. The vast majority of these bikes are in New York, D.C., Chicago, the Bay Area, Boston, and Honolulu.
In the realm of dockless bike share, e-bikes are the name of the game, with many fewer pedal-only bikes still in circulation. E-bikes overall accounted for 6.5 million trips in 2018, including both docked and dockless systems. Ride-share companies Uber and Lyft both made moves, acquiring JUMP bikes and Motivate, respectively.
E-scooters are the newest micromobility option on the market, accounting for 38.5 million trips. Scooters first appeared in cities such as Santa Monica and Austin, spreading rapidly from there.
NACTO's report further breaks down 2018 bike share trips by trips per hour, trips per day, and reasons for riding, among other factors. In addition, the organization highlights questions of system dependability and future legislation relevant to micromobility.
The Better Bike Share Partnership is funded by The JPB Foundation as a collaborative between the City of Philadelphia, the Bicycle Coalition of Greater Philadelphia, the National Association of City Transportation Officials (NACTO) and the PeopleForBikes Foundation to build equitable and replicable bike share systems. Follow us on Facebook, Twitter and Instagram or sign up for our weekly newsletter. Story tip? Write stefani@betterbikeshare.org.