Lessons for Nailing Community Engagement
June 1, 2021
Philadelphia's bike share system sets the standard when it comes to resident outreach. Here are some of the organization's tips for effective public engagement.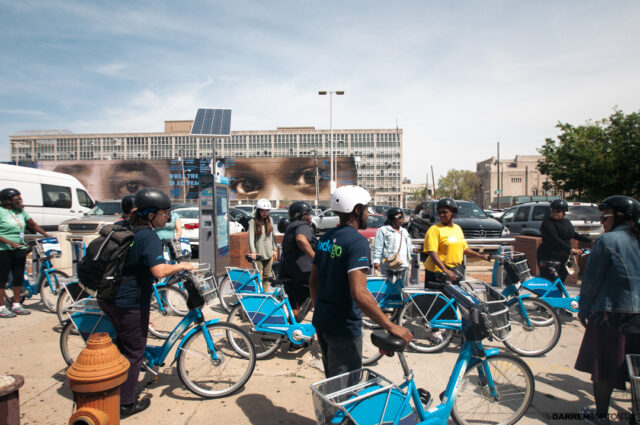 "If you're ever trying to engage a community, just start by taking a walk," says Stephanie Ridgeway, community coordinator at Indego, Philadelphia's bike share system. "Talk to people sitting on the steps, check-in on neighborhood organizations— take a walk through the community and see who's doing what."
Ridgeway started out at Indego as a community ambassador herself. Warm, with a big heart and an easy laugh, she lived all over the country and the world—including Thailand, the Philippines, Hawai'i, Washington and California—before settling in Pennsylvania.
"I've seen a lot of different communities but the one thing that I know is true of all of them, is that people want to know that they're valued," says Ridgeway. "That's the commonality between any kind of engagement that you do."
Throughout her time at Indego, Ridgeway has reached out to residents in a variety of ways: knocking on doors, calling folks, tabling, attending neighborhood meetings, hosting events, partnering with community organizations, and employing neighborhood liaisons. Due to the pandemic, much of that work has since moved online, with Indego launching a "Learn to Ride" video and additional virtual programming in partnership with the Bicycle Coalition of Greater Philadelphia.
"Having partners in the Bicycle Coalition and the Better Bike Share Partnership really helps us stay focused when it comes to centering equity, so when we're looking to engage, we have very consistent messaging," says Ridgeway, adding that collaboration leads to many of the organization's most creative ideas, such as its new Wayfinding Signage. 
In less than a year, Ridgeway and Indego intern Justin Richter transformed straight-forward directional signage into an opportunity for community engagement. The five revamped wayfinding panels highlight local history while providing suggested bike routes and pointing out green space, resources and hidden gems nearby. Philadelphia is rich with history but at a neighborhood level, much of it is passed on by word of mouth—this project provided residents with the opportunity to dig into their archives and tell the story of their neighborhood, cultivating a sense of ownership and belonging.
Whether she's drawing out oral history for the wayfinding project, identifying key partners, or introducing hesitant residents to biking, Ridgeway has mastered the tenets of good community engagement. We spoke with her to gauge her top seven tips for reaching people of all backgrounds, but especially those from historically marginalized areas.
1. Start Early
By definition, good community engagement can't be an afterthought. "It has to start early, before you even have a plan," says Ridgeway, emphasizing that it's important to not come in as an outsider after you've already started making decisions. "You need to ask people to be a part of the initial conversation. If you're an agency, that means bringing those conversations to communities—that's important."
2. Build Real Relationships
"The key thing for community engagement is relationships," says Ridgeway. "That is paramount to any type of engagement, to any time you're trying to connect to people." Like any true relationship, time and trust are key to being able to understand and interpret another person's behaviors, words and actions. Ridgeway believes that if you want to help a neighborhood or bring in a resource, you have to develop clear, authentic relationships. As with dating, you have to spend time getting to know someone before you start redecorating their apartment.
3. Follow Through
"You need to listen to the community and their needs, understand where they are in their processing, and then offer them resources while also making room for them at the table," says Ridgeway. "Relationships are a two-way street." 
Much like in interactions with your friends or family, if you don't have good follow-through, your relationships will suffer. Follow through refers to your integrity, or your commitment to doing the things you say you're going to do, building on conversations over time. It also refers to one's ability to truly listen and consider all interactions to be peer level. While you, as an advocate, might see an initiative as helpful, the community might not see it in the same manner. 
"I had a newer community partner recently say to me that, when their residents see bikes, they have a real fear that their community is about to be gentrified," says Ridgeway. "I have to understand those underlying issues, acknowledge that I can't help with everything, and then try to connect them with a resource or someone that can help. Or, maybe I accept that it's just not the time to bring them a particular resource because they have other things that need to be addressed first." 
4. Help the Community Access Its Power
According to Ridgeway, the next step in the engagement process when it comes to bike share, is providing opportunities for a community to ride. "Sometimes people can't bike at all, or sometimes they don't want to because they're scared," says Ridgeway. "Those are opportunities to organize educational components or group rides where people can bicycle together and feel safe." 
According to Ridgeway, good engagement requires the ability to adapt depending on the encounter. For example, sometimes what a community needs is the opportunity to learn how to fix bikes themselves, while other times you might be tabling all day, patiently listening, answering questions and empowering people with additional resources. "You have to look at the relationship and see what they're asking and what you can deliver," says Ridgeway. 
And when you're tapping community ambassadors or requesting people's time, Ridgeway is clear on one thing: people need to be compensated fairly.
5. Forge Smart Partnerships
Cultivating the right community partnerships is key—especially when engaging historically marginalized groups, many of whom have plenty of reasons to distrust the government and other outside actors. For Indego, key partners include individual ambassadors, community organizations, foundations, health clinics, food relief centers and other nonprofits. "Our partnership with Bicycle Coalition of Greater Philadelphia is something that every city should have," says Ridgeway, noting how the two organizations are able to effectively reach more people by working together long-term. 
6. Don't Just Rely on Technology
"I've always been one to just knock on people's doors but the pandemic required us to start making phone calls," says Ridgeway. The national move away from in-person activities has made participating in things like town halls and planning meetings more convenient, in some cases drawing in more residents, but it can also pose additional challenges for those without adequate technology. A hybrid model, where in-person engagement is used to supplement virtual components, is what Indego will employ going forward. 
For Ridgeway, engagement is situational though, and the best organizations are multifaceted, trying different forms of communication—bus wraps, tabling, text campaigns, social media—and seeing what works best. "In the end, we all have the same basic needs and desires—everyone wants the best for their community," says Ridgeway. "There are a plethora of ways to reach people and build relationships, and you've got to try them all."
7. Remember It's an Ongoing Process
It's important to solicit community feedback before making infrastructure changes, but also throughout the lifespan of any project. Checking in at regular intervals allows you to not only iterate on what is and isn't working but again, to continue to build relationships and listen. "Community engagement is never a one and done thing," says Ridgeway. "Think of your best friend—you might leave and things might happen, but you can pick up where you left off because you have a relationship. There's always a lot to talk about."
---
The Better Bike Share Partnership is a JPB Foundation-funded collaboration between the City of Philadelphia, the National Association of City Transportation Officials (NACTO) and the PeopleForBikes Foundation to build equitable and replicable bike share systems. Follow us on Facebook, Twitter and Instagram or sign up for our weekly newsletter. Story tip? Write kiran@peopleforbikes.org