Boston's Vision for Equitable Bike Share
May 18, 2021
By the end of this year, Bluebikes, the city's bike share system, will be in every neighborhood.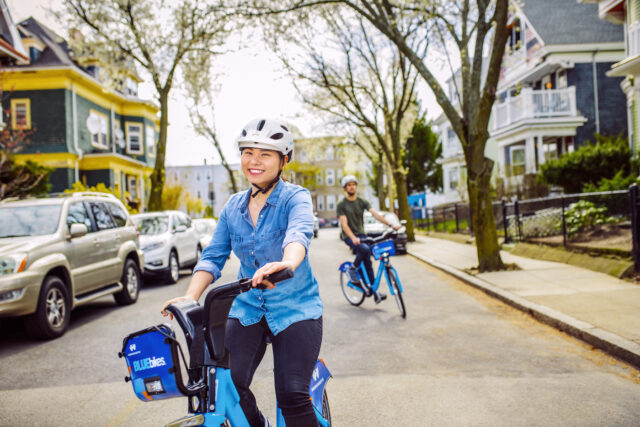 When Boston's bike share system launched in 2011, the intent was always to keep expanding. In the last six years, however, Boston has reimagined the role of its Bluebikes bike share, deliberately positioning it as an integral part of the city's public transit network. When Boston embarked on an extensive multi-year transportation review process — engaging thousands of residents and visitors  — bike share wasn't an afterthought.
"The result of that process was Go Boston 2030, our long-term transportation plan," says Kim Foltz, transportation planner for the Boston Transportation Department. "One of the goals outlined in it was that every resident of Boston should live within a 10-minute walk of bike share, key transit and car share by the year 2030."
Although Bluebikes has a program for lower-income individuals, outlining a comprehensive vision at the departmental level is key to making sure all of Boston's almost 700,000 people could take advantage of it. By the end of 2021, Bluebikes will be in every single Boston neighborhood, a key component of the city's larger active transportation and equity initiatives. 
"It makes sense to people when we describe bike share as part of our public transportation network," says Foltz. "It's an issue of equity—every person should have access to this publicly-owned system."
The last place to get bike share will be Hyde Park, a neighborhood almost eight miles south of downtown Boston that's about 50% Black and 20% Hispanic. Like parts of West Roxbury and Rosendale, Hyde Park is more suburban in its land use, making it harder to place stations within a 10-minute walk of all residents. Another focus for the Bluebikes expansion in 2021 is Mattapan, a heavily immigrant neighborhood that has some stations but requires more to fill in gaps. 
Engaging local residents has been a crucial aspect of Boston's work to build a complete bike share network. Before planning stations, city officials would typically set up in-person events, explaining the logistics around the station planning process and letting residents sit down with a map and note where they thought stations should be located. Although Boston's community engagement process has always had a virtual component—where people could fill out surveys and weigh in on location placements—due to the pandemic, everything has been moved online.
"If a lot of people are telling us that somewhere isn't a good place for a station, then we'll work to find another spot," says Foltz. "Ultimately, they know better than we do about what's going to work in their neighborhoods."
To try and solicit more responses from community members, the city placed signs at potential station locations pushing people to its online surveys. Additionally, city officials including Foltz attend neighborhood association meetings and conduct roundtables, sharing plans and devoting time to just listen. In Mattapan, the city worked with Vigorous Youth, putting on bike rides and letting the youth choose where they thought stations should go. Consistent engagement throughout the planning process has helped build awareness and excitement about the new stations, as well as cultivate a sense of ownership amongst residents. 
"It's not just about providing the access through bike share—we're also working on improving the network and building connections with community organizations on the ground to let people know this bike infrastructure is there, and to encourage them to try it," says Foltz. "It's our priority to provide that access in concert with other bike infrastructure work we're doing."
In Mattapan, those infrastructure projects included a temporary redesign of Cummins Highway to include lowered speed limits, safer pedestrian crossings and new bike lanes connecting people to the Neponset Greenway. The changes were made in response to urgent safety concerns and will become permanent after resident feedback is incorporated into a final design. Similarly, the American Legion Highway was reworked to be safer for all users, including bicyclists. 
Go Boston 2030 is full of similar projects, a true blueprint for a city that wants to be resilient in the face of climate change while providing its people with better and more equitable travel choices. Though the plan lays out a comprehensive network of safer streets, improved transit and bike lanes, the result at the neighborhood level is simply a more livable city, where people are able to more easily access core services and economic opportunity without a car. Reimagining bike share as part of Boston's public transportation system was a crucial step in helping to build that vision, albeit a rare position for a department of transportation to take.
Even when a transit agency oversees bike share, there isn't often the same level of commitment to making it as ubiquitous as bus routes and building stations in every city neighborhood. Bluebikes first launched as Hubway in 2011 but when that contract expired, in 2016, it rebranded as part of a sponsorship deal with Blue Cross Blue Shield, taking more control of the system to set pricing, launch equity initiatives and control its expansion. Now, Boston owns its equipment but gives the vast majority of its revenue to Lyft, its operator. When the next contract expires, in less than five years, there's a very real possibility that Lyft could bail—an unpleasant prospect for the city.
"We're providing something that's a fundamental necessity for our residents, our visitors and our workers," says Foltz. "We really need to make sure that our system is eliminating barriers, whether that's income-based, or based on gender or geography. It's our priority and our requirement as managers of a public transportation system to make sure we're making progress on all of those things and that this system is here for the long term."
---
The Better Bike Share Partnership is funded by The JPB Foundation as a collaboration between the City of Philadelphia, the National Association of City Transportation Officials (NACTO) and the PeopleForBikes Foundation to build equitable and replicable bike share systems. Follow us on Facebook, Twitter and Instagram or sign up for our weekly newsletter. Got a question or a story idea? Email kiran@peopleforbikes.org.