10 posts that explain bike share equity in 2017
December 28, 2017
It's been a big year for bike share, especially among the efforts to make it accessible to low-income individuals and people of color throughout the U.S.
From system expansions and an industry conference, to groundbreaking research and new dockless systems, we've got 10 posts from this year that show the current state of bike share equity.
Community development to increase access
Sometimes the most important aspects of a program aren't the newest ones, but the tried and true activities that bring bike share to underserved individuals and neighborhoods. This year, several bike share systems and community partners led the charge in bringing programming to a variety of community members.
1) Why medical centers are 'prescribing' bike share for mental health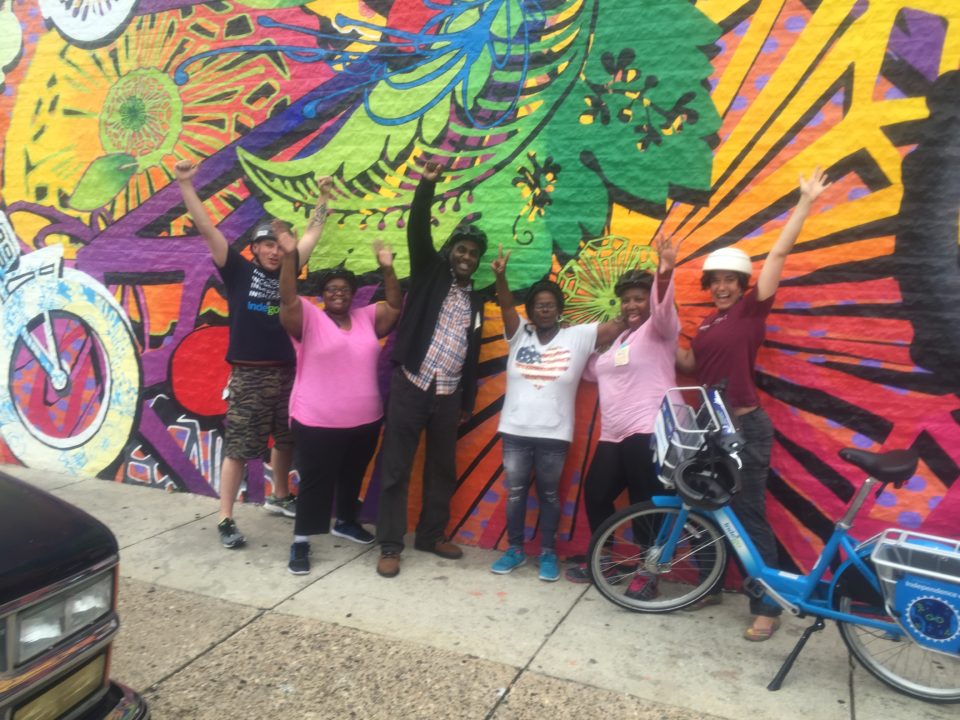 Source: Gretchen Snethen.
When doctors prescribe bike share, it turns out the results are pretty positive. In Minneapolis, Nice Ride Minnesota partnered with Hennepin County Medical Center to connect mental health patients with bike share memberships. One participant racked up over 400 rentals in a 5-month timespan. Professionals at Temple University in Philadelphia explored a similar partnership with Indego bike share. These partnerships show that bike share can have cascading positive effects when paired with local institutions.
2) Philadelphia builds skills by combining computer literacy and bike share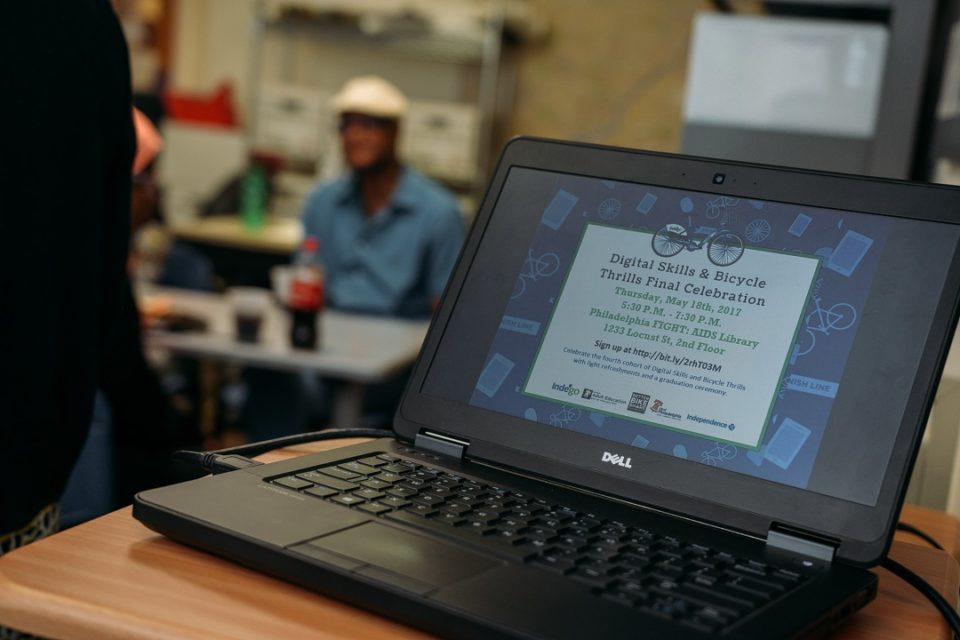 Source: Darren Burton.
The Digital Skills and Bicycle Thrills program through Philadelphia's Indego bike share continued strong this year, teaching computer literacy alongside bicycle safety skills and instructions on how to access Indego bike share. Graduates received a free 6-month Indego pass to give them a chance to try out bike share on their own. DSBT is another example of programming that makes bike share relevant to a wider set of needs within diverse communities.
3) Atlanta's new bike share stations reach underserved areas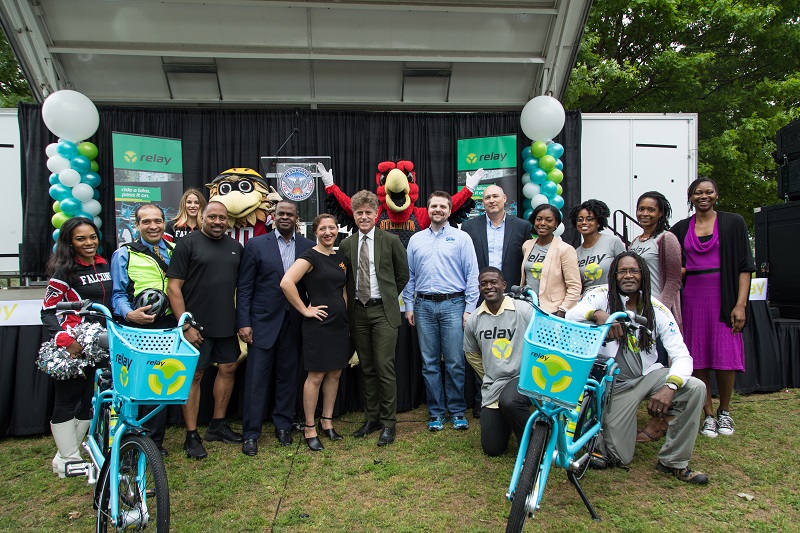 Source: Atlanta Bicycle Coalition.
In addition to programming, a big component of making bike share available to marginalized individuals is station proximity. Atlanta took this element seriously in 2017 by expanding its system from 100 bikes and 22 station to 500 bikes and 65 stations, with a particular emphasis on historically underserved neighborhoods.
Honorable mentions: Bike share can also be a strategy for workforce development and financial literacy. And community groups in cities such as Basalt, CO, Los Angeles, CA, Oakland, CA, and Chicago, IL are trying to figure out how to be most relevant to underserved residents.
Bike share equity firsts
2017 was also a year of big shifts in approaches to bike share equity and within the industry of bike share.
4) Two cities explore adaptive bike rentals for people with disabilities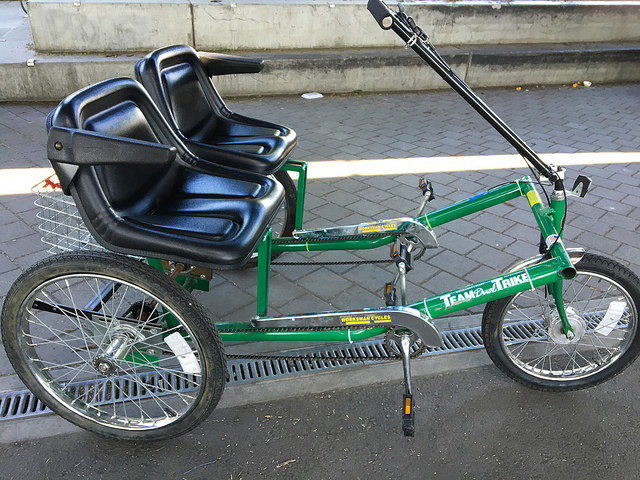 Source: Jonathan Maus/BikePortland.
So-called "adaptive bike share" made its debut through a pilot program in Portland, OR. Local advocate voices have been vital to the development of the program. Bike share stakeholders in other cities, such as Detroit, are keeping a close eye on Portland's work as they consider bringing similar elements to their own systems.
5) Pittsburgh becomes first U.S. city to offer free bike share to transit riders
Speaking of firsts, Pittsburgh, PA beat other U.S. cities in the race to integrate transit with bike share by providing free 15-minute Healthy Ride bike share trips to anyone with a ConnectCard, the regional transit fare card. The beauty of the initiative is that no additional registration is needed at the outset.
6) Q&A: Tech's take on bike sharing hits the streets in Seattle (series)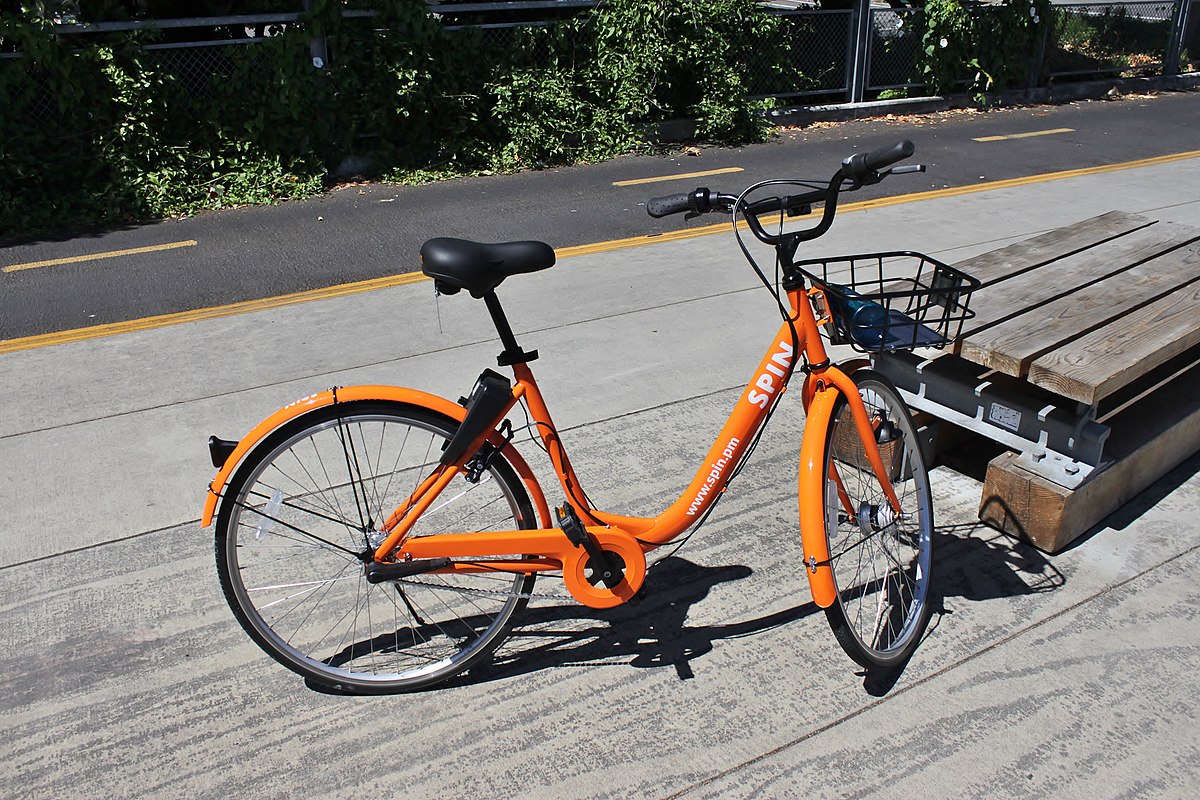 Source: Wikimedia Commons.
Of course, one of the biggest shifts in the industry this year was the proliferation of "dockless" bike share systems. In our Q&A series with bicycling stakeholders in Seattle, we took a look at what these new systems could mean for ease of use, accessibility, and affordability (both positive and negative.) The major draws seem to be the current low price point of dockless systems as well as their scalability, but stakeholders are also concerned about the influx of bikes blocking right-of-ways and potentially posing a safety hazard, given the cheap bikes being used.
Honorable mentions: Detroit joined other big cities with the launch of its bike share system, including a $5 fare. Meanwhile, the Barnes Foundation partnered with Indego bike share to give free admission to passholders. We also covered additional perspectives on the dockless bike share issues, both pro and con.
Tools for better systems
This year we also compiled several resources to help bike share advocates and practitioners develop more robust and equitable systems moving forward.
7) How to engage diverse communities with bike share (series)
Check out our 1-pager series on outreach strategies for engaging diverse communities. The handouts cover relationship-building, learning about ridership, and building employment opportunities, from the perspective of Philadelphia, Milwaukee, and Brooklyn stakeholders.
8) Bike share company plans to internalize diversity and inclusion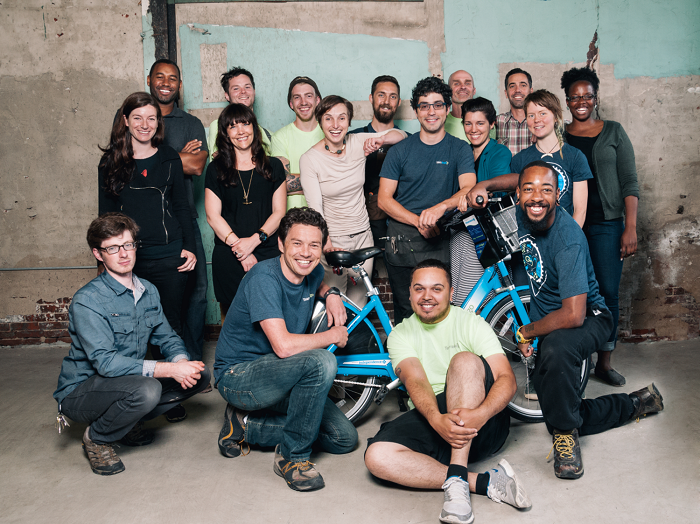 Source: Bicycle Transit Systems.
Equity isn't always about external work; it's important to also look inward at our own institutions, companies, and community groups. Bike Transit Systems is embarking on just that process with their new diversity and inclusion initiative, and they've even shared a handout for those looking to pursue a similar process.
Honorable mentions:
The 2017 North American Bikeshare Association conference was a forum for bike share stakeholders across the continent to gather and share resources. In addition, we shared handouts on youth engagement strategies, best practices for marketing, sample bike share equity job descriptions, ambassador training tools, and guidelines for group bike share events.
What the numbers say
Last, but certainly not least, is the important topic of research. New information on bike share dynamics and preferences among low-income residents and people of color helps stakeholders make more informed decisions for system planning and programming.
9) Silent barriers to bicycling (series)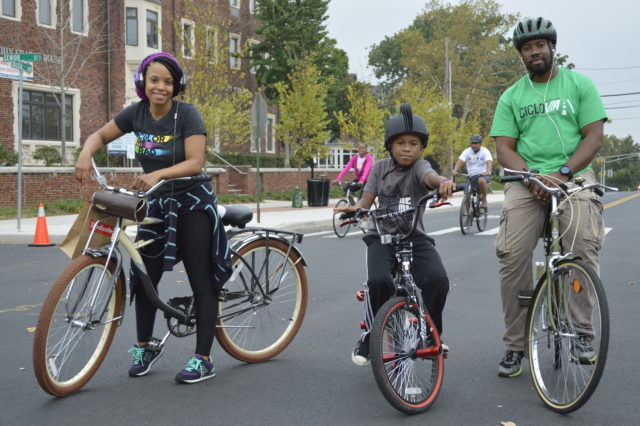 Researchers Charles Brown and James Sinclair of Rutgers University investigated deterrents to cycling among New Jersey Black and Latino populations. They found that often-overlooked factors, such as fear of theft and fear of police profiling have a disproportionate effect on would-be cyclists from such backgrounds.
10) Study from Portland State shows untapped potential for bike share (series)
Portland State University's Transportation Research and Education Center dove even deeper into barriers and incentives to using bike share among low-income populations and people of color in select Philadelphia, Chicago, and Brooklyn neighborhoods. They found a strong preference for recreational and family-oriented bicycling options, as well as a sensitivity to discount memberships and "high-touch" outreach strategies.
Like we said, it was a big year for bike share! None of this would have been possible without the many staff and volunteers working toward more equitable systems, including new staff members with the Better Bike Share Partnership.
The Better Bike Share Partnership is funded by The JPB Foundation as a collaborative between the City of Philadelphia, the Bicycle Coalition of Greater Philadelphia, the National Association of City Transportation Officials (NACTO) and the PeopleForBikes Foundation to build equitable and replicable bike share systems. Follow us on Facebook, Twitter and Instagram or sign up for our weekly newsletter. Story tip? Write stefani@betterbikeshare.org.