For Basalt bike share, slow but steady growth is the name of the game
August 23, 2017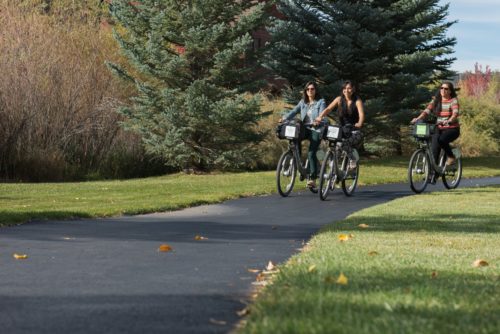 Source: WE-cycle.
One of the nation's smallest bike share systems has learned that growing its low-income program has as much to do with existing members as recruiting new ones.
Movimiento en Bici is a program of the 80-bike WE-cycle system in Basalt, Colorado, oriented toward low-income residents of Basalt, Willits, and El Jebel in Colorado's ski country. Movimiento en Bici provides a free bike share membership to enrollees, along with an increased time limit for basic rides (from 30 to 60 minutes of biking time), and other programming.
Movimiento en Bici launched during WE-cycle's 2016 season, which runs from May to November. Halfway through 2017, the program's size has doubled. Last year, it enrolled 40 members who made a collective 371 rides. As of August this year, it's signed up 89 members and had 871 rides so far, on track to reach 100 members and 1000 rides by season's end.
Basalt's efforts are important to the national bike share community because its system is comparatively small, and therefore provides a unique case study. If successful, Movimiento en Bici will offer convenient first-mile/last-mile connections to the bus for many workers who commute to Aspen from the Basalt area.

Source: WE-cycle.
Utilize community leaders
Spreading the word about the Movimiento en Bici program depends on well-conducted community outreach and engagement, said Kellyn Wardell, the program manager for WE-cycle. That's why she hired local leaders from the nonprofit Valley Settlement Project to spearhead those efforts. Valley Settlement Project focuses on empowering immigrant families in the Roaring Fork Valley.
"There's team members we've employed who really do the community outreach and get the program out here," said Wardell. "They work part-time for us and part-time for other nonprofits that are crucial to the Latino community." She said it has made a big difference to have known and bilingual leaders available to explain how to sign up for the program and ride the bikes.
Another type of relationship that has been important for engaging community members is employer partnerships (WE-cycle has close to 50 such connections). Through working with grocery stores, big hotels, and other employers, WE-cycle has been able to better spread the word about bike share and even provide additional sites where potential Movimiento en Bici members can sign up.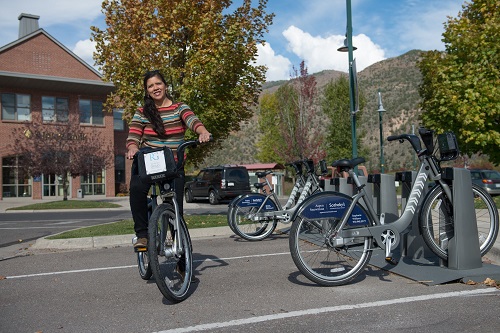 Source: WE-cycle.

Learn from both high- and low-attendance
As in other systems (such as Chicago's Divvy), events have helped WE-cycle grow the Movimiento en Bici membership and ridership. A particularly successful example is a ride and picnic conducted with the nonprofit English in Action, that pairs immigrants with tutors to help them learn English.
English in Action did much of the outreach for the event, which brought out the perfect candidates for Movimiento en Bici. The majority of the participants had never signed up for or tried WE-cycle, and after riding the bikes they all signed up for passes. Wardell said that the ability to sign participants up on the spot, through paper registration, and provide key fobs immediately, was critical to overcoming the barrier of wanting to sign up, but not having a connection or easy way to do so.
WE-cycle has found that not all events are created equal, however. One library event was geared toward those who already had bike share memberships, but were not using them. WE-cycle provided the opportunity to practice checking out bikes, adjusting the seat, changing the gears, etc.
Even though attendance was low, WE-cycle was still able to provide a family-friendly space for community members. The company also learned how critical it is to pursue multiple types of follow-up for their events.
"It takes time and patience," said Wardell. "You have to know that if you have an event and connect with two people, even that can make a big difference. If you get two people really excited about bike share, that could lead to a lot more people."
Focus on increasing ridership among current members, not just getting new ones
Moving forward, WE-cycle is focused on increasing ridership among its current members. There are prizes given out for individuals with low ridership taking more rides, such as a gift certificate to the local grocery store. Other efforts include outreach calls by Spanish-speaking staff and partners, and a Facebook page dedicated to the Movimiento en Bici program.
The hope is that focusing on existing members will help strengthen the awareness of bike share and make it more of a staple that community members see as available for them, regardless of income, race, ethnicity, or immigration status.
The Better Bike Share Partnership is funded by The JPB Foundation as a collaborative between the City of Philadelphia, the Bicycle Coalition of Greater Philadelphia, the National Association of City Transportation Officials (NACTO) and the PeopleForBikes Foundation to build equitable and replicable bike share systems. Follow us on Facebook, Twitter and Instagram or sign up for our weekly newsletter. Story tip? Write stefani@betterbikeshare.org.
Save