Chicago takes a hands-on approach to South Side bike sharing
July 17, 2017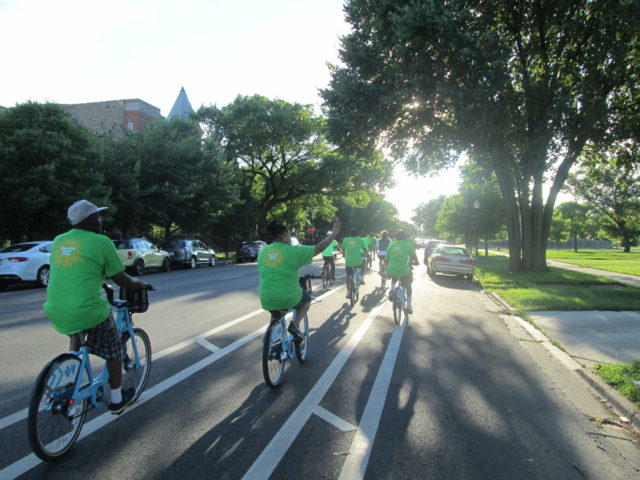 Divvy at Breakthrough Ministries in 2016. Source: Amanda Woodall.

Chicago's Divvy bike share system has expanded to many lower-income neighborhoods, but getting equitable ridership has sometimes been a challenge. Now, a new approach to community engagement could make all the difference.
Divvy has hired outreach workers who will work full-time on bike share use in underserved communities. The workers will strive to learn more about why people do or do not use Divvy, as well as help residents feel empowered to take ownership of the Divvy system for themselves.
The Divvy system has 584 stations, and almost all of those are within Chicago city limits. While stations are still skewed toward wealthier neighborhoods, as a whole they are now spread throughout Chicago, far beyond the downtown core. The sheer reach of Chicago's system, number of stations it includes, and staff time devoted to bike share makes Divvy an important part of the U.S. bike share ecosystem.
Station expansion is the first step
Getting to such a high number of stations — as well as covering its wide geographic area — took a few years. The Divvy system started out in 2013 with 300 stations that were mainly concentrated in the downtown core or on the disproportionately white, northern side of the city. The network then grew in a series of phases.
Throughout the expansion process, the city-owned system was committed to a maintaining a contiguous network, rather than expanding through unconnected, satellite locations. Divvy stretched to cover the West Side and the South Side, and is now distributed throughout many communities of color and low-income neighborhoods.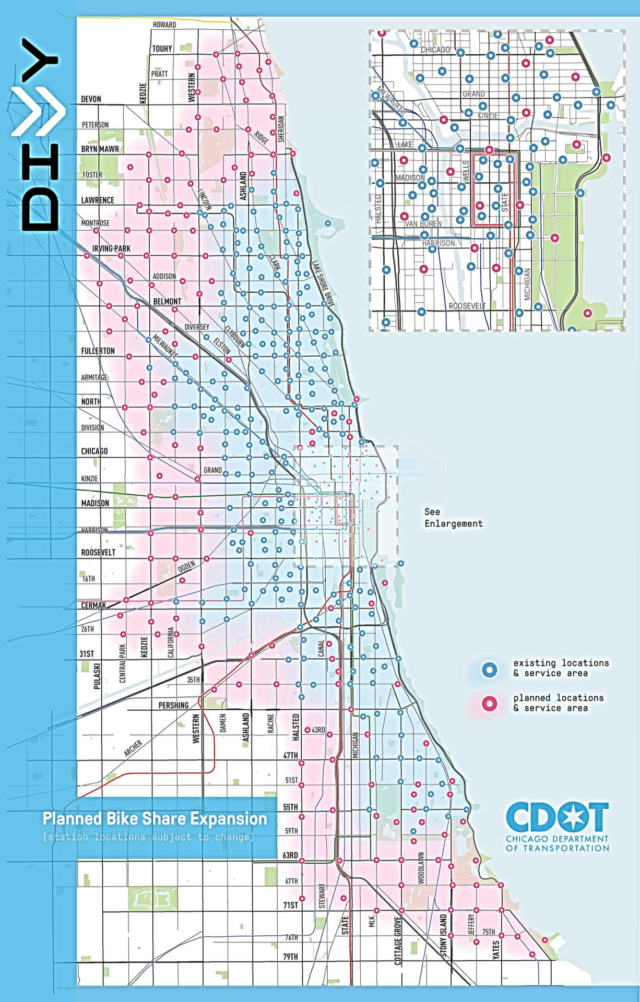 Map of Divvy expansion phases. Source: Divvy Bikes.
Divvy consults with an engineering firm to help determine where to place new stations. Criteria include whether there is an existing bike share network, what the bicycle mode share is, population size, and business density.
Additional demographic features such as race/ethnicity, income, and educational status can help further ensure that new stations will serve a diverse cross-section of the overall Chicago population. Using a weighted score of factors has helped suggest the particular neighborhoods and blocks that bike share should expand to next.
Getting the riders takes work
However, Chicago found that the act of installing stations doesn't necessarily guarantee ridership by itself, particularly on the South Side where Divvy ridership has been consistently below that of other parts of Chicago. (Recently released research from Portland State University might help explain some of the push/pull factors that influence low-income riders of color.)
Chicago created the Divvy for Everyone program that grants introductory discounted fares and cash payment options to low-income riders. The program recently celebrated its second anniversary.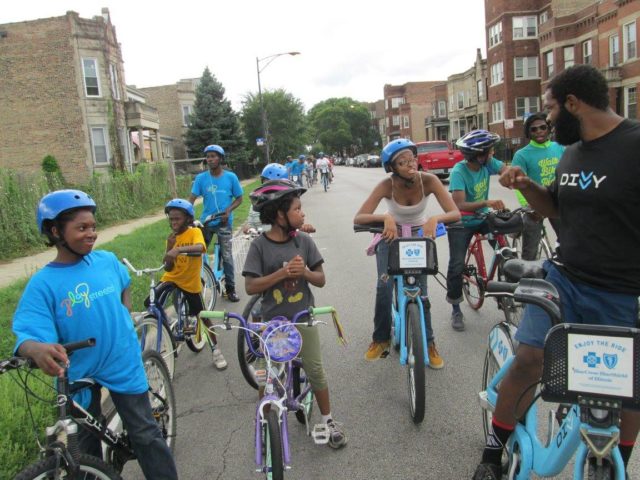 Source: Amanda Woodall.
"This year the focus is more on communication and having a team on the ground," says Amanda Woodall, Program Director at the Chicago Department of Transportation. "Divvy has hired a team that specifically focuses on working in low-to moderate income communities."
Chicago's outreach program follows in the footsteps of cities like Philadelphia that have invested in similar types of community engagement. The City is finalizing the hiring of the two outreach workers and is optimistic they will be influential in growing South Side ridership.
When tackling the issue of increasing ridership, Woodall suggests that cities don't forget about marketing. "Start by reaching out, by building relationships that are ongoing, sustained partnerships within the community. It's very easy to think you're going to make a bunch of snappy materials and just put it out there. It's easy to just check a box […] I cannot overstate the importance of collaborations with key community partnerships related to your effort."
Woodall says that money from the system sponsorship with Blue Cross Blue Shield Illinois, as well as revenue from ads on the sides of bike share stations, are critical to diversity and outreach efforts. Since that income is from private sources, the City can be flexible in allocating it toward "soft programs," such as Divvy For Everyone and Chicago's other bike efforts.
All in all, Woodall is optimistic about the new program:
"We're really excited about the new outreach work," she says. "It's been really great to have that program housed at Divvy, and it speaks to the coordination between the City and Divvy. It's great to have that education and outreach-minded effort housed within system outreach and operation. It's an opportunity where positive relationships bloom."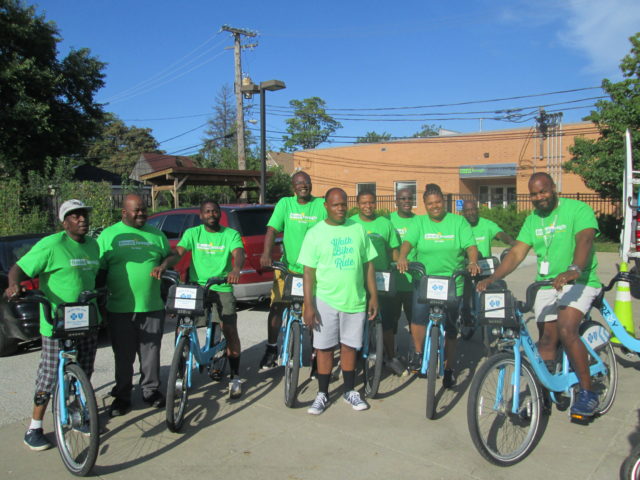 Divvy at Breakthrough Ministries in 2016. Source: Amanda Woodall.
The Better Bike Share Partnership is a JPB Foundation-funded collaboration between the City of Philadelphia, the Bicycle Coalition of Greater Philadelphia, the National Association of City Transportation Officials (NACTO) and the PeopleForBikes Foundation to build equitable and replicable bike share systems. Follow us on Facebook, Twitter and Instagram or sign up for our weekly newsletter. Story tip? Write stefani@peopleforbikes.org.
Save
Save
Save
Save
Save
Save