Bike share and community development go together in Brooklyn
April 12, 2017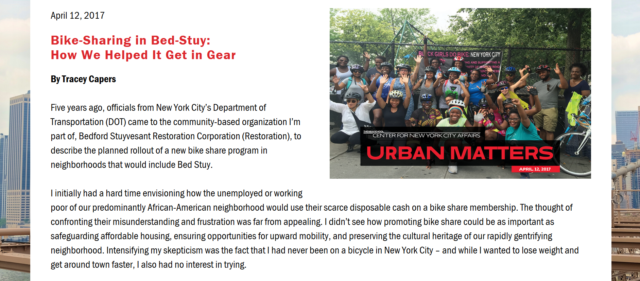 When Tracey Capers, an executive at Bedford Stuyvesant Restoration Corporation, first learned about the concept of bike share she wasn't all that impressed.
Capers wondered how the arrival of Citi Bike to Brooklyn would address the needs of the predominantly Black neighborhoods that she works with everyday. But she decided to give it a try anyway, both on a personal and professional level.
Over time, Capers grew to embrace the potential of Citi Bike to help address some of Restoration's key priorities through existing and new partnerships. The lessons she learned along the way are invaluable for the bike share world as well as community developers.
Read Capers' full account in Urban Matters journal, and learn more about the work she describes through a recently-released report with the National Association of City Transportation Officials:
>Bike sharing in Bed-Stuy: How we helped get it in gear (article)
>Bringing equitable bike share to Bed-Stuy (report)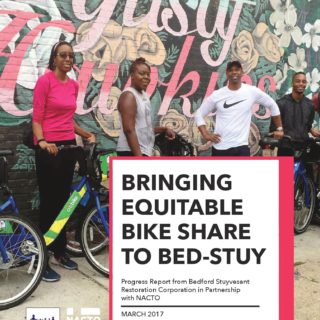 The Better Bike Share Partnership is a JPB Foundation-funded collaboration between the City of Philadelphia, the Bicycle Coalition of Greater Philadelphia, the National Association of City Transportation Officials (NACTO) and the PeopleForBikes Foundation to build equitable and replicable bike share systems. Follow us on Facebook, Twitter and Instagram or sign up for our weekly newsletter. Story tip? Write stefani@peopleforbikes.org.