Q&A: Nicole Payne of NACTO takes on transportation justice
November 30, 2017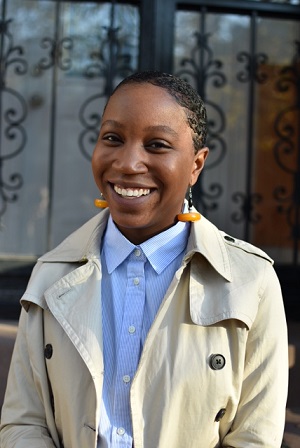 We've got a new face here at the Better Bike Share Partnership, who we'd like to introduce to the bike share equity world!
Meet Nicole Payne, a program manager at the National Association of City Transportation Officials. She works with their Cities for Cycling program, as well on projects for the Better Bike Share Partnership.
We interviewed Nicole to learn more about her background, what she'll be working on, and what her superpower skill is for bike share.
What can you tell us about your role at NACTO and working with BBSP specifically?
I was brought in to tie the network together. Previously the two programs operated separately. The main goal is to facilitate conversations between the peer cities. We promote and implement best practices of the growing bike share movement. We also promote best practices of intersection design, and we provide technical assistance to those cities.
What brings you to your work in city transportation and equity?
I've always worked in transportation, though previously more on the vehicle mode. Growing up, outside of Washington, D.C., cycling was my main mode of transportation. We were too far out for buses and the subway. I grew up in a predominately African American and El Salvadorian neighborhood, with a lot of blue collar workers. We all used bikes to commute to school and to commute to work in the summer. That was how I got to work and to the bus stop. There were no bike lanes, and no real design for people, let alone bikes.
The experience brought an interesting perspective as to what communities are left behind, especially where attitudes are little different. In communities of color, bicycling sometimes gets a bad wrap. There's sometimes a view that it's for people who don't look like me, or who can't afford a bicycle. In reality, we're making society better for biking and walking. One of my goals is making those conversations available to those who aren't at the table.
What part of BBSP's work are you most excited about?
Equity is what I am most interested in. It spurred my interest in cycling and innovations in design for cycling. I'm curious about how we interact with communities that have previously not been engaged. How will we connect and grow? How will our networks connect to jobs and schools? Equity is big piece of that. That was a theme in certain communities that have been left behind, who, through redlining and urban renewal, have not been at table.
I think transportation should work for all people. It's how to make sure we're working at it from all angles and that all types of communities are represented. We have to figure out how we can include the maximum amount of opinions and expertise.
What is your superpower skill that you bring to transportation equity work?
Relatability. Even in my previous work, when I went into communities, I could understand what the pain and challenges were. It's being able to speak to people in a manner that they understand.
What vision do you have for the future of transportation equity, especially for bike sharing?
I envision a world where your zip code does not determine your increased likelihood of having a traffic crash. And where it doesn't negatively impact how many commute modes you need to get to work. I want the playing field to be more even in terms of access and mobility.
What city do you know best, and what do you love about it?
Washington, D.C. It's where I was first introduced to cities and to bike share.
Also, I went to college in Greenville, North Carolina. Even though bike lanes there left something to be desired, there weren't many vehicles so biking was pretty comfortable.
Do you have any bicycling memories you'd like to share?
In my neighborhood growing up, bikes were our transit system. Me and some neighbor friends had a girl bike brigade. We created it out of necessity, since our parents didn't like us biking alone for safety reasons. We had no sidewalks or bike lanes, and most streets had pretty high vehicle speeds and volume, so the bike brigade was our solution. While it was awesome, safer streets for cycling would have been even better.
Anything else you'd like to share about yourself?
I'm really excited to work with so many different people, with different groups and operations. I'm ready to dive in head first. With bike share as a mode of transportation, I'm excited about the convenience of it. It would have been really helpful for my experience growing up.
(Check back on the blog next week for our profile of Waffiyyah Murray, a familiar BBSP face who has stepped into a big new role with the City of Philadelphia!)
The Better Bike Share Partnership is funded by The JPB Foundation as a collaborative between the City of Philadelphia, the Bicycle Coalition of Greater Philadelphia, the National Association of City Transportation Officials (NACTO) and the PeopleForBikes Foundation to build equitable and replicable bike share systems. Follow us on Facebook, Twitter and Instagram or sign up for our weekly newsletter. Story tip? Write stefani@betterbikeshare.org.