Bike share conference discusses equity and dockless systems
September 8, 2017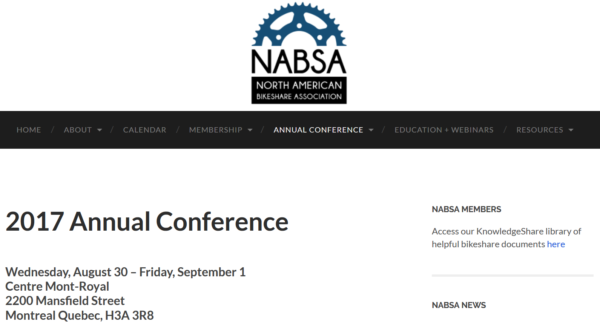 Equity issues in bike share caught the attention of attendees at this year's big bike share conference, as did new dockless systems proliferating in the U.S.
The North American Bike Share Association (NABSA) conference was held in Montréal, Canada. Activities included panels, demonstrations, and a bike tour to experience the BIXI system and local cycling infrastructure.
Growing participation on equity
There were four panels at NABSA this year that primary focused on issues of equity within bike sharing: "Bringing Equitable Bike Share to Bed Stuy," "Bike Share Lessons From Around the World," "Two Ears, One Mouth: A Listening Approach to Implementing Bike Share with Equity," and "Bike Share on the Block: Ambassador Programs."
The panels covered a diversity of interests. In "Two Ears, One Mouth," for instance, presenters discussed the difference between surface-level outreach and the deeper person-to-person engagement that bike share ambassadors are able to achieve.
"The equity panels were well-attended, better attended than last year," said Waffiyyah Murray of the City of Philadelphia, who was at the conference.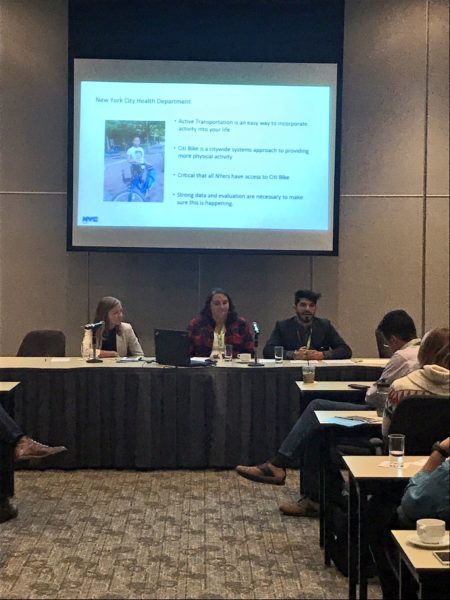 Source: Waffiyyah Murray
Dockless systems were first-time participants
Murray and others were quick to admit that a lot of the focus throughout this year's conference was on dockless bike share operators. This was the first year that the dockless companies were in attendance at NABSA.
The end result was many lingering questions from participants. Kate Fillin-Yeh of the National Association of City Transportation Officials (NACTO) said that the dockless companies changed the dynamic of the conference and led to concerns over how their presence will impact cities' ability to promote bike share as transportation accessible to all residents.
"We have to ask ourselves if geographic equality is the same as equity, or if there are levels of service, quality, and reliability that need to be considered in order for bike share to truly meet equity goals," said Fillin-Yeh, referring to the fact that dockless bikes can be placed in any neighborhood within a city.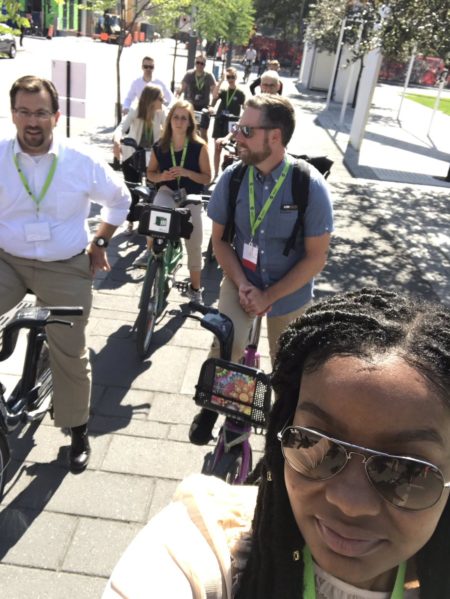 Source: Waffiyyah Murray
Montréal shows leadership in bike share integration
One thing that most participants seemed to agree on was the fact that Montréal is making big strides when it comes to bike infrastructure and embedding the BIXI bike share system into the local transit network.
"They do bike valets all year round at five of the really heavy bike share stations throughout the area," said Murray. "People can just drop off bikes. If there is a festival or event coming, they add valets for that."
Montréal has also integrated its OPUS transit fare card with BIXI, so that riders can use the same method to access buses, trains, and bikes. There was a bike tour as part of the conference, as well as a demo of the new mechanism that would allow riders to get a free transfer from the bus to bike share with a tap of the card.
Overall, NABSA's conference allowed for making new connections and rekindling old ones. "The main thing I enjoyed was getting to meet in person the people you hear on the phone, webinars, and see online," said Murray. "Being able to connect with some of our partners was great."
The Better Bike Share Partnership is funded by The JPB Foundation as a collaborative between the City of Philadelphia, the Bicycle Coalition of Greater Philadelphia, the National Association of City Transportation Officials (NACTO) and the PeopleForBikes Foundation to build equitable and replicable bike share systems. Follow us on Facebook, Twitter and Instagram or sign up for our weekly newsletter. Story tip? Write stefani@betterbikeshare.org.
Save
Save
Save