Community Ambassadors Make a Difference
August 18, 2021
Three unique programs are currently underway in Upstate New York, Tulsa, Oklahoma, and Milwaukee, Wisconsin.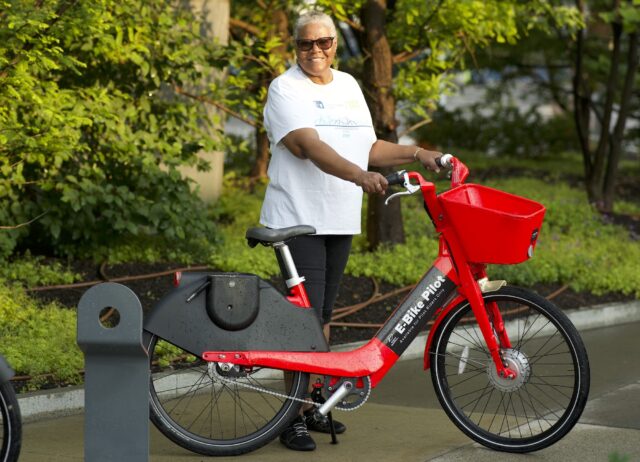 Community ambassador programs might not be especially novel but that doesn't make them any less effective. Whenever we announce a new round of mini-grant recipients, as we did this past June, it's safe to assume that at least a couple will be for organizations looking to either launch or expand an ambassador programs, having correctly assumed that the best way to reach people where they live, work, and play is through the people right alongside them.
The following programs all received BBSP funding to enact their ambassador programs, which will help promote a new electric bike lending program in Upstate New York, as well as continued engagement around system expansions in Tulsa, Oklahoma, and Milwaukee, Wisconsin. As with all our work, the projects will directly impact and engage historically underrepresented populations.
New York's Reddy E-Bike Library Ambassadors
When Uber announced it was getting out of the bike share industry — receiving a slew of bad press for its disposal tactics — Shared Mobility Inc. (SMI) saw an opportunity. The nonprofit, which uplifts disadvantaged communities in Buffalo and Niagara Falls, New York, with affordable, accessible and equitable mobility options, reached out to the ride share company soliciting a donation. Uber agreed to donate 3,000 of its used Jump electric bikes to SMI, who received them in July 2020 and spent the ensuing months prepping the fleet for a re-branded launch.
SMI launched Reddy Bike Share in 2015 and although it has continued to grow every year, the pedal assist e-bikes are part of a new frontier, allowing more people of varying age and skill levels to bike. In line with Reddy's mission to offer affordable transportation options—Reddy bike annual passes are just $55/year, with $1/year pass options for Niagara Falls residents—the e-bikes will be free through lending libraries hosted by two community ambassadors, the Create a Healthier Niagara Collaborative and the East Side Bike Club. BBSP funding has gone to hiring and training two individual ambassadors at each library to further engage people around using the new e-bikes.
"The ambassador component is a huge piece of this puzzle because they're the people that know the communities better than we do—who live, work, volunteer and already do bike rides in the neighborhoods we're trying to reach," says Jennifer White, co-founder and communications manager at Reddy Bike Share.
All four of the chosen ambassadors—JD, Debra, Messiah, and Curtis—are Black bikers that represent a variety of age groups and backgrounds. There are currently around 50 bikes between the two libraries and folks interested in using them need only sign-up online and complete a 20-30 minute orientation led by one of the ambassadors. As it's a library, as long as an e-bike is available, members can use them as much as they want. The hope is that by partnering with community organizations and individuals in areas where unemployment rates are high, income levels are low, and health outcomes are bleak, the free e-bikes might be a force of good.
"In parts of Buffalo and in the areas outside of downtown Niagara, attitudes are downtrodden and people see bike share and think, 'Those bikes aren't for me, those are for tourists,'" says White. "We've been trying to break down barriers for the last few years but we're a small team. We need help getting the word out and building more trust."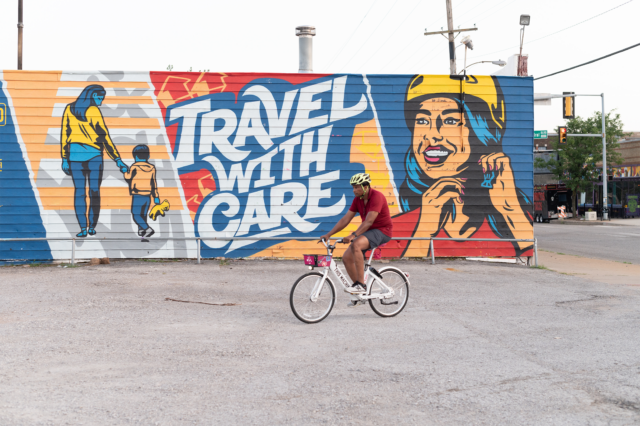 African American Community Outreach in North Tulsa
This year marks the 100th anniversary of the Tulsa Race Massacre, an event that's often described as the single worst incident of racial violence in American history. From May 31 through June 1, 1921, violent mobs of white residents, many deputized and given weapons by city officials, descended on Greenwood, a prosperous Black neighborhood in North Tulsa, killing more than 300 people, burning and looting more than 1,470 homes and decimating the pulse of the African American business community, Black Wall Street. Afterwards, 8,000-10,000 people were left homeless and some 6,000 were detained in internment camps.
In the years following, as survivors began to rebuild and revitalize, a highway was put in, further dividing the neighborhood. The city has been slow in acknowledging the constant barrage inflicted on the African American community of North Tulsa, and although it has recently begun attempts at reconciliation, there's still much work to be done. As This Machine, Tulsa's bike share system, expands to North Tulsa, it's working to play a pivotal role in a more equitable future. 
"The community is very much in favor of expanding and we've been really trying hard to make sure that we communicate all the way through so that we are not just bulldozing our way in," says Katie Sawicki, executive director at This Machine. "We really want to make sure people feel like bikes are part of their community."
BBSP funding will provide This Machine with the programming dollars to conduct outreach, promotions, events and other activities around the expansion, partnering with local churches and other community organizations. Thus far, the nonprofit has engaged a health center, the YMCA and a park where a senior activity center is currently being built. In North Tulsa, about 25% of residents don't have access to a motor vehicle yet the infrastructure is all built around driving, with essential services spaced far apart and no subway system. The average Tulsan spends a whopping 25% of their income on transportation and between North and South Tulsa, there's a 10-year life expectancy gap due to health disparities. Sawicki believes these stats showcase the pivotal role bike share can play.
"[This grant] is about rebuilding trust but it's also providing those resources that are very much needed in order to impact a person's health and well-being," says Sawicki.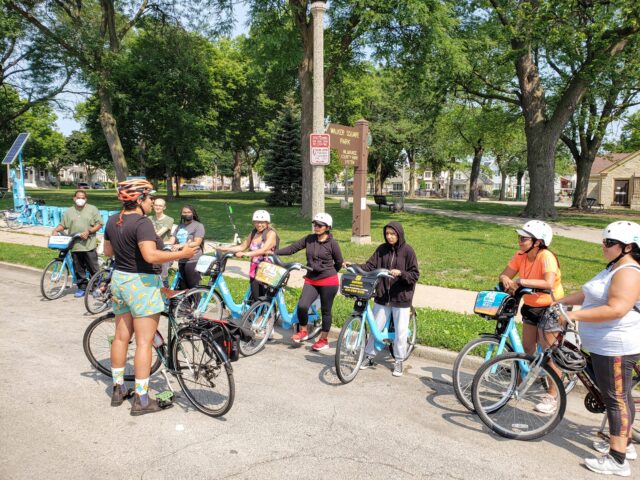 Savvy Cycling in Milwaukee
Milwaukee, Wisconsin, is generally considered one of the most, if not the most, segregated cities in the U.S. When Bublr Bikes, the city's bike share system, was first launched in 2014, the highly segregated nature of the city made it so that a typical network of stations expanding outwards would be, by default, not very equitable. 
"It was always important for us to counteract that reality through programming and to continue working with municipalities to grow the system, so that as it grew, we would increasingly serve more of the diversity of the city," says James Davies, Bublr's executive director.
Bublr is now in the second round of a federally funded expansion that will add 26 new stations in predominantly BIPOC, historically marginalized neighborhoods. Ahead of the station expansion the city embarked on a public engagement campaign, reaching out to community organizations to engage a broad range of individuals, soliciting as much input as possible on where the stations should be placed. 
"As we moved on to station installation, it was really important to us to have it not just be a one-and-done and that we continue and evolve that engagement process," says Davies. "We want to ensure people understand how the bikes work, people know about the different pass types, and people have some opportunities to learn some best practices in terms of bicycling in the urban environment."
Grant funding from BBSP will go towards these bike classes, as well as the free helmets and complimentary 30-day passes given to all attendees. Done in partnership with community organizations and two Bublr ambassadors, the goal is to host 10, 90-minute classes throughout the summer with roughly 10 attendees, all of whom will learn about best practices for biking in a city, as well as how the Bublr system works and its various pass types (including its free access pass for those on government assistance). By leveraging trusted neighborhood institutions, such as nonprofits and health centers, Bublr hopes to establish trust and capitalize on local events like a local mural painting.
For Davies, the transition from getting folks to help with station placement to getting them to use those same stations is a natural progression, a testament to the fact that community engagement has to be an ongoing process. There's also evidence that Bublr's work is paying off: When the system first launched, ridership was 75% white whereas today, it stands at 54% white.
"Every year we've tracked we've moved our riding program to better reflect the diversity of the city," says Davies, noting that the expansion coupled with this grant will help Bublr make strides towards its organizational equity goals. "We can't solve all of Milwaukee's segregation issues, but we want to make sure that we are at least not contributing to them."
---
The Better Bike Share Partnership is funded by The JPB Foundation as a collaboration between the City of Philadelphia, the National Association of City Transportation Officials (NACTO) and the PeopleForBikes Foundation to build equitable and replicable bike share systems. Follow us on Facebook, Twitter and Instagram or sign up for our weekly newsletter. Got a question or a story idea? Email kiran@peopleforbikes.org.