The Importance of Engaging Ahead of Expansion
November 22, 2022
As its system grows, Ohio's Link Dayton Bike Share has been conducting outreach and gathering input from residents in historically redlined areas.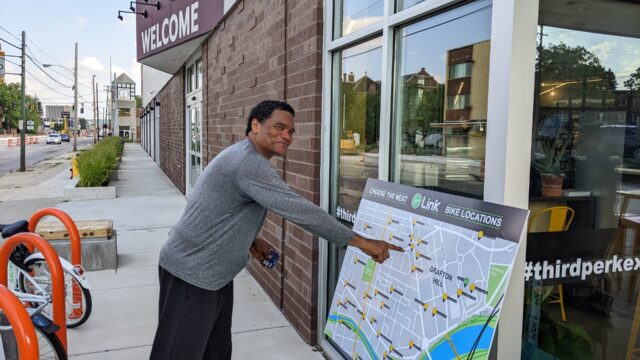 A good community engagement strategy front ends any sort of expansion plans, gathering input from residents ahead of making key decisions like where stations should go. In Dayton, Ohio, the local Link Bike Share system knew that in order for its system to be more equitable, it needed to expand outside the downtown area and into the historically underserved areas of Northwest and West Dayton. 
In September of this year, the City of Dayton awarded the advocacy group Bike Miami Valley — which handles memberships, partnerships, education, and marketing for the system — $100,000 in American Rescue Plan Act funding (ARPA) in order to expand the system. In order to support the work of reaching out to residents and soliciting actionable feedback, Bike Miami Valley also applied for and received a BBSP mini-grant.
When the City of Dayton first received its ARPA funding, it underwent an intense project to think about how to best leverage those dollars for a lasting impact on the community. The city manager conducted an analysis of the needs and gaps in Dayton, a place where — similar to many American cities — redlining occurred and has had a lasting impact on communities of color. Based on that analysis, the city was able to identify priority neighborhoods where it wanted some of the ARPA funds to go. When the city opened up applications for organizations to submit project proposals, Bike Miami Valley jumped at the opportunity.
"We picked a few priority neighborhoods in West and Northwest Dayton where we felt we could expand and put more resources," says Laura Estandia, executive director of Bike Miami Valley. "We do have a couple of existing hubs in those neighborhoods but to create more of a network over there, we need more locations."
There are currently 37 Link stations in the center of downtown Dayton, as well as nearby historic and university areas. While Link already has one existing station in each priority area, for it to be a walkable, connected network, it needed a greater density of stations. The plan was to create more access for folks in those neighborhoods so that the system was truly usable, opening up active transportation as a real possibility. 
"We also partner with public health organizations a lot and the city's priority areas align with their community health improvement plan," says Estandia, noting how Bike Miami Valley was able to streamline its summer outreach efforts. "We were able to leverage activities we were already doing to get adults more active in order to get input for our new locations."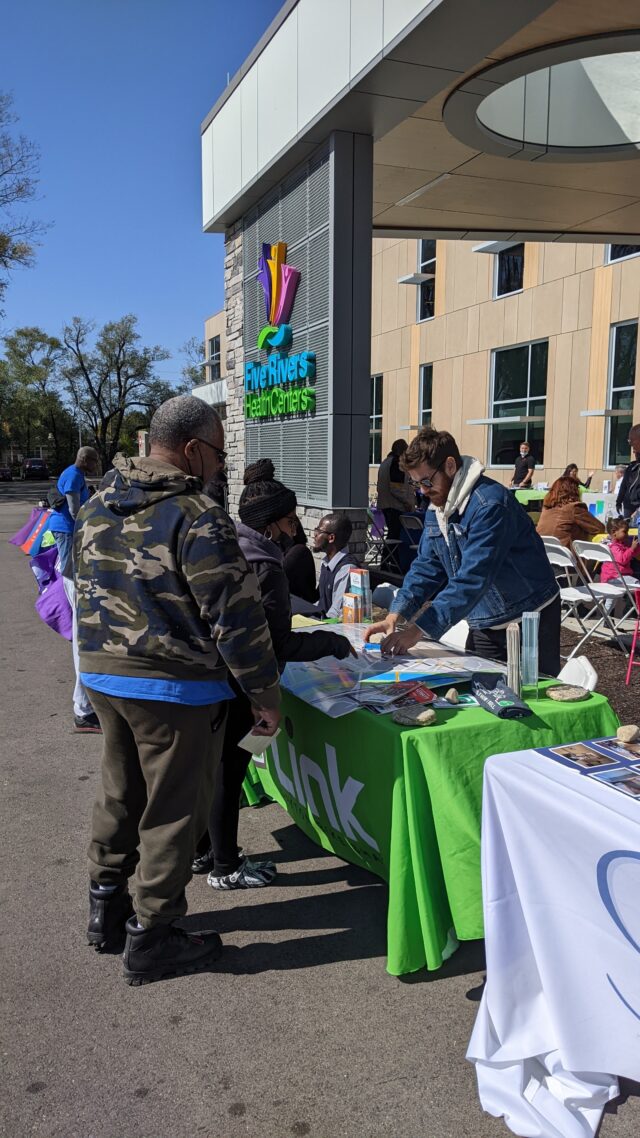 This summer, the additional BBSP funding has specifically helped with a series of demo days, where residents have the opportunity to test Link bikes and take home free helmets. For those in-person events, Bike Miami Valley also printed out large maps with existing locations alongside cultural institutions and neighborhood mainstays, inviting residents to put a dot on the map to show where they'd like stations to go. There's also an online survey option for those that prefer offering feedback virtually. 
"Now, we're going to all of the neighborhood meetings and other community events that are happening this fall and winter to connect with more people and get more input," says Estandia, adding that door-to-door outreach might happen after they've exhausted all other engagement methods. "First and foremost, we're trying to use as many community spaces as possible."
One of those spaces is the Gem City Market, a co-op grocery store located between two of the priority expansion neighborhoods. The store, which is community-led and has a dedicated gathering space, is one location where Estandia is confident a station will eventually go.
"That location is going to happen," says Estandia. "We're asking the community where else they want to bike from to go grocery shopping."
When planning for stations, you can look at maps all day but unless you live in the area, it's almost impossible to determine what makes the most sense. For example, you might pinpoint a location between two cultural institutions — say a recreation center and a public park — but you don't know what street corner boasts better lighting or what street crossing is safest. And while a central location might seem intuitive, residents might prefer something more on the outskirts closer to local businesses. 
"We're looking for that kind of on-the-ground feedback to help us prioritize where sites should or should not be," says Estandia.
The hope is to wrap up community engagement efforts by the end of the year and have the new stations chosen and installed come May 2023. While Dayton has had on-and-off again low-income programs, the system hasn't been able to sustain one due to a lack of an ongoing sponsor and some software issues. Estandia hopes to leverage this expansion to tackle those issues and eventually incorporate subsidized memberships. She sees the community engagement work that's currently being done as serving the bike share system both in the immediate term and down the road.
"I think this work is two-fold," says Estandia. "We're letting people know the system is coming, so we're building excitement, but at the same time, we're also generating buy-in for it. That's the ultimate hope."
---
The Better Bike Share Partnership is funded by The JPB Foundation as a collaboration between the City of Philadelphia, the National Association of City Transportation Officials (NACTO) and the PeopleForBikes Foundation to build equitable and replicable bike share systems. Follow us on Facebook, Twitter and Instagram or sign up for our weekly newsletter. Got a question or a story idea? Email kiran@peopleforbikes.org.