Community Liaisons Spread Their Love of Bike Share
September 7, 2022
Blue Bikes, New Orleans' nonprofit bike share system, used grant funding to recruit ambassadors from three historically underserved areas.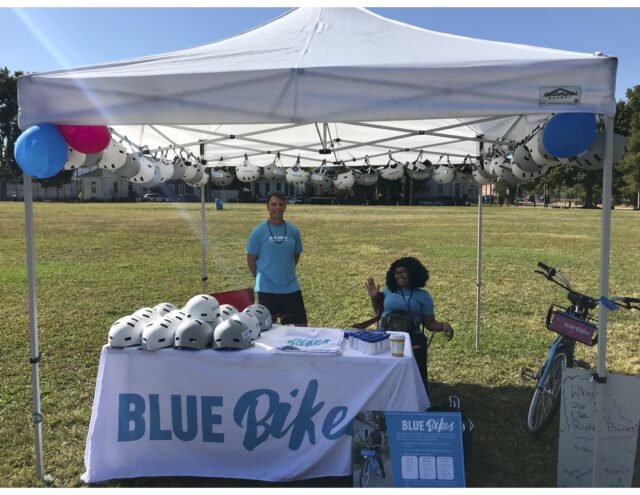 The pandemic hit New Orleans especially hard. As a city that relies on tourism and boasts many service-sector jobs, the practice of social distancing took an incredible economic toll. NOLA residents also have higher than average rates of obesity, diabetes, and hypertension — pre-existing conditions that make patients more vulnerable to COVID-19. This led to the city being labeled a hot spot at the height of the pandemic, with a death rate that was at one point twice as high as that of New York. 
To add insult to injury, in May 2020, Blue Bikes, the city's popular bike share system (then operated by Lime), announced it was ceasing operations for good. As the city's fleet of 1,300 e-bikes was pulled from the streets, residents without a car and weary of transit were left without transportation. As with the destruction caused by Hurricane Katrina in 2005, these hardships hit New Orleans' Black population (about 60% of the city), the hardest. 
As NOLA looked to launch bike share again, it turned to a nonprofit governance model, hoping to build a sustainable system grounded in the values and needs of the community. The new Blue Bikes system, which launched in August 2021, is operated and managed by the community-based nonprofit Blue Krewe. It launched with 504 pedal-assist electric bikes (the number represents the city's area code) and offers both a "Pay As You Go" option ($1 to unlock and .15/minute thereafter) and a $25 monthly pass that includes 60 minutes of ride time a day (plus no unlocking fees). For New Orleans residents who qualify for Louisiana Purchase (S/NAP) or Medicaid, the Blue Bikes for All program takes the monthly cost down to $4.
In the months since re-launching, the bikes have become a mainstay on city streets, ridden by tourists and locals alike. New Orleans is a city of neighborhoods, however, and in order to better weave into them, the Blue Bikes team started brainstorming. Inspired by an ambassador program created by another local nonprofit, Friends of Lafitte Greenway, Blue Bikes landed on a Community Liaison program to help bring in new residents and organically grow the system's reach. 
"In our network, we're hitting a bunch of different neighborhoods that have totally different experiences," says Patrick Urbine, Blue Bikes' community engagement manager. "We wanted  a program that would help us to really engage with those neighborhoods."
In June, Blue Krewe was one of ten organizations to receive a 2022 BBSP mini-grant and its funding will cover a stipend of $150 a month for six Blue Bikes Community Liaisons. Blue Krewe's focus is on health, equity, and sustainability, and it decided to recruit liaisons from the three neighborhoods within its system that rate highest according to the New Orleans' Bike Equity Index. Created to help inform the city's bicycle master plan, the equity index helps identify underserved, priority areas based on things like car-ownership rates, as well as race and socioeconomic status (which are known indicators of many chronic diseases). 
"The three neighborhoods that we're currently working with are Central City, the Lower Garden District, and the Seventh Ward," says Urbine, noting that the six liaisons came started in August and are all community stakeholders in their own right. "The way that we describe stakeholder is someone who has had a long-term experience interacting with a neighborhood, ideally as a resident or someone who may have a faith-based or formal connection if they go to church, work, or coach there."
For six months, each liaison will take part in monthly check-ins with Blue Bikes team members to soundboard ideas, brainstorm the best way to lead a community outreach event, or ask for additional support or resources. All liaisons also participate in a monthly group training that's skill-based and provide context for working in bike share. Topics include outreach, communications, canvassing strategies, and partnership development. Each liaison is also responsible for either organizing a Blue Bikes event or participating as an ambassador in someone else's. 
"We've been talking with the liaisons about what a partnership might look like," says Matt Hilferty, the outreach coordinator at Blue Bikes. "Most liaisons already have connections in their communities, so it makes sense to tap into those."
For example, one Lower Garden District liaison already had a relationship with the New Orleans Annunciation Recreation Center, making it the perfect location for a helmet giveaway. In Central City, Blue Bikes hosted a back-to-school event with YAYA Art Center, where helmets were given out alongside school supplies and conversations about bike share intermixed with family-friendly art activities. In the Seventh Ward, a helmet pop-up was held in the A. P. Tureaud Civil Rights Memorial Park, across from a public library and adjacent to some of the city's new bike infrastructure. 
"The ultimate goal is to integrate into these communities more fully," says Hilferty. "We're excited to see how those relationships can progress and organizations can grow together."
When recruiting community liaisons, one of Blue Bikes' primary strategies included posting fliers around the three target neighborhoods — in coffee shops and at local organizations — as well as to local job boards, newsletters, and social media. Most applications, however, came from a banner advertisement in the Blue Bikes app, ensuring that those applying were already Blue Bikes users and sold on bike share. While predominantly females in their mid-30s to 40s, the six chosen liaisons do represent the neighborhoods they serve: Three are born and raised in New Orleans, while three are transplants from elsewhere; three are Black; all six were already avid bikers.
"The liaison program allows access to bike share in a way that doesn't feel intimidating, and a big part of that is having people feel comfortable with the person they're interacting with," says Urbine. "Intimidation can serve as a barrier and we want people to feel comfortable experiencing the bikes and understanding the program in a way that's not intimidating."
The hope is that through partnerships and connections made, more and more organizations and individuals will come into the Blue Bikes fold. After all, bike share can benefit all facets of our daily lives, helping us exercise, visit family and friends, make a doctor's appointment, grab groceries, or commute to work. As with anything new though, it helps when a neighbor shows you the way.
---
The Better Bike Share Partnership is funded by The JPB Foundation as a collaboration between the City of Philadelphia, the National Association of City Transportation Officials (NACTO) and the PeopleForBikes Foundation to build equitable and replicable bike share systems. Follow us on Facebook, Twitter and Instagram or sign up for our weekly newsletter. Got a question or a story idea? Email kiran@peopleforbikes.org.