A Bittersweet Farewell. Thank You, Bike Share
December 22, 2020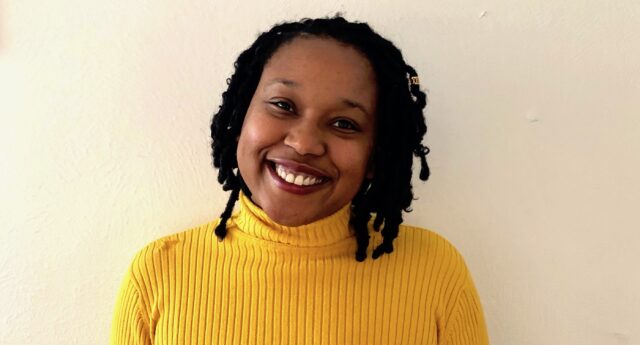 This is a farewell post from Partnership Writer Farrah Daniel. I can't say this enough, but thank you to our wonderful partners and grantees who've made my job easy and fun this last year. Because of your enlightening interviews, helpful resources, and especially, your enthusiasm for this work, I'm a much more informed and aware person than I was one year ago. I wish you all the best.
When I first began my journey with the Better Bike Share Partnership in October 2019, I'll admit I'd never understood bike share and shared micromobility. I knew my old city of St. Pete was welcoming bike share into the transportation fold, but it wasn't until I began to work with this partnership that I finally understood the grave injustices people in low-income communities and communities of color have been forced to navigate — with little to no help or safe infrastructure.
As a Black woman, my role in this world is not a privileged one. Like all BIPOC, people look at me and decide who I am before I open my mouth. However, I have been immensely privileged to be able to overlook the lack of equity in transportation and shared micromobility. Thankfully, that reality ended the moment I began to work with BBSP.
In my year here, I've read and written a number of stories that have radicalized my view of equity in America. In fact, one of my first articles about the difference between equality and equity was a major learning lesson about what equity in shared micromobility and transportation really means, plus which communities we intend to support in this pursuit.
Beyond that, I've been able to learn about creative programming intended to increase bike share support, ridership, community engagement and more throughout the country. Some examples include systems and practitioners that focused on: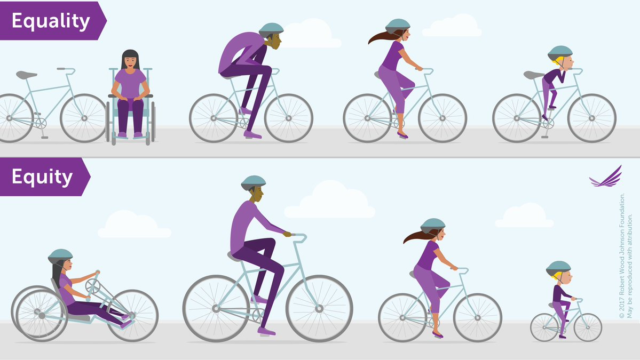 Courtesy of the Robert Wood Johnson Foundation
Then, COVID-19 hit, turning the world of transportation upside down as cities scrambled to provide their residents access to transportation without putting them in harm's way.
And that's when bike share prevailed — across cities like San Francisco, New York City, Kauai, Philadelphia, Pittsburgh and many more, I watched in wonder as bike share systems, including our amazing grantees, went above and beyond to provide innovative solutions safe mobility for essential workers, riders and other community residents.
(👉 Check out all of BBSP's COVID-19 coverage here to learn more about bike share's contributions!)
This year, shared micromobility also delved deeper into race issues. In Tamika Butler's article for Bicycling magazine, Why We Must Talk About Race When We Talk About Bikes, she wrote, "Bicycling cannot solve systemic racism in the United States. But systemic racism can't be fixed without tackling it within bicycling. With the rise of bicycling during this global health pandemic, this is the moment to … look at the racism institutionalized in our companies, media publications, nonprofits, planning firms, and government agencies, and hire a workforce that reflects the diversity of our communities, at every level and in every position."
Could she be any more correct? Since its conception,  bike share has had an equity problem. This was one of my first realizations. Yet, one year after my start with BBSP, I feel hopeful about how far we've come and where all the new heights we can reach.
I look back to this year and see how the shared micromobility community lifted each other up through one of the most chaotic and unprecedented events we've faced in modern times.
One system after the other, bike share offered free rides and discounts, virtual educational programming, care packages with helmets and hand sanitizer, and uplifted Black Lives Matter initiatives. It provided people a safe and healthy outlet of expression, not to mention reliable transportation, which I wrote about in this article about National Bike Month and rider's experiences with riding through a pandemic.
I write this tearily, feeling so strongly impacted by the advocates, practitioners, supporters, users and operators of bike share. Through my first Hindsight Conference, webinars, resources and more, thank you for the opportunity to contemplate equity and the injustices of transportation. Thank you for helping me be more intentional in my understanding of it, including how I write about and discuss these topics.
There's no doubt in my mind the ideas and energy from bike share professionals and community members will continue. With this newfound knowledge about this community, I can't wait to advocate in new ways.
Thanks again for all your hard work and dedication. Until we meet again ❤️
In the meantime, please send any Better Bike Share Partnership communications to Zoe Kircos (zoe@peopleforbikes.org). 
The Better Bike Share Partnership is funded by The JPB Foundation as a collaborative between the City of Philadelphia, the Bicycle Coalition of Greater Philadelphia, theNational Association of City Transportation Officials (NACTO) and the PeopleForBikes Foundation to build equitable and replicable bike share systems. Follow us onFacebook, Twitter and Instagram or sign up for our weekly newsletter. Story tip? Write zoe@betterbikeshare.org.