Tips for Maximizing Your Bike During COVID-19
April 15, 2020
Courtney Williams is a bicycle advocate and consultant who works with local government, non-profits and institutions to increase bicycling access and adoption within communities of color through her consulting firm, The Brown Bike Girl (TBBG). She was also recently named a Grist 50 Fixer for climate change!
Courtney regularly offers ideas to individuals and institutions that are establishing or supporting cycling access and bicycling education in marginalized communities of color.
Recently, she took to Facebook to share her knowledge about safe commuting during COVID-19 for anyone who's hesitant about using public transportation and doesn't want to risk exposure.
In a five-video series titled How-to Commuter Lessons, Courtney shared all the essential tips to empower the use of a bicycle to get groceries and more. Since all states haven't deemed bike shops essential businesses, these informative video lessons are a must-see. 
Here's a quick overview of the lessons: 
Video 1: Preparing your bike kit and helmets

Video 2: Changing a front tire

Video 3: Changing a rear tire, & repair with patch kits

Video 4: Carrying stuff/grocery shopping

Video 5: Sanitizing your bike 
During these trying times, it's imperative we stick together and Courtney is showing us exactly how to do that. We invited her to share her expertise and experience with our BBSP audience and how to make commuting during COVID-19 a smoother experience. 
Bicycling During a Pandemic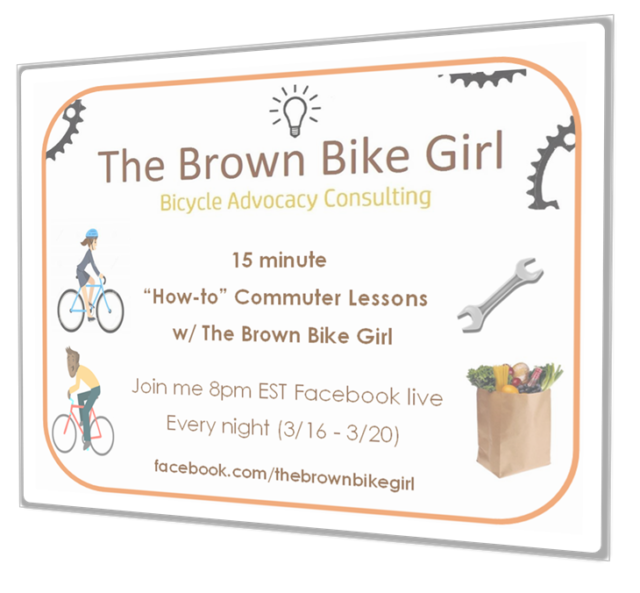 Photo courtesy of The Brown Bike Girl 
Ever since Americans were directed to minimize the spread of COVID-19 by maintaining a 6-foot social distance and avoiding touching shared surfaces during our daily travels, the way we view our daily interactions with the spaces and objects around us has been transformed — the bicycle notwithstanding. 
In the nation's most populous cities, where social distancing is impossible on shared modes of transportation that support a significant amount of the public, people who previously only thought of bikes for recreation or competition are starting to reconsider them for the tools and workhorses they are.
Bikes are already used as the preferred mode of full-time personal and passenger transportation around the world and by a small sliver of ambitious Americans. Bikes can, and do, handle heavy-duty services that do everything from rescuing hundreds of pounds of salvageable food for pantries to moving oversized furniture on people-powered wheels, proving you, too, can transport your grocery haul of just a few bags by bike as well. 
Creating the proper setup to empower you to "flatten the curve" while handling your essential business by bike is simple and economically accessible. Here is my list of sensibilities, hacks, and modifications to help you perform as safely and efficiently as a working cyclist or dedicated commuter:
The Equipment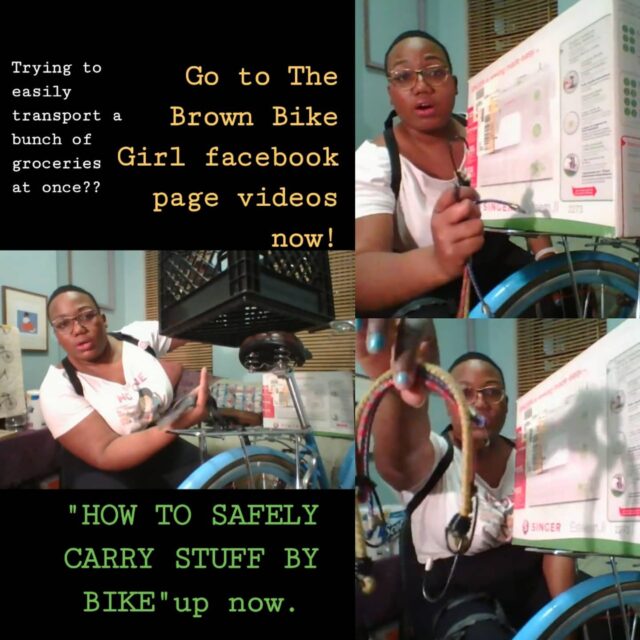 Photo courtesy of The Brown Bike Girl 
A rear rack

*: A rack establishes the foundation for hauling without any rolling attachments (more later). Though choosing a potentially less expensive front rack is tempting, a singular rear rack is always preferable because it will afford you the most capacity and control over your bike when loaded — but by all means, you're welcome to add a front rack as well!

Panniers

: Panniers are bags and baskets that attach to the sides of a rear rack. They come in all materials, styles and sizes. If you're going to frequently use it for bulk, it's a great idea to seek ones that will accommodate at least the standard paper grocery bag. For covered panniers, it's never a bad idea to select a waterproof bag. However, a pannier that solves both needs is the homemade plastic bucket pannier. (You can find a tutorial on Youtube!) 

Bungees or Ties

: Securing items to your rack is a must. Always carry some bungee cords because you never know when you'll want to pick something up. Some securely tied busted inner tubes are also effective if you are trying to minimize spending.

Trailers

: Feeding a large family or determined to stock the house once and never leave again? That's cool. If you're open to investment, some companies manufacture bike-specific trolleys, carts, and wagons that could double or triple a single bike's carrying capacity! 
Maximize control of your loaded bike:
Pack for balance.

Left & right, bottom & top — make sure you have even weight distributed on both sides of the bike by putting heavy items on the bottom with lightest on top. 

Never put bags on your handlebars

. Pedaling against the force of a swinging bag is not only wonky but unsafe. Plastic bags pose the particular risk of shredding into your wheels, causing you to lose your items, sustain an injury, or worse.

Keep things out of your wheels

. For the same reason as above, never allow a cord or strap to hang. Make sure all bungees are taut and thoroughly hooked. 
Fortunately, if you need any of these accessories, many states are smartly classifying local bike shops as essential businesses. 
If your state has not classified bike shops as essential, reach out to your local representatives and demand bikes shops remain open during state lockdowns to keep our low-emission and low-transmission forms of transportation running!
*I'm usually overjoyed to encourage people to enjoy riding any type of bike. However, with hauling cargo, ultralight performance bikes are the exception. Sorry, super-roadies, you'll either have to source a bike with a more rigid frame or settle for what you can carry in a backpack as your safest solution. ????
— — — —
Got more questions for The Brown Bike Girl or want to let her know you loved her tips? Reach out to her on Twitter, Facebook, or Instagram!
Thank you to Courtney Williams for sharing her wisdom with BBSP and all of our readers. 
We wish the utmost safety for bikers everywhere who are traveling during these challenging times! 
The Better Bike Share Partnership is a JPB Foundation-funded collaboration between the City of Philadelphia, the Bicycle Coalition of Greater Philadelphia, the National Association of City Transportation Officials (NACTO) and the PeopleForBikes Foundation to build equitable and replicable bike share systems. Follow us on Facebook, Twitter and Instagram or sign up for our weekly newsletter. Story tip? Write farrah@peopleforbikes.org