Apply to be a BBSP Living Lab Grantee!
September 19, 2023
Submit a Letter of Interest for our next round of Living Labs by November 17. Grantees will be awarded $200,000 over two years for projects making shared micromobility more equitable.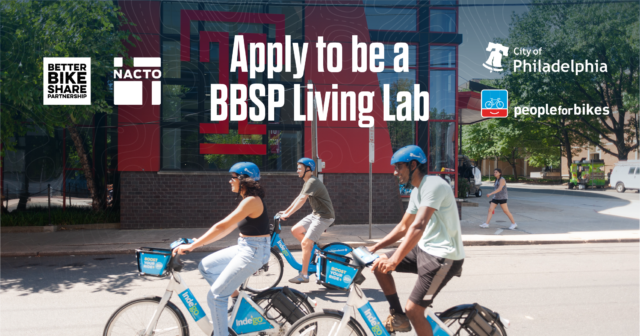 In 2020, the Better Bike Share Partnership debuted its Living Lab program, a new strategy to promote equity in shared micromobility for low-income, communities of color. In its first iteration, the Living Labs program provided $200,000 in funding, support, and additional resources over the course of two years to five partnerships, all of which worked to develop best practices for addressing a significant barrier to shared micromobility. Our first five Living Labs all tackled distinct issues in Cincinnati, OH, Chicago, IL, Detroit, MI, Philadelphia, PA, and Portland, OR. 
We're now proud to announce a second edition of our Living Lab program, which will run from 2024 to 2026. We are currently inviting Letters of Interest from partnerships of cities, bike share operators, transit agencies, and community-based organizations that want to apply to the Living Lab program. Letters of Interest are due by November 17, 2023, and are a required step in order to be invited to apply for funding in the spring. The program will be largely unchanged from its first iteration, except we will only be funding four cities, one of which will once again be Philadelphia and its Indego bike share system. 
Philadelphia and the Indego system are considered the original Living Lab due to the city's founding role in BBSP. Since Indego first launched in 2015, it has created more access to bike share by establishing and refining a comprehensive Community Ambassador program. In the last two years, as part of its Living Lab grant, Indego carried out extensive community engagement work as it expanded to more neighborhoods in the city's south and west sides.
Other BBSP Living Labs have broken down barriers related to transit integration, youth access, representation in the decision-making process, pricing, commuting, and system expansion. Over the course of the last two years, we've covered all of our grantee's work in a series of blog posts. In January 2024, we will share our final report highlighting these projects and what they accomplished over the term of their grants, as well as all replicable learnings. 
In Chicago, nonprofit the Northwest Center amplified the voice of youth in local micromobility planning and implementation efforts, securing the first bike share stations in the Belmont Cragin neighborhood, educating the larger community about bicycling, and giving away more than 2,500 reduced-fare memberships. MoGo, a nonprofit operator in Detroit focused on integrating bike share with the city's bus and streetcar system, while Cincinnati's Red Bike focused on youth access and community engagement around station siting. The Portland Bureau of Transportation, which oversees the Biketown bike share system, prescribed bike share memberships to help improve health outcomes for youth and historically underserved populations. 
What barriers to shared micromobility currently exist in your community? We want to help you tackle them.
BBSP Is Looking For:
Projects that directly target historically underserved populations, specifically low-income and/or communities of color

Established shared micromobility systems with a demonstrated commitment to equity

Established and functional relationships between partners

Projects with potential for replicability
BBSP will not fund:
Programming related to micromobility systems that have not yet been launched

Bike share stations, bicycles, scooters, or equipment related to the function of the shared micromobility system

Bicycle infrastructure such as bike lanes or paths

General operating costs
Living Lab grantees will receive:
Grant funding of $200,000 over two years

Technical support from BBSP partners and other industry leaders

Scholarships and travel stipends to present at relevant conferences 
Eligible Applicants:
BBSP will grant to 501(c)(3) non-profit organizations, local governments, or transit agencies 

BBSP does not support for-profit companies

BBSP does not support programs or entities outside the U.S.
Timeline:
September 19, 2023 —

Call for Letters of Interest

November 17, 2023 —

Letters of Interest due

January 15, 2024 —

Invites to submit a proposal are sent out

March 15, 2024 —

Proposals due

April 29, 2024 —

Grantees are announced

May-June —

Contracting process

July 2024 —

Kickoff event for grantees
For more details on the Living Lab program, please refer to our 2023 Information & Guidelines document. The Living Lab Letter of Interest form is available here.
Please direct any questions about these guidelines or the Letter of Interest to Tangier Barnes Wright, Senior Partnership and Program Manager, PeopleForBikes, tangier@peopleforbikes.org, 970.405.7467.
---
The Better Bike Share Partnership is a collaboration between The City of Philadelphia, the National Association of City Transportation Officials (NACTO), and PeopleForBikes. The mission of BBSP is to advance equity in shared micromobility by increasing access to and the use of bike share and scooter share among BIPOC and people with limited incomes. BBSP works with and supports organizations in their efforts to build equitable shared micromobility systems.