Indego's Expansion Plans Put Community First
April 9, 2021
This is the fifth article in a series profiling our five Living Labs, all of which are focused on bettering bike share in historically marginalized communities.
The Better Bike Share Partnership formed in 2014, a collaboration between the National Association of Transportation Officials (NACTO), the PeopleForBikes Foundation, and The City of Philadelphia. Initially, BBSP work focused on understanding the barriers to the use of bike share in low-income and communities of color, developing and disseminating strategies to address those barriers, collecting data to assess change and working to institutionalize successful approaches. Philadelphia was our first Living Lab, a place where all of the lessons learned could come to fruition.
At the time, Indego, Philadelphia's bike share system, hadn't yet launched. When it did, in April 2015, BBSP funding was used to install 20 stations in underserved neighborhoods, develop a cash payment option, create a discounted pass program and implement inclusive and diverse marketing. Education was also identified as a big barrier, so the Bicycle Coalition of Greater Philadelphia joined as a key partner to lead free group rides and offer a whole suite of education classes.
"Before Indego launched, we held focus groups, surveys and community conversations to really find out what people's barriers to biking in Philly were," says Waffiyyah Murray, program manager at the Better Bike Share Partnership, noting accessibility was a big concern. "So when we launched, we made sure we had stations that were in neighborhoods and communities, not just downtown, and we've been expanding on that year after year."
Now, as part of a new cohort of Living Labs, Philadelphia will continue to refine and expand its ambassador programs and deep community engagement work, with a particular focus on the new neighborhoods that will be served by Indego's extensive forthcoming expansion.
From the beginning, community outreach has been integral to Indego's operations—the system hired community ambassadors before it even launched. "We always cater our ambassador programs to the needs of our programming of that time," says Murray. "Now, with the expansion, we have new community expansion ambassadors and have catered our programming to the pandemic, since we can't necessarily be gathering." 
In the next five to ten years, Indego hopes to double its footprint, which over the next two years will translate to more stations on Philadelphia's south and west sides. Online, Indego even has a map where people can weigh in and request future stations.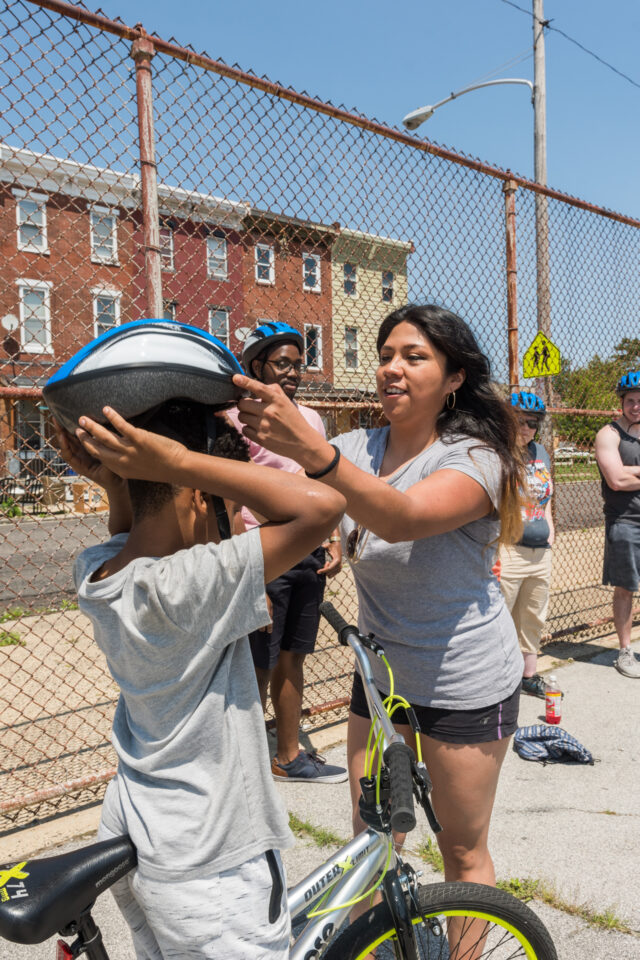 Importantly, Indego's strategy involves engaging communities before any stations are built, building trust and helping to ensure they'll be well used. 
 "When people see bikes, they often think that those bikes are not for them but for the other people that are coming," says Stephanie Ridgeway, community coordinator at Indego. "Having a presence and a platform to meet with some of the smaller community-based organizations gives us the opportunity to say, 'Yes, Indego is coming and it is for you."
As the system prepares to add stations, it's recruited seven community expansion liaisons to help determine the exact placement and what additional resources residents need in order to actually use them. 
"Our liaisons are community members who are helping us boost the signal that Indego is coming—they're our boots on the ground, our ears in the community, letting us know what people think and are saying about Indego," says Ridgeway. "It's extremely important to make sure community members are heard."
Since no two neighborhoods are the same, Indego seeks community ambassadors (often nonprofits or local organizations) and liaisons that are firmly embedded in their neighborhoods, a vehicle for both getting information out but also for providing feedback. Indego's overall strategy acknowledges that engagement can't be cookie-cutter, that approaches should vary depending on neighborhood specifics, and that work must continuously be checked so that programs can evolve in real-time. For Ridgeway, it goes without saying that all partners are paid for their time.
Indego also has individual ambassadors, who are managed by Marketing & Outreach Coordinator at Bicycle Transit Systems Riley Philip Titlebaum. "We're paying our ambassadors $15 an hour," says Titlebaum, emphasizing that they strive to hire bilingual ambassadors and post-covid, will resume in-person tabling for ambassadors at places like ethnic grocery stores. When in-person events return, Indego will also ensure that 40 percent of them service low-income and communities of color. "That's the baseline," says Titlebaum. "In all honesty, I think we tend to be closer t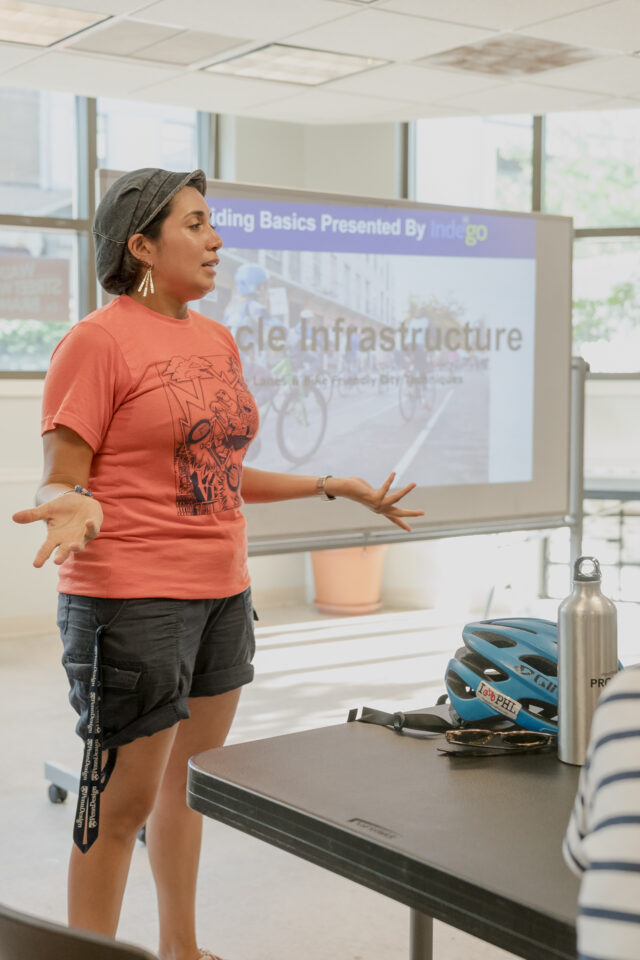 o 60 percent." In the meantime, Titlebaum is enthusiastic about how some of Indego's pandemic resources—such as the "Learn to Ride" video and its digital ride guides—will be useful even when it's safe to gather again.
During the pandemic, Indego also launched "Changing Gears: Community Conversations," a monthly virtual meeting led by the Bicycle Coalition of Greater Philadelphia where residents can gather to share, listen, and dive deep on specific topics like bike safety or mental health. "In communities of color there's this stigma around mental health," says Brenda Hernandez-Torres, Community Engagement Manager at Bicycle Coalition of Greater Philadelphia. "We're trying to change that."
Hernandez-Torres adds that the coalition also serves the undocumented and migrant communities that bike more for transportation than recreation. To accommodate such a wide range of users, she's tweaked the organization's many surveys to ensure future educational offerings aren't exclusively focused on riding. "I've made some changes to make the education component more meaningful," says Hernandez-Torres. "Now we're asking, 'What else do you want to see aside from just biking? Do you want to see how to connect to food resources? Do you want to talk about health both mentally and physically?"
Likewise, Indego provides $500 mini-grants nonprofits or other organizations putting on events tangentially connected to Indego, such as a back-to-school drive where money is used to buy backpacks that are filled with information about bike share. With the pandemic, Indego switched its criteria to include partners who were providing resources for their communities in relation to covid, such as meals or face masks, and once things return to normal, the plan is to continue being able to provide a mixture of support. 
"It's better to ask how we can give a resource than why a community isn't biking," says Hernandez-Torres, emphasizing the importance of stopping first to just listen. "Then, once they give us an answer, it's time to put our money where our mouths are and do the work that needs to be done."
---
The Better Bike Share Partnership is funded by The JPB Foundation as a collaborative between the City of Philadelphia, the National Association of City Transportation Officials (NACTO) and the PeopleForBikes Foundation to build equitable and replicable bike share systems. Follow us on Facebook, Twitter and Instagram or sign up for our weekly newsletter. Got a question or a story idea? Email kiran@peopleforbikes.org.