What We Learned at the 2022 NABSA Conference
November 14, 2022
From October 25 to 27, our industry met in Guadalajara, Mexico, in order to gather, learn, and define the future of shared micromobility together.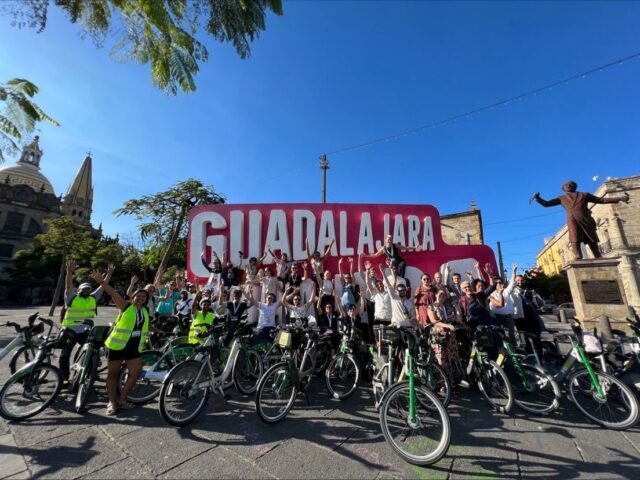 For many attendees, the 2022 North American Bikeshare and Scooter Share Association conference was a long time coming — two years, to be exact. The annual conference was originally scheduled to be held in Guadalajara, Mexico, in 2020. but for obvious reasons, the last two NABSA conferences have been completely virtual. This year's gathering, which took place from October 25 to 27, had the air of a joyful reunion, one where most of the attendees fared well in the time spent apart.
By all accounts, the shared micromobility (SMM) industry is doing well, for the most part having rebounded to or exceeded 2019 ridership. Of course, many operators and systems have gone out of business and even more, companies have consolidated (the latest being conference sponsor PBSC, which was recently acquired by Lyft, the other title sponsor). Nevertheless, there was a shared sense amongst all in attendance that SMM is the future. 
Over the course of three days, attendees could attend keynotes, mobile workshops, and a variety of sessions ranging from "Repurposing and Reusing Equipment to Grow Shared Micromobility" to "Advocating for Safe Street Infrastructure for Bike and Scooter Users." All sessions were bilingual, with translators working in real-time to ensure attendees could fluidly listen to both English and Spanish speakers. Evening receptions celebrated Guadalajara's vibrant culture and food scene.
What follows are 11 high-level takeaways from this year's conference, with an emphasis on how we can make SMM more equitable. In the weeks to come, expect more in-depth reporting on some of these topics.
1. Activism and legislation are both necessary to create change.

"Through activism and government, you can achieve much," said keynote speaker Patricia Martinez, General Director of IMEPLAN, a regional planning organization. This is something conference speakers and mobile workshop leads continued to emphasize. Guadalajara is itself a testament to how bike activism can translate into governmental action and many of the city's changemakers are now well-respected government advisors and employees.
2. Cities need to position SMM as public transportation.

While Mexico's capital made the decision to solicit private investment in order to expand its Ecobici system, bike share remains a government enterprise (other systems, like London's Santander Cycles, operate on a similar model). "This is public transportation operated by a private company," said Guillermo Ávila, Mexico City's director of road security and sustainable urban mobility systems (SEMOVI). "It needs to work as we believe it should work."
3. Integrating SMM with transit is crucial.

The natural next step to seeing SMM as public transportation is making sure it's effectively integrated with transit. Mexico City is one of few large metropolitan areas where bike share has been a part of the larger public transit system since the beginning (although it's only in the last four years that the efforts become more conscious).
With one card, users can access the subway, bus system, cable cars, and bike share. While folks currently have to pay every time they transfer, the city is in the process of trying to figure out fare-capping and establishing an integrated rate. Integration is also a focus of U.S. systems, including those in Austin, Pittsburgh, and Detroit. 
4. Not all systems need to be all-electric (or incorporate e-bikes at all).

From 2019 to 2021, the number of bike share trips taken on e-bikes shot up from 9.9 million to 18.8 million, with rides on e-bikes coming in at 36% more than pedal bikes. By all accounts, e-bikes are on the rise. However, in many places, traditional bikes still make the most sense.
Both Guadalajara and Mexico City are relatively flat cities, easily bikeable without any electric pedal assist. If traditional bikes are working for a system, it doesn't necessarily make sense to add the logistical complications and costs that e-bikes entail. Without a comprehensive low-income program, e-bikes can also price out a lot of users.
5. The gender gap remains.

It's a fact that women have historically used bike share less and as Alia Verloes, who leads the New Mobility team at Steer, presented at the conference, recent data shows that the gender gap in micromobility persists. Risk perception is one of the main factors why women don't use SMM, alongside things like vehicle design, price, and inadequate infrastructure. Other panelists spoke about the importance of offering training by women for women.

Since women are an "indicator species," if private companies, cities, and operators intentionally worked in tandem to address these concerns, we'd likely see an uptick in female users across the board. One initiative that has proved successful is Guadalajara's MiPasaje program, a government mobility support program specifically designed for low-income, female heads of households living in marginalized areas.
6. SMM isn't quite as sustainable as we thought.

In a bit of a mic-drop presentation, Ian Smith, the chief operating officer at Bicycle Transit Systems, presented on research that, contrary to subjective expectations, found that with the exception of station-based bike sharing, shared micromobility programs have not achieved desirable reductions in greenhouse gas emissions. In addition to better and more sustainable design standards on the part of companies, Smith recommends developing strong public-private partnerships in order to create a regulatory structure that maximizes the environmental benefits of SMM. 
7. All systems need to prioritize adaptive riders.

While few systems have dedicated adaptive programs, all should be moving in that direction. In the second part of the conference's adaptive bike share workshop, John Waterman, the executive director of Programs to Educate All Cyclists, laid out exactly what it takes to design an adaptive system, highlighting how easy, low-cost changes can be a great place to start. 
8. Community engagement takes time, it's not a one-and-done.

This is something Olatunji Oboi Reed, president and CEO at Equiticity, underscored during a session on "Why Your DEI Goals Keep Falling Flat." Good community engagement requires strong, trusted partnerships that foster community ownership and that iterate continuously depending on changing circumstances and feedback. 
9. Diversity can be an empty term. It has to be combined with social justice.

Words playing lip service to DEI efforts are not enough — true diversity, equity, and inclusion work require action. Panelists pointed to the need to legislate a commitment to racial equity, and the importance of policymakers and advocates working side-by-side. Only new and different work will yield new and different results. In this vein, NABSA hosted a workshop on "Developing a Diverse & Inclusive Shared Micromobility Workforce," to discuss ways in which NABSA could support the industry in changing the status quo. 
10. Don't assume that the new era of virtual everything is bad for equity work.

This is something that came out of our BBSP Living Labs session on advancing equity in SMM. Panelists shared how, in some cases, the option to attend virtual education classes and trainings has made it easier for people to access bike share. A hybrid in-person and virtual community engagement model will help ensure the largest cross-section of people is reached. 
11. Collaboration is critical to achieving equity in SMM.

If you are working towards building a more equitable system, you have to partner with local community-based organizations. And when building partnerships, search for opportunities to work with companies or organizations that might not be obvious (for example, a community arts organization or a rehab center).
---
The Better Bike Share Partnership is funded by The JPB Foundation as a collaboration between the City of Philadelphia, the National Association of City Transportation Officials (NACTO) and the PeopleForBikes Foundation to build equitable and replicable bike share systems. Follow us on Facebook, Twitter and Instagram or sign up for our weekly newsletter. Got a question or a story idea? Email kiran@peopleforbikes.org.