Increasing Latiné Representation on Biketown
October 5, 2022
The Community Cycling Center has partnered with Andando en Bicicletas y Caminando (ABC) to increase bike share access in low-income communities of color.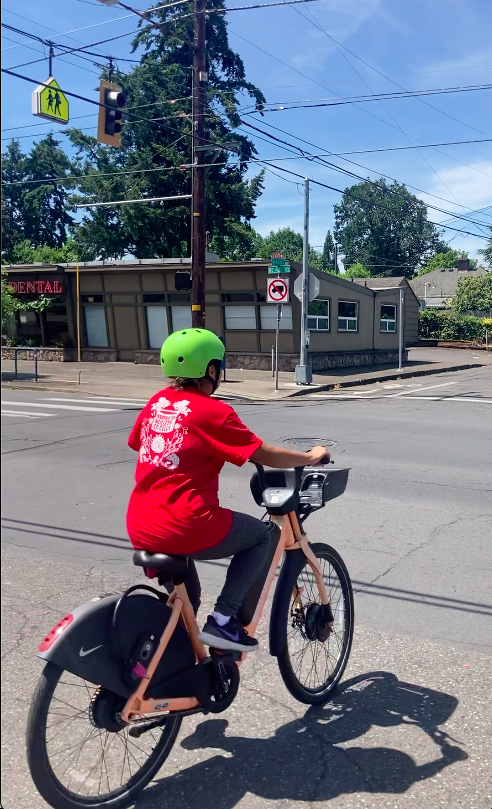 Founded in 1994, the Community Cycling Center was Portland, Oregon's, first non-profit bike shop. It was envisioned as a space that would reduce barriers to bicycling and help create a world where people from all different backgrounds can access bikes and the joy that comes from riding. Over the years, the organization has grown to 35 staff members who, in addition to operating a full-service bike shop, oversee a variety of adult and youth programming.
The Community Cycling Center has always been located on Alberta Street in Northwest Portland, a historically-Black community that's been greatly affected by gentrification in the last 15 years. As the demographics of the neighborhood have changed, the center has continued to bring its work further out to the communities most in need, holding bike drives, operating earn-a-bike programs, overseeing free repair hubs, offering low-income discounts in its bike shop, and engaging youth of all ages on everything from how to ride a bike to bike mechanics. 
"We also have a couple of adult programs," says Momoko Saunders, executive director at the Community Cycling Center. "We try and support civic engagement from BIPOC populations, and we have the ABC program, which works specifically with the Latiné community."
ABC stands for Andando en Bicicletas y Caminando, which translates to "Riding your Bike and Walking Around."  In many ways, ABC grew out of the Community Cycling Center's 2012 Barriers to Bicycling Project — it started after graduates from a different Portland-based leadership group, Libres Verde, decided to fill the need for a Spanish-speaking active transportation group. ABC members have done everything from providing testimony at the city level to hosting mechanics nights in Spanish. The Community Cycling Center supports ABC by providing a coordinator role that helps members accomplish whatever they want to do as a group.
"They set the goals and we support them," says William Francis, programs director at the Community Cycling Center. "[ABC] is very family oriented — it's a lot about getting families out riding and getting babies in trailers. They want to be famous, they say, for being strong advocates for active transportation in their community."
In June, the Community Cycling Center received a BBSP grant in order to support its ongoing partnership with ABC. The grant was specifically designed to help increase Biketown bike share access through signups and education in low-income Latiné communities. As part of the grant, the center will train neighborhood leaders over three sessions on the process of signing up for reduced-fare membership, positioning them as a trusted resource for other community members.
Prior to becoming executive director at the Community Cycling Center, Saunders was the general manager at Biketown. For individuals that qualify for Biketown for All, the system's low-income program, checking out an e-bike for all rides under 60-minutes is completely free. Saunders loves Biketown For All but believes that it needs additional support. 
"I've always felt that Biketown For All is a really great resource that, for various different reasons, is not as accessible as it should be to those people who need it," says Saunders, emphasizing the need for staff support, bike rides, and education to make it successful. "You need to have people who are leaders in the community understanding the system because it's not intuitive."
Since ABC leaders are trusted active transportation leaders in the Latiné community, partnering with them to spread the word about Biketown for All was a natural fit. Thanks to its existing relationships, the Community Cycling Center was able to recruit 10 leaders from ABC that were passionate about bicycling to collaborate on the program with Biketown. A significant portion of the grant funding is being used to directly pay these leaders $100 per month in groceries for their time, a practice that's standard across the Community Cycling Center's work. 
ABC and the community they represent are just one of many demographics within Portland's bike scene. While they're bicycling enthusiasts, they're not day-in-day-out cycling commuters — they're fair-weather bicyclists that aren't militant about it. For many, bike storage can be a big barrier (big families share small spaces; locks and maintenance are expensive; bike theft is rampant), and bike share presents a unique opportunity. 
The issue, however, can be signing up for bike share in general and Bike Share For All specifically. For one thing, the process isn't translated into Spanish, so non-native speakers either have to have it memorized or need assistance. For those that aren't computer or smartphone literate, the technology requirements present another barrier.
"A lot of people don't know the password on their phone because their son or daughter helps them with that," says Francis. "When you're going to use a whole system that's dependent upon a smartphone a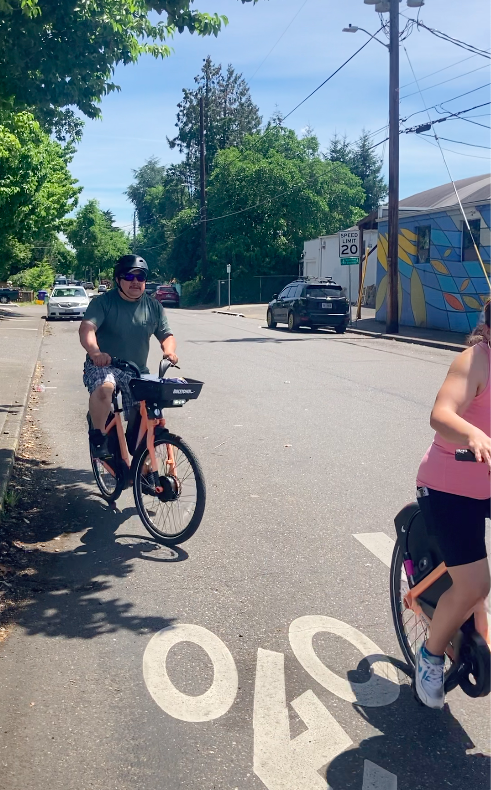 pplication, you can imagine how challenging that might be for people who are facing not only technology barriers but also literacy barriers."
The hope is that by training trusted community leaders on the sign-up process and all of the logistics involved with the Biketown system, those individuals would then be able to talk to their neighbors and help reduce the barriers that English as a second language speakers have towards accessing bike share. While Biketown has only become more accessible over the years — adding adaptive bikes, converting to 100% electric assist, adopting smaller bike frames — simply navigating how to use the system remains difficult for many.
While the Community Cycling Center and ABC went on multiple group rides this summer, with many members using Biketown, the three workshops will be completed this fall. During those sessions, ABC members will receive a Spanish tutorial on how to download and use the Biketown app, sign-up for Biketown for All, and troubleshoot any issues, including expired memberships, empty stations, or faulty bikes. 
ABC members will then go back to their neighborhoods, passing along the knowledge and, hopefully, growing Biketown's ridership. Once people are signed up for Biketown for All, ABC members will help them practice by checking out a bike and testing the system. That last step is crucial in ensuring that folks actually use the memberships they signed up for. After all, the most important part of a partnership like this is making sure people not only realize that bike share is for them, but that they're left with the tools to be able to access it however they choose.
---
The Better Bike Share Partnership is funded by The JPB Foundation as a collaboration between the City of Philadelphia, the National Association of City Transportation Officials (NACTO) and the PeopleForBikes Foundation to build equitable and replicable bike share systems. Follow us on Facebook, Twitter and Instagram or sign up for our weekly newsletter. Got a question or a story idea? Email kiran@peopleforbikes.org.