Engaging Older Adults in Bike Share
February 11, 2022
In Raleigh, North Carolina, the advocacy organization Oaks and Spokes helped increase bike share representation amongst riders 55+ by nearly 200%.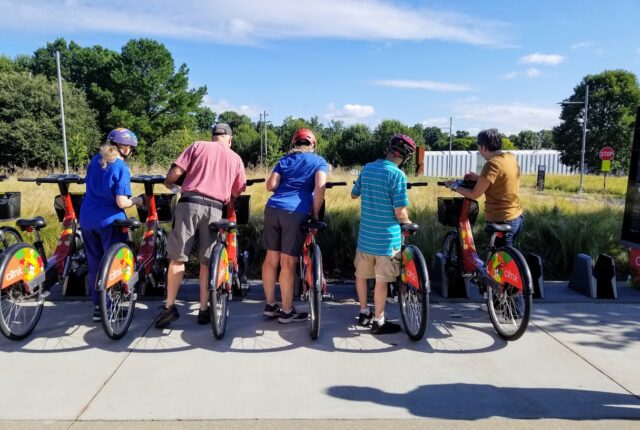 In the world of bike share, certain demographics still lack adequate representation. The North American Bikeshare and Scootershare Association's (NABSA) 2020 State of the Industry Report showcases how BIPOC and female riders remain underrepresented in shared micromobility, along with riders aged 65 and older. In Raleigh, North Carolina, the bike advocacy organization Oaks and Spokes noted that riders 55 and older have been underserved by its bicycle engagement to date and weren't really riding Citrix Cycle, the city's bike share system.
At the beginning of 2020, Oaks and Spokes set a goal to increase bike share representation of riders 55 and older by at least 50%. Knowing that such an ambitious objective would require a lot of smart community engagement, the nonprofit applied for a BBSP mini-grant to help bring more older adults to bike share and promote a new $10/year Access Pass, developed by Citrix Cycle operator, Bewegen Technologies. The project included group rides, events and programming, the distribution of Access Passes, and partnerships with senior living programs.
"We wanted to increase outreach amongst those 55 and up, but at the time, we were implementing a new Access Pass program, which helps cost-burdened households and those that might be on social security," says Mary Sell, executive director of Oaks and Spokes. "With the grant, we wanted to make sure that we were kind of doing a one-two punch there and addressing both demographics."
Oaks and Spokes created a "Pedal with Pals" series, which provided an opportunity for social Rides focused on older adults. Every one of these events was at capacity and completely sold out. 
"It was basically an ice cream social series where every two weeks, our group we would ride around town and experience Raleigh's newer bike infrastructure," says Sell, noting that Raleigh's recently started adding separated bike lanes and developing its bike network.  "We provided an opportunity for people to experience that firsthand and then get an ice cream cone."
There was also a "Learn to Ride" event series in partnership with community ambassador Mary-Jo Gellenbeck, which offered a three-part series of classes. The classes allowed participants that were interested in riding but hesitant for whatever reason to experience bike share in a safe group environment. After that series, attendees had the option of receiving an annual pass and many are now avid Citrix Cycle users. By fall 2021, Oaks and Spokes had outdone its initial goal of increasing representation amongst its key demographic: the utilization of Citrix Cycle bike share among adults 55 and older grew by 200% from June to September 2021.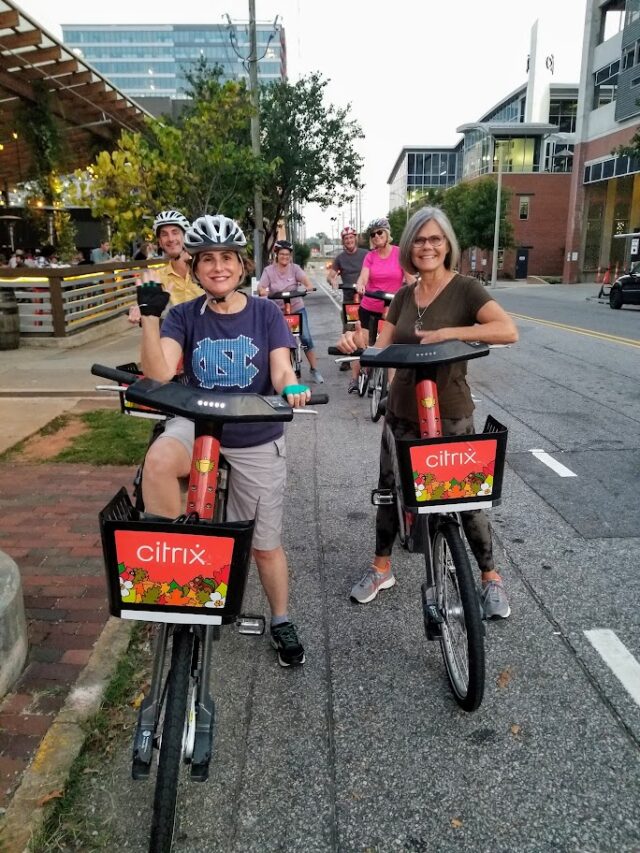 Sell attribute's this success to all of the great partners involved in the grant, including the local chapter of AARP, which promoted events in its e-newsletter, the folks at Bewegen, the City of Raleigh, senior housing centers, and adult recreation centers. Credit must also be given to local influencers like Gellenbeck, who worked strategically to bring more of her peers (and future ambassadors) to Citrix Cycle bike share. Crucially, the inclusion of electric pedal-assist bikes in Citrix Cycle's fleet meant that those who might otherwise have a hard time riding a conventional bike — whether because of health conditions, fitness levels, or the hot weather — could still participate.
"Word's out that the fleet does have that electric capability," says Sell. "People really liked the pedal assist and miss them when they're not around."
The "Learn to Ride" series ended up being just as important for those who knew how to ride a bike but weren't familiar with e-bikes. Unsurprisingly, organizers found that introducing retirement-age individuals to the joys of electric bikes translated into them going out and buying their own, a gateway effect that Sell notes is a net win for biking in Raleigh. 
While overall Oaks and Spokes efforts were undoubtedly a success, there were a few key takeaways. First, the summer months proved a difficult time to engage with external partners promoting physical activity for seniors in the south — many indicated that the heat would prevent anyone from participating (although Oaks and Spokes full events proved counter to this narrative). For Sell, however, the most salient lesson learned is regarding relationship building: It takes time and reciprocity.
"When you're starting conversations with parts of your community that may have been underserved previously, it can take time," says Sell. "You have to build those relationships and get the conversations moving."
Finding like-minded partners should also be a given when doing any sort of community engagement work, such as forming coalitions amongst people with shared goals and trusted reputations — in this case, an organization like AARP — can ensure effective and long-lasting work. Going forward, Oaks and Spokes plans on building off of its 2021 work to develop more ride events in conjunction with new partners, such as the local parks and recreation department, as well as work with the local REI store to continue its "Learn to Ride" series.
"This grant, I think it planted a lot of seeds in the sense that it got us thinking about all these different ways we could bring in new stakeholders," says Sell. "It was an opportunity we probably wouldn't have pursued independently and it's sparked a lot of good ideas."
---
The Better Bike Share Partnership is funded by The JPB Foundation as a collaboration between the City of Philadelphia, the National Association of City Transportation Officials (NACTO) and the PeopleForBikes Foundation to build equitable and replicable bike share systems. Follow us on Facebook, Twitter and Instagram or sign up for our weekly newsletter. Got a question or a story idea? Email kiran@peopleforbikes.org.