Philly's New "Wheels to Work" Program
October 6, 2021
Indego bike share launched a four-week training course that combines workforce development with learning about bicycling.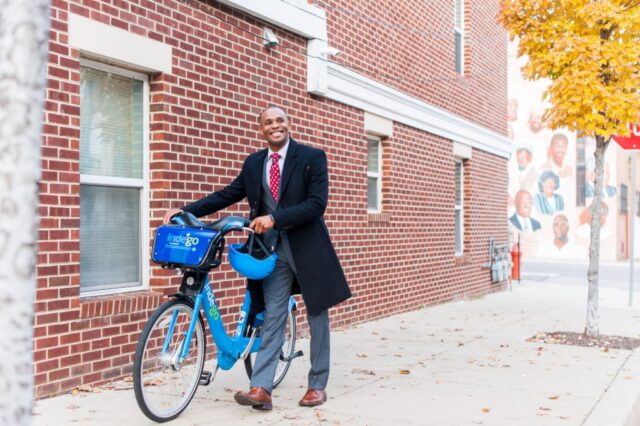 In 2016, just a year after founding Philadephia's bike share system, Indego launched Digital Skills Bicycle Thrills (DSBT). Recognizing the need to connect underserved residents to both bike share and computer literacy, Indego partnered with the City of Philadelphia Office of Education and BBSP to bring the month-long course to life. Since its inception, there have been 10 DSBT cohorts, all of whom have cycled through online assignments, weekly discussions and group rides in exchange for a free six-month Indego membership. 
When the pandemic struck, the program was put on a pause, its in-person requirements incompatible with COVID-19. Wanting to continue in some virtual capacity, Indego developed Wheels to Work, inspired by the fact that some 95% of DSBT participants mentioned job training as something they'd like to pursue further. 
"For years, I've been wanting to make more of a connection between bike share and workforce development," says Waffiyah Murray, BBSP program manager. "Through doing outreach at Indego, we see what our communities are interested in and struggling with—things like job access and career development always come up."
Although Indego had begun incorporating aspects of workforce development in its last DSBT cohort, 2020 suddenly made the topic all the more relevant. In the last year, as many people were laid-off or started to consider new career paths, bicycling also exploded, introducing people to a healthy, sustainable way to get to work and recreate. Wheels to Work is a four-week training course for adult job seekers, combining workforce development with learning about Indego and bicycling.
"When it came time to think of a new program, this connection was strong and felt like it would really meet the needs of our community members," says Murray, noting that all graduates will receive a six-month bike share membership courtesy of Bicycle Transit Systems, Indego's operator. "So when they land a job, they can afford to get to work before their first paycheck comes in."
The pilot program, which used BBSP Living Lab funding to hire former DSBT co-founder Jennifer Kobrin as an instructor, kicked off via Zoom on September 14. Sessions included lessons on cover letter and resume writing, how to update and use LinkedIn for networking, and best practices for interviews. Guest speakers were also invited in for pertinent sections, such as one on a Philadelphia library networking tool that helps people engage with possible career paths and ways to pursue them. 
Most students attended the workshops on their personal phones, using Canvas to submit course materials. Students also had access to Kobrin for one-on-one assistance and in-person help sessions at Drexel University's Dornsife Center for Neighborhood Partnerships—complete with free computers and internet—as needed. 
Of course, there was also an educational bicycling component, supported by the Bicycling Coalition of Greater Philadelphia. During the virtual sessions, participants learned about bike safety, got tips on how to dress for biking to work, and watched Indego's Learn to Ride video. There were also two pre-scheduled group bike rides, at different times during the week and on the weekend to accommodate a variety of schedules, as well as one in-person Learn to Ride class to help people gain confidence on Indego's bikes.
"We were nervous we wouldn't have the same vibe we got in-person, but we have such an amazing group of participants," says Murray. "They've been sharing stories with each other—they feel comfortable."
Indego capped the group at 10 participants, wanting to maintain intimacy. The registration page included optional demographic info, as well as the question: "Why are you interested in participating in Wheels to Work?" In order to ensure it was reaching folks that truly needed the programming—especially those in communities of color—Indego didn't do any large-scale promotion on social media. Instead, it promoted the pilot through partner organizations that were already involved in workforce and job readiness training in underserved neighborhoods.
"We wanted to ensure diversity and that the audience we were really looking to engage at least got the first opportunity," says Murray. "If we hadn't gotten enough sign-ups, we would have shared it out more widely. Thankfully we didn't have to."
The last Wheels to Work session wrapped up on October 5 and a closing celebration is scheduled for October 12 at the Dornsife Center. 
---
The Better Bike Share Partnership is funded by The JPB Foundation as a collaboration between the City of Philadelphia, the National Association of City Transportation Officials (NACTO) and the PeopleForBikes Foundation to build equitable and replicable bike share systems. Follow us on Facebook, Twitter and Instagram or sign up for our weekly newsletter. Got a question or a story idea? Email kiran@peopleforbikes.org.