Q&A: MoGo's Executive Director Adriel Thornton
February 2, 2022
From promoting electronic raves to running Detroit's bike share, Thornton's career has focused on celebrating culture and building community.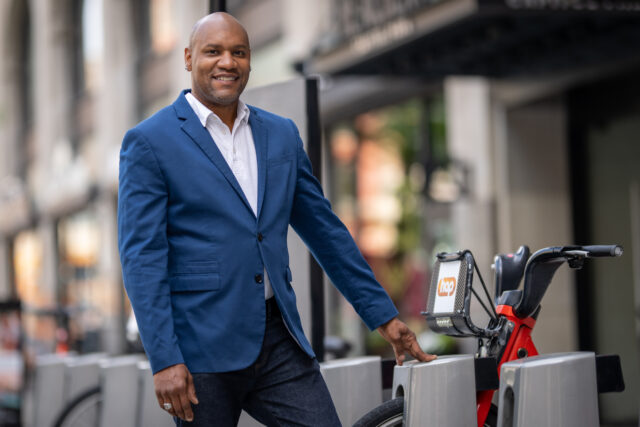 Adriel Thornton was born in Detroit, Michigan, but primarily raised in Virginia — throughout his childhood, summertime meant visits to see family in Motown, which helped cultivate a reverence for the big city. As an adult, Thornton was drawn to Detroit's arts and culture realm, working as a rave promoter, at record labels, and as a visual arts gallery manager. He also embraced his entrepreneurial spirit, organizing events, producing a zine, and even running a clothing store. 
Thornton's experiences helped him think and speak positively about Detroit, even as its national reputation suffered and many people moved away. As a culture creator and a community builder, he eventually decided to study public relations at Wayne State University and after graduating, accepted a job with MoGo — as its director of marketing and community outreach — before the system launched in 2017. Detroit has the largest number of bike clubs in the country and Thornton saw a huge cultural opportunity to coalesce residents around the idea of bike share and equitable transportation. 
In 2020, MoGo's founder and longtime executive director, Lisa Nuszkowski, left the nonprofit in order to become president of M-1 Rail, also known as Detroit's QLine streetcar. Her departure left an opening that Thornton, feeling a sense of ownership of MoGo, felt destined to fill. The MoGo board conducted a national search, but ultimately decided that he was the perfect fit. In May 2021, after four years of helping to bake diversity, equity, and inclusion into all aspects of MoGo's public outreach, Thornton was named the organization's executive director. And this October, he was elected to sit on the North American Bikeshare and Scootershare Association's (NABSA) board of directors.
We caught up with Thornton to talk about bicycling in the Motor City, the role MoGo plays in community building, and what he's most excited about in the world of bike share.
What are three words that describe who you are, at your core?
"Passionate" about things, an "advocate," and "fun." It sounds like a Tinder profile.
Swipe right! What do you think MoGo's role is in the community? Is it just providing a working bike or does it go beyond that?
I think it goes beyond that. MoGo has and will continue to serve as a just and equitable organization — it's an example of how if you bake DEI into what you do, you can serve a wide variety of people with a wide variety of needs. Our Adaptive MoGo program and our Access Pass are right on brand with that but MoGo is also about convening people in different ways. 
Our Ride Perks program, for example, is a partnership with small businesses in the community. We approach businesses and provide some marketing support in exchange for them offering our riders a discount. It puts MoGo into a position where we have to go and reach out and talk to the community, but we're also providing something for the community. I think that's part of equity work too. 
What do you want other leaders in transportation in Detroit — whether that's in the city, county, or transit agency — to understand about shared micromobility? 
I need them to understand it as the future. A lot of folks get it but my instinct is that too many people in those positions really think of shared micromobility as a fad, as opposed to a real, sustainable thing. Scooter and bike share — all of these things help people get to where they have to go and that's no small thing. There are so many pluses when you look at it holistically, it just makes sense. But you have to think of transportation as an ecosystem and look at shared micromobility from that perspective. 
I think the first thing is really taking transit seriously. Detroit is still a very auto-centric city. At the same time, in the past year or two, the city of Detroit has installed more miles of bike lanes than almost anywhere else in the United States. There have also been road diets — the most recent one is slated for Woodward Ave, which is the main street of metro Detroit and at certain points, is 10 lanes wide. 
So people get it, but city officials need to help us drive home the point that it's not just poor people that use mass transit and shared micromobility. It's not just for shits and giggles — [shared micromobility] really can augment and make people want to use our various forms of mass transit. If it takes a scooter or a bike share bike to make it easier to get to the bus in the morning, that's a win. For the transportation agencies, for the customer, for the environment — it's a win for everyone.
How do you come to the table as a partner and how do you want others to come to the table?
I come to the table with an open mind and I really want other people to as well. That's really important. [Bike share is] not the solution to everything but we are to some things — it's still pretty innovative, and I want people to come to the table with an open mind for something new and transformative.
I also want people coming to the table with a DEI lens. It's super sexy to talk about right now, but this is something that we've been doing since day one and it is really important. You need the perspective that there are societal issues that we are trying to solve and partnering is a way that we can help solve these problems together.
You recently partnered with Bird so that riders can now use the Bird app to find MoGo bikes. What made that a good decision?
Bird approached MoGo with the opportunity to integrate onto their platform for scooters. We came to the decision that, while scooters have been a source of competition for MoGo and have negatively impacted us in some ways, they're here to stay and we share a common goal. We also use Transit as our app, and you can already find a bunch of different transportation modes on there.
Bird is now showing MoGo on their app to potential riders and the initial numbers show that folks in the Bird app are clicking through to MoGo — this partnership is expanding our reach and educating people that bike share exists. We haven't tracked if the clicks turn into conversions, so we don't know if they're actually getting on the bikes, but the awareness is there. That alone is a big deal and has made it worth it. 
Bird wants to be seen as a multimodal provider. Like us, they think we're all in the same boat and want to create a paradigm shift for folks. Bike or scooter, these are still people that aren't using cars. Convincing a scooter rider or a biker to try another form of shared micromobility is a lot easier than convincing someone who drives all the time.
In what ways do you think MoGo's Living Lab — which is all about integrating bike share with transit — could really transform Detroit? The country?
One thing we've noticed in Detroit is that there's such a great need for other forms of transportation. When it comes to bikes though, we're still fighting against this "bikes are for recreation only" mindset. We're working to create a paradigm shift in thought, as we really consider ourselves to be a transportation service.
The Living Lab project is all about figuring out ways where we can even better connect mass transit in the city, which includes the QLine light rail, the city bus system DDOT, and the suburban bus system SMART.  For your average commuter or rider of these services, there haven't always been great connections. We've found that even though we have a few stations that are near bus stops, there's still room to make that transition from transit to bike share smoother.  
That means realigning stations to make them closer and figuring out a unified pay system, which is one of the biggest barriers. We need to make getting from bus to bike seamless, and vice versa. We're still in the research phase, but we're excited to see how it all shakes out.
What trends in shared micromobility do you find most promising?
I love electrification. It's so on point and on-brand with where the country is going, between the infrastructure bill and the auto industry itself. As an industry, shared micromobility is a little ahead of the curve and I'm super excited about it. MoGo currently has 81 e-bikes in our fleet and those are ridden three times more than the standard pedal bikes. Seniors prefer to ride e-bikes and people still get health and fitness benefits. They really give people the opportunity to go farther faster. I'm hopeful about this trend and excited to see how providers respond, as well as the technological improvements that are bound to happen. 
Where in the industry do you see room for the most growth?
In access. Being a nonprofit in a city like Detroit, my biggest hurdle is being able to get stations to cover this area like they really should for everyone to have access. There's plenty of room for improvement in terms of coverage but it's cost-prohibitive. In general, I think that more cities and regions need to be on the bike share track. There's a ton of growth there for us as an industry to serve different demographics equitably. For folks that can't access other forms of transportation, bike share is an amazing solution. It's also amazing for public health and potentially, a big piece of the solution for the climate crisis. 
In Detroit, what are the main barriers to bicycling you see? How is MoGo working to break them down?
Road conditions and infrastructure are big barriers, but so is the greater idea that biking is just recreational. I think MoGo is helping change that by continuously preaching the gospel of biking and really drilling home that point — we don't ever really mention recreation. We talk in terms of mobility and in terms of health and fitness. By promoting that mindset and touching as many people as possible, we're really helping to solve that problem.
If you could instantly change something about our transportation network, what would it be?
I would change the fact that our whole country is built around cars. If we put people first — if our streets were designed for people first — that would be huge. I think it would instantly resolve a bunch of the things we've been talking about. It would be a great change.
---
The Better Bike Share Partnership is funded by The JPB Foundation as a collaboration between the City of Philadelphia, the National Association of City Transportation Officials (NACTO) and the PeopleForBikes Foundation to build equitable and replicable bike share systems. Follow us on Facebook, Twitter and Instagram or sign up for our weekly newsletter. Got a question or a story idea? Email kiran@peopleforbikes.org.