Detroit's Plan for Integrating Bike Share and Transit
March 15, 2021
This is the second article in a series profiling our five Living Labs, all of which are focused on bettering bike share in historically marginalized communities.
Detroit, known as the "Motor City," has historic ties to the automobile industry and over the last century, cars have been its priority. For the more than 25 percent of Detroit households that don't have access to a personal vehicle, however, transit is essential. Recognizing that disparity, MoGo, Detroit's bike share system, realized that if it truly wanted to break down barriers and promote equity, integrating bike share into transit was a must. 
Thus, MoGo designed its Living Lab proposal to create an easily accessible two-way bridge between bus transit and bike share. Over the course of two years, the nonprofit will put the $200,000 it receives in BBSP funding to "Building the Bike to Bus Connection." Since communities of color tend to be more transit-dependent, while also living in lower-income areas with less reliable and frequent service, equity is automatically at the heart of this Living Lab.
"Transit in Detroit has long been a bit of a struggle," says Rory Lincoln, MoGo's director of programming and operations. "A lot of different city entities have operated in silos for a very long time."
When MoGo first launched in May 2017, it had 43 stations, 430 bicycles and the goal of promoting itself as a viable transit option. From the start, the nonprofit has always had a strong equity component, hiring part-time seasonal ambassadors to serve as system advocates every summer and hosting free events for communities that range from group rides to info sessions, ice cream socials to sign up parties (in the last three years, 38 ambassadors have put on 200 free events). The nonprofit also offers cash payments, as well as adaptive cycles, and continuously works with community partners to reach more folks that qualify for its Access Pass, a $5 annual membership for those receiving state benefits (about 28 percent of all MoGo annual pass holders).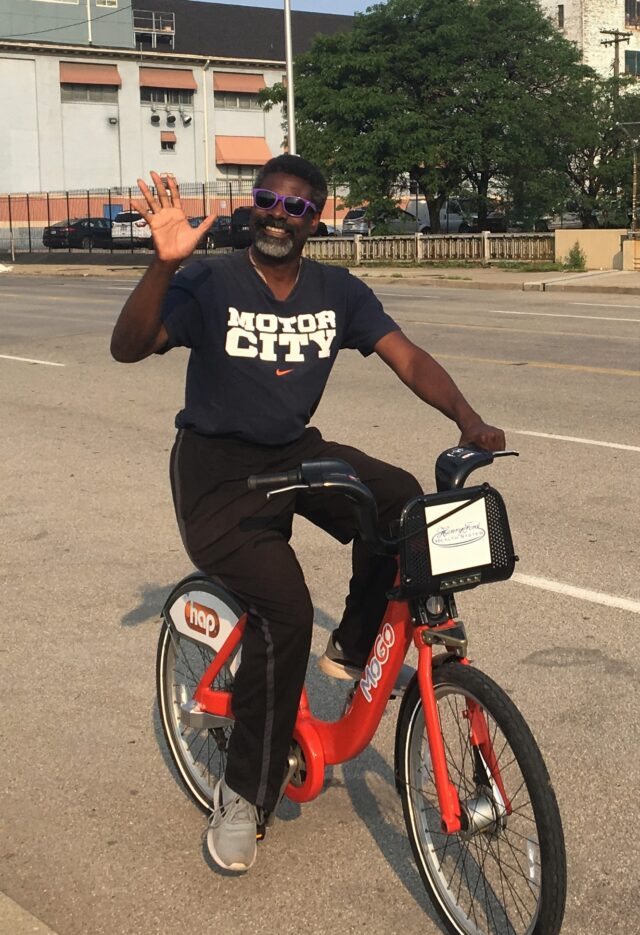 In 2018, MoGo debuted a pilot project in collaboration with Detroit Department of Transportation (DDOT) called the DDOTxMoGo Pass, offering MoGo memberships to individuals who were already purchasing weekly, biweekly or monthly bus passes. A survey of DDOTxMoGo pass holders found that 90 percent of people using the pass were non-white, and 81 percent had an income of less than $25,000 (55 percent made less than $10,000). The top two reported reasons for using MoGo were to get to and from work and to connect to DDOT and other forms of transportation.
The following year, DDOT and SMART, Southeast Michigan's regional public transportation provider, partnered to create the DART pass, a way to take unlimited, one-direction rides on city buses and the QLINE streetcar using an integrated farecard. 
This Living Lab will serve as an extension of MoGo's 2018 pilot with hopes of integrating the DART pass with its station-based technology. By providing free transfers between bike share and transit, the nonprofit will create one seamless transportation system and help residents avoid "double payment" for a single trip.
"For folks who have already purchased a DART pass, all they're going to have to do is sign up for MoGo," says Lincoln, emphasizing that at least initially, it'll be free. "We can figure out revenue sharing later—for the purpose of this project, we just want to get it to work."
With this Living Lab, MoGo hopes to address the technical, behavioral and structural barriers associated with bus and bike share trips. There are nearly 300 bus stops and several major SMART and DDOT routes within two blocks of a MoGo station. Although proximity doesn't guarantee use, MoGo plans on using the grant funding to study a diverse range of mobility users—based on race, age, socioeconomic status—identifying their current mobility patterns, gathering feedback on what barriers exist for them to using bike share or transit (either separately or in conjunction), and then developing solutions based on that feedback.
"With our [DDOTxMoGo] pilot program, 90 percent of people who received a free pass chose not to activate it," says Lincoln. "It's critical that we learn why." 
MoGo will work with researchers at Wayne State University to understand barriers, user behaviors and opportunities to build a better bike share to bus transit connection. The idea for a Detroit bike share system actually originated in Wayne State's Office of Economic Development and since its inception, MoGo has maintained a great working relationship with the school. By the end of the project, the nonprofit hopes to demonstrate how applying behavioral science can help guide decision-making in transportation design, ultimately leading to greater adoption of bus and bike share transit. 
In order to ensure the successful execution of the grant, MoGo is hiring a Living Lab Project Manager who will oversee grant deliverables, outreach and engagement, and communication with partners. 
"This is the first time, at least that I can remember, that we've had so many transit entities working together on a single project," says Lincoln. "This is a unique opportunity and a cool challenge for someone who's interested in moving the needle on transit in Detroit."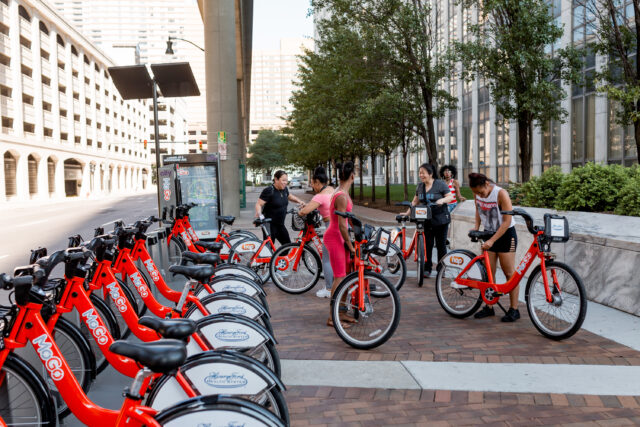 Towards the end of the Living Lab, MoGo will hire another round of ambassadors to help get the word out within their neighborhoods. Today, MoGo has 75 stations and 620 bikes currently operating in Northwest Detroit and five neighboring suburban communities. Since there's no better advertisement than word-of-mouth and simply seeing bike share being used locally, the project's success will largely depend on bus and/or bike share adoption by residents in these neighborhoods. 
At the conclusion of this Living Lab, MoGo will work with the New Urban Mobility Alliance (NUMO) and BBSP to convene virtual peer learning sessions for city agencies and mobility operators working on similar behavior research, first and last-mile solutions, and transit integration projects around the country.
"We just want to make our bike share system a better part of the transit experience," says Lincoln. "So it's easier, more user-friendly, and presents fewer barriers to a greater number of people."
---