Peace Peloton — Using Bikes to Achieve Economic Reform for Black People
October 28, 2020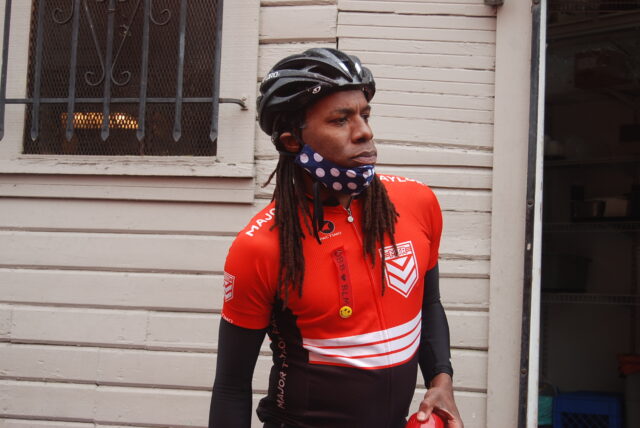 Courtesy of Peace Peloton

On Saturday, June 6, 2020, Reginald "Doc" Wilson rode his bike to his first event — the one he and his co-creators impulsively threw together in three days — expecting to receive 30 people, 50 at most. To his surprise, more than 350 riders showed up ready to support Peace Peloton's mission: economic reform for the Black community.
"They kept coming from everywhere. I had to mobilize right away," he recalls, saying that he directed the massive hoard of cyclists to Seattle's Alki Beach, then rode to the Northwest African American Museum.
Still in the process of establishing its 501(c)3 non-profit status, Wilson seeks positive racial change. He states, "Peace Peloton is not a bicycle organization. We're more of an advocacy, social justice, support, life-enrichment program where the bicycle is a tool to advance our aim." He began these Peace Peloton bike rides to raise awareness of and create a foundation for economic reform for Black People — because he was also in search of community.
Wilson hasn't owned a car since 2012, so cycling is more than just a hobby — for him, it's a livelihood. New to Seattle and living in the downtown area, Wilson was dismayed by the lack of Black cyclists he saw. When he finally began to see people of color, he dared to be bold and called out to them, asking if they were interested in riding together.
Shortly after that, the first Peace Peloton ride was created.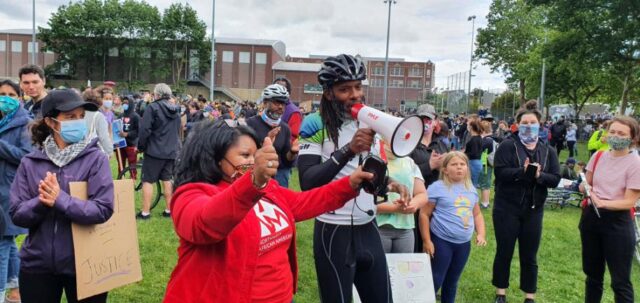 Courtesy of Peace Peloton
At 52, Wilson said he has many volunteers to help and businesses who want to sponsor the events, which are a peaceful demonstration on bicycles to support black-owned businesses. However, "I'm the only full-time volunteer," he said. That's why he put his full-time job as a life coach on hold for now, but it's not a commitment he requires of anyone else apart of Peace Peloton.
Another big part of the rides? They're free for everyone involved. "A lot of people are coming together to make this happen. People want to be a part of positive change," he said. Charging for the rides "would prohibit quite a few communities. We want to make this inclusive; we don't want any barriers to people participating, and money is one of the main ones."
Instead, funds are brought in through donations, sponsorships and merchandising. He even received a Tour de France bicycle, donated to him by Mary Wittenberg, President of the EF Pro Cycling cycling team. "It's tough for some people. Our rides go very slow," he said, adding volunteers will help with flat tires, mechanical and logistical support along the way.
They'll even show up and ride in the pouring rain, as 250 riders did at Peace Peloton's second ride on July 25.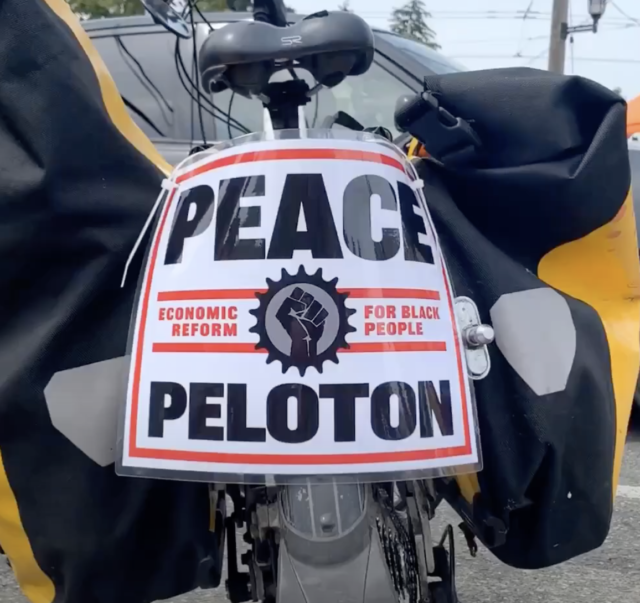 Cyclists also are encouraged to support local food trucks owned by Black and Brown people in Seattle.
"What I really want us to do is capture a demonstration in action — not just a demonstration to bring awareness, but [one] demonstrating economic reform. The way we do that," he explains, "is we invite a critical mass of cyclists to meet at a Black-owned business, where they relieve themselves of the money in their pocket in exchange for the goods and services offered by the proprietors, who happens to be Black."
Then, they move onto another Black-owned business. Following the ride, Wilson says speakers will come out and address the crowd with a special message that includes a special call-to-action.
He shared the details on ride, in particular, where all the cyclists rode through a popular Black neighborhood, then stopped at the Seattle Children's Odessa Brown Children's Clinic. "The clinic director came out and spoke to this group of 300 cyclists about how that clinic was a product of the Black Panther Party movement in the late 60s, and it was just a really amazing talk on truth and power."
Despite the success of the rides, Wilson said because of COVID-19, some people may not be ready to ride yet, even though each event supports and follows coronavirus safety measures. However, donations are welcome from those who want to support but don't want to risk infection.
For Peace Peloton, the future is bright and limitless. By December of 2020, Wilson hopes to build more sustainable programming that will include mentorships and internships. Additionally, he hopes to have two full-time, paid employees. Ultimately, the goal is to create business entrepreneurs by bridging the gap between resources and the Black community.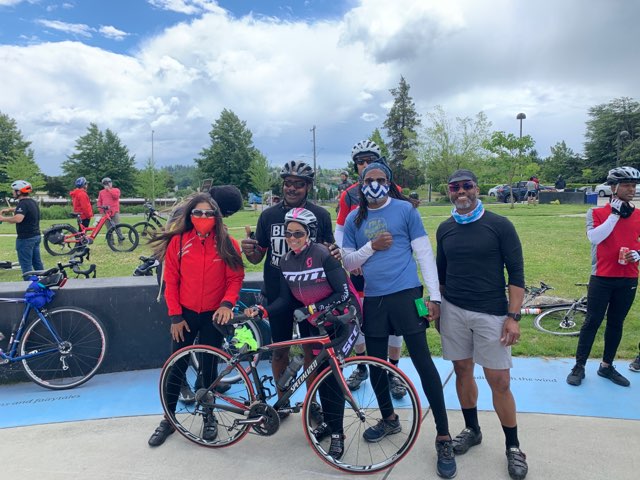 Courtesy of Peace Peloton
"I feel really good knowing I am creating a platform where people can actually contribute and see positive change in real-time."
Wilson mentions how many groups in support of the Black community launch, then fade away. He wants Peace Peloton to be different. "We're not really interested in the going away piece. We are developing sustainable programming that is going to continue to add value to the lives and livelihoods of Black and Brown people in this city and the other cities we're looking to launch in," he said. "That's my story."
Eleven rides later, Peace Peloton is still going strong. Visit the website for details about its 12th ride on October 31!
Before you go, check out this quick video about Peace Peloton! 👇
Here's our challenge for you: How can bike share and shared micromobility get involved with Peace Peloton and groups like it? Let us know on Facebook,Twitter and Instagram!
The Better Bike Share Partnership is a JPB Foundation-funded collaboration between the City of Philadelphia, the Bicycle Coalition of Greater Philadelphia, the National Association of City Transportation Officials (NACTO) and the PeopleForBikes Foundation to build equitable and replicable bike share systems. Follow us on Facebook, Twitter and Instagram or sign up for our weekly newsletter. Story tip? Write farrah@peopleforbikes.org