Fighting COVID-19 With Comm(unity)
April 3, 2020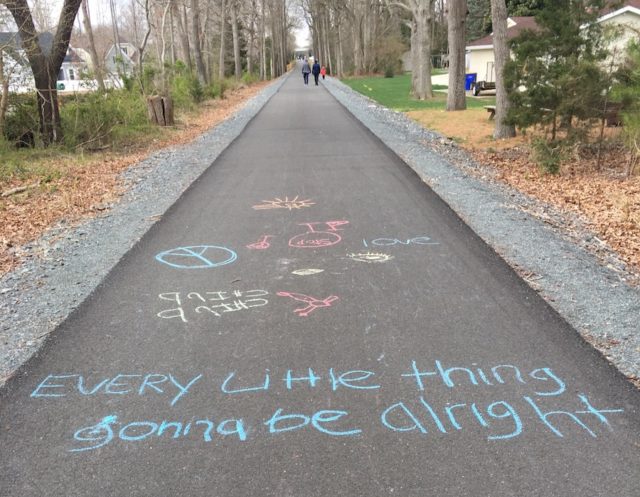 Photo by Becky Dickerson
"Think of bicycles as ridable art that can just about save the world." – Grant Peterson, bicycle designer
Across the world, the effects of COVID-19 have forced people to restructure their lives to follow enforced lockdown and safety measures. Far too many citizens have experienced major financial and personal losses and the devastations, and the devastations only seem to increase.
Amid major events, it's easy to fear-monger and overlook all the good things still happening in the world, so let us remind you! 
From bike ridership increasing immensely and air pollution plummeting significantly, to trail usage rising by 200% compared to this time last year, we're seeing a lot of unity within the shared micromobility community. 
As we continue to navigate these circumstances together, we hope the below examples serve as a reminder of a silver lining.
Resources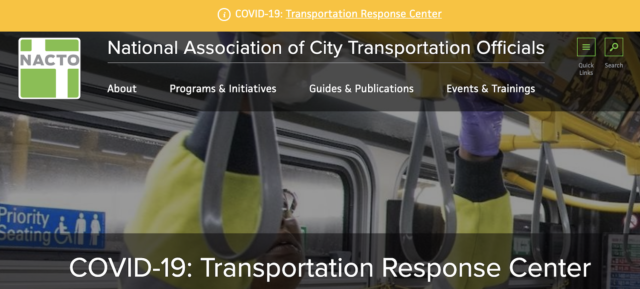 While it shouldn't have taken a pandemic to make it so, bike shops being considered essential businesses in cities like San Francisco, Philadelphia and New York City is great to see. Hopefully, they will remain essential community resources once this crisis passes. 
On March 30, NACTO launched the COVID-19 Transportation Response Center (TRC), an online resource hub for city transportation staff, officials, and leaders. One of the only resources available specifically to cities navigating the pandemic, the TRC is a public tool for cities to learn from one another and develop the most effective responses to this evolving global crisis. It provides actionable examples of how cities around the world are addressing critical tasks, such as:
Helping healthcare and other essential workers get safely where they need to go while protecting transit operators and other frontline city staff

Creating pick-up/delivery zones to ensure that residents can access food and essential goods

Opening, and in some cases, closing, public space to enhance social distancing

Deploying effective public communications, messaging, and signage 
While it currently includes examples and links to specific city actions, this NACTO resource will expand with additional resources and continue to evolve as the response to COVID-19 develops.
Community Support
Bikes for Food Delivery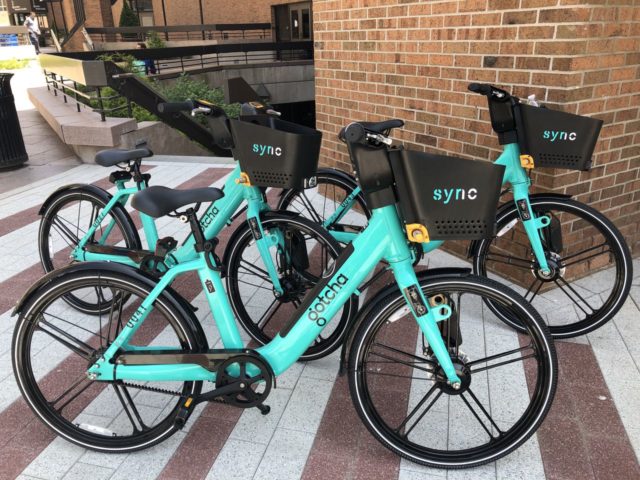 Photo by Emma Vallelunga
States across the country have moved forward with lockdown procedures to enforce strict social distancing measures, meaning restaurants have turned to food delivery to keep their doors open. 
In Syracuse, Gotcha bike share is responding by removing their bikes from public use in New York and offering all 200 bikes to restaurants. Gotcha's bikes will be available for restaurant use for $15 a day per bike or a discounted rate for five or more bikes.
Brown Bike Girl's Commuter Lessons
Courtney Williams, better known as the Brown Bike Girl, supported her community by supplying the gift of knowledge. From March 16 to March 20, Williams posted one video per night that detailed the best ways to be safe on public transportation during COVID-19. The topics included:
Preparing your bike kit + helmets

Changing a flat tire

Changing a rear tire and patches

Carrying stuff/shopping

Sanitizing your bike life
#CoronaCouriers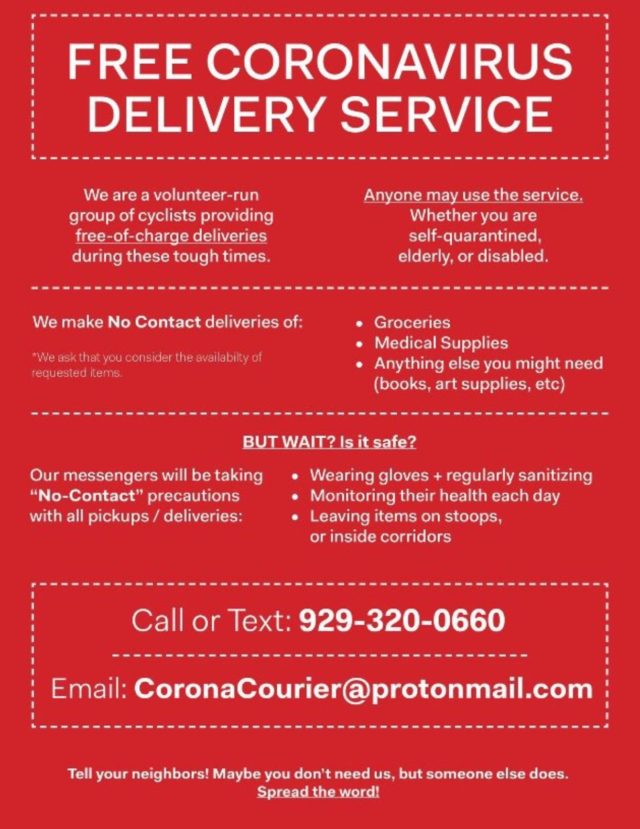 On March 17, experienced bike courier Morgan L. Sykes (@morganlsykes) shared with Twitter that she's using her bike to stock the fridges and cupboards of New York's high-risk population. Her now-viral Tweet* reads:
"ATTN NYC: Do you or someone (elderly/immunocompromised/quarantined) you know need help with groceries or essentials? Your girl can whip 40 pounds of supplies anywhere in Manhattan/Queens/Brooklyn. Free delivery, reimbursement only. DM to arrange; SHARE, SHARE, SHARE with those in need and be well." 
Follow her and many other volunteers under the hashtag #CoronaCouriers! If you're in New York and want to use your bike for some public good, refer to the above photo for more information. 
Free Transit 
Riders in several cities can expect free bus fares as transit agencies have attempted to curtail direct contact between passengers and operators. An added measure is requesting all passengers to enter the bus from the rear door rather than the front. Among the cities that have prioritized safety and access are:
Memphis, TN

. Through the end of April, MATA-operated vehicles can be accessed for free.

Milwaukee, WI

. The Milwaukee County Transit System has suspended bus fare collection since March 28.

Los Angeles, CA

. Foothill Transit is not enforcing fare collection at this time.

Philadelphia, PA

. The SEPTA transit service has removed fares and is limiting bus riders to 20 at a time.
Roads Closed & Bike Lanes
When the Bicycle Coalition of Greater Philadelphia released a petition asking the city to close Martin Luther King, Jr. Drive during the pandemic, the city of Philadelphia hastily got it done. 
In an effort to create more room for social distancing on the street without compromising anyone's safety, Philly's MLK Drive will only be open to cyclists, pedestrians, and other non-motorized users for the foreseeable future.
Lastly, to support the growing rate of cyclists and ensure their safety, New York City will install temporary protected bike lanes in Manhattan and Brooklyn. Plus, Mayor de Blasio launched a Safe Streets pilot on March 30 and will close up to two streets per borough in Manhattan, Brooklyn, Queens, and the Bronx. The pilot intends to give New Yorks space to exercise amid this pandemic. 
#Bikeshare4All
The response to COVID-19 from the bicycling community has been overwhelming.
For starters. ridership has soared: After social distancing protocols were put in place in New York, cycling spiked by 52%. Similarly, Citi Bike announced that ridership was up by nearly 70 percent within the first two weeks of March. Chicago's Divvy Bikes also saw large increases in ridership. 
On top of that, many bike share systems have also stepped up during this time of need. From enhancing bike cleaning sanitation protocols and offering free or discounted services to both essential and nonessential members of their communities, let's see a few examples of how bike share is being used as a tool for empowerment:
Boston, MA
Hospital staff from 14 hospitals across Boston and its neighboring towns of Brookline, Cambridge, Everett, and Somerville can now access a free 30-day pass for Bluebikes' public bike share. The pass provides unlimited 45-minute trips. 
Chicago, IL
On March 24, the city of Chicago announced several initiatives intended to make travel easier and more affordable for essential pandemic workers. Divvy Bikes stepped in and offered critical healthcare workers free bike-share rides through April 30. After signing up, those who are eligible will get access to unlimited 45-minute trips on non-electric bikes. 
As for all other riders, Divvy dropped the price of single rides from $3 to $1.
Detroit, MI
To tackle COVID-19 in its community, MoGo bike share is offering its monthly pass for free. For 30 days, MoGo's monthly pass gives an unlimited number of station-to-station trips up to 30 minutes. Please note that overage fees will still apply for those trips over 30 minutes.
"These are challenging times for all of us," said MoGo Founder and Executive Director Lisa Nuszkowski in a release, adding, "Whether you are an essential employee who needs to get to work or are looking to add some physical activity to your day, MoGo is here to continue serving the needs of our community." 
Iola, KS
In partnership with Thrive bike share system, Humanity House, an organization that serves low-income families from Iola and Allen County, will continue to provide free bike share. It'll also be distributing food to those in need, and residents have been assured that bikes will be sanitized when brought back to Thrive or other checkout locations, and again prior to being checked out to new users.
Memphis, TN
On March 20, Explore Bike Share offered all Memphians 24/7 access to bike rentals for free for 30 days. "Especially during this period of unprecedented circumstances, we need to protect and foster our mental and physical health now more than ever," said Anton Mack, Explore Bike Share's executive director, in a press release. 
The organization has also implemented daily sanitization protocols to reduce the spread of the virus, though users are asked to bring their own wipe and hand sanitizer to clean handles and touchscreens before check-out.
New York, NY
To accommodate all health care workers, electric moped company Revel is not only offering free rides but is also expanded its service area so users can access major hospital centers. The new range includes access to Maimonides Medical Center, NYU Langone Hospital Brooklyn, SUNY Downstate Medical Center and Elmhurst Hospital.
On the morning of Revel's announcement, 100 health workers had already signed up! While the company has ramped up its cleaning and disinfecting procedures for all vehicles and helmets, it also urges riders to take the safe route and ride alone. 
Also in New York, the Citi Bike Critical Workforce Program is providing the first-responder, healthcare, and transit workforce with 30-day free Citi Bike memberships. There's no cost to workers, and workers receive a 30-day membership entitling them to unlimited 45-minute rides on both classic and e-bikes.
Lastly, Reddy Bikeshare is discounting the cost of annual passes by 98%, making them $1 through the end of April. An additional cost of $0.01 per minute to ride is included. "We are here for our community; Reddy bikes are a source of relaxation and physically distant fun to help people get through this extremely challenging time," said Reddy Bikeshare's Marketing and Communications Director.
— — — — — — — —
That's the end of our list! We are grateful for the many ways in which members of our bike share community are stepping up to address this crisis. We look forward to sharing more examples with you in the weeks ahead.
And remember, whether you're a cyclist, pedestrian, or public transportation passenger, maintain your social distance, wash your hands and stay safe. 
What acts of kindness and unity have you seen in your community? Share your thoughts with us on Facebook, Twitter and Instagram!
*The referenced Tweet was edited for clarity and grammar.
The Better Bike Share Partnership is a JPB Foundation-funded collaboration between the City of Philadelphia, the Bicycle Coalition of Greater Philadelphia, the National Association of City Transportation Officials (NACTO) and the PeopleForBikes Foundation to build equitable and replicable bike share systems. Follow us on Facebook, Twitter and Instagram or sign up for our weekly newsletter. Story tip? Write farrah@peopleforbikes.org