Job Alert! PFB & BBSP Seek A Partnerships & Program Manager
July 16, 2020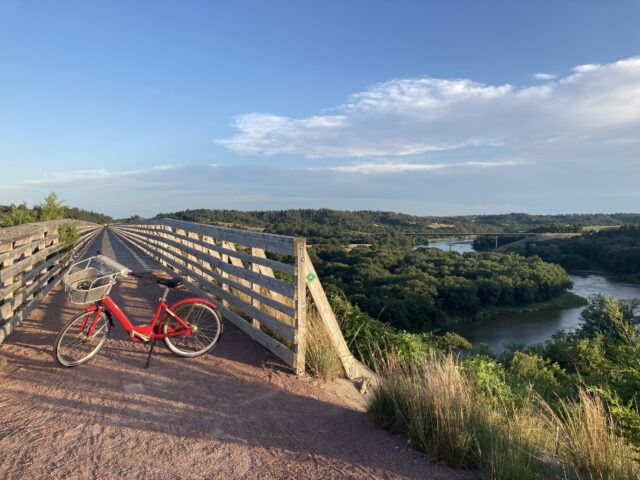 Photo courtesy of Heartland B-cycle
PeopleForBikes and BBSP are hiring!
To support BBSP's community-focused initiatives, PFB is looking for a Partnership and Program manager to help us get more people on bikes. Please spread the word about our current opening for this position.
Here are the details:
Title: Partnerships and Program Manager
Location: PeopleForBikes Headquarters – Boulder, CO
Industry: Bicycle Non-profit Organization
Employment and Classification: "At-will" employment status; full-time position
Position Summary: PeopleForBikes (PFB) seeks a full-time manager to support two community-focused programs: the Better Bike Share Partnership and PlacesForBikes. The ideal candidate will have experience working in or with communities of color, a history of centering equity in their work and strong project management skills.
This person will work closely with diverse teams in multiple U.S. cities to support, build and track data-driven assessment strategies focused on local efforts to increase access to shared micromobility services and build connected networks of mobility infrastructure.
A commitment to safe, healthy, reliable and affordable access to transportation for all members of a community is essential to this position.
Required Qualifications
The ideal candidate must have:
Experience working in or with BIPOC, new immigrant, or other historically underserved communities
Demonstrated ability to manage contracts, consultants, and third-party service providers, track timelines and deliverables and ensure that expectations are met
Demonstrated ability to work collaboratively and productively with multiple internal and external stakeholders
Strong analytic skills with the ability to analyze data from secondary sources and manage research contractors
Ability to synthesize research findings from a variety of sources and generate actionable insights that support specific program initiatives as well as the broader organizational mission
Strong written and verbal communication skills
Four-year college degree, all majors considered, or equivalent experience
Occasional travel required (4-5 times/year)
PeopleForBikes will consider alternative ways that an applicant may have gained the required qualifications, outside of traditional pathways.
Desirable Qualifications
Experience in creating and managing budgets
Experience building peer networks
Comfortable with public speaking
Experience developing and administering surveys, and/or evaluating survey data
Responsibilities
The Program Manager will develop, implement and assess program activities and partnerships in cities targeted by our Better Bike Share Partnership and PlacesForBikes programs.
The Program Manager will oversee the Living Lab program, a grant-funded initiative to support four cities addressing barriers to the use of shared micromobility in BIPOC communities, including city selection, assessment, tracking and deep and sustained communication and engagement.
The Program Manager will help facilitate research and data programs that include baseline and follow-up data collection, managing RFPs for consultants or contractors to assist with data collection as needed, and overseeing existing research programs.
This position will also work with our internal marketing team to develop effective strategies for communicating stories and outcomes externally, and build and maintain relationships with academic research partners as well as local, private sector, national stakeholders.
Compensation and Benefits
This "at-will" position offers a competitive salary commensurate with experience. A comprehensive benefits package is offered, which includes health insurance, generous paid time off and optional participation in a deferred compensation plan, with immediate vesting
The salary range for this position is $55,000 – $70,000.
To Apply
Interested applicants should submit a resume and cover letter in one, single PDF file, via email, with "Partnerships and Program Manager" in the subject line to PeopleForBikes director of grants and partnerships Zoe Kircos, at jobs@peopleforbikes.org.
The cover letter should be no longer than one page and briefly explains the candidate's applicable experience, particularly experience and background working in or with communities of color.
Telephone, in-person inquiries to PeopleForBikes staff or incomplete applications will not be accepted.
The position is available immediately and will remain open until August 7, 2020.
Interested applicants are encouraged to visit PeopleForBikes.org for general information and organizational background.
PeopleForBikes is an equal opportunity employer. PeopleForBikes wants safer, comfortable and more accessible places for everyone to ride. We support people and communities of all backgrounds, abilities and perspectives. No matter who you are, where you're from, or why you ride, we believe everyone can find joy on a bicycle. Because when people ride bikes, great things happen.
Check out the application here!
The Better Bike Share Partnership is a JPB Foundation-funded collaboration between the City of Philadelphia, the Bicycle Coalition of Greater Philadelphia, the National Association of City Transportation Officials (NACTO) and the PeopleForBikes Foundation to build equitable and replicable bike share systems. Follow us on Facebook, Twitter and Instagram or sign up for our weekly newsletter. Story tip? Write farrah@peopleforbikes.org