BBSP Has a New Program Manager!
October 8, 2020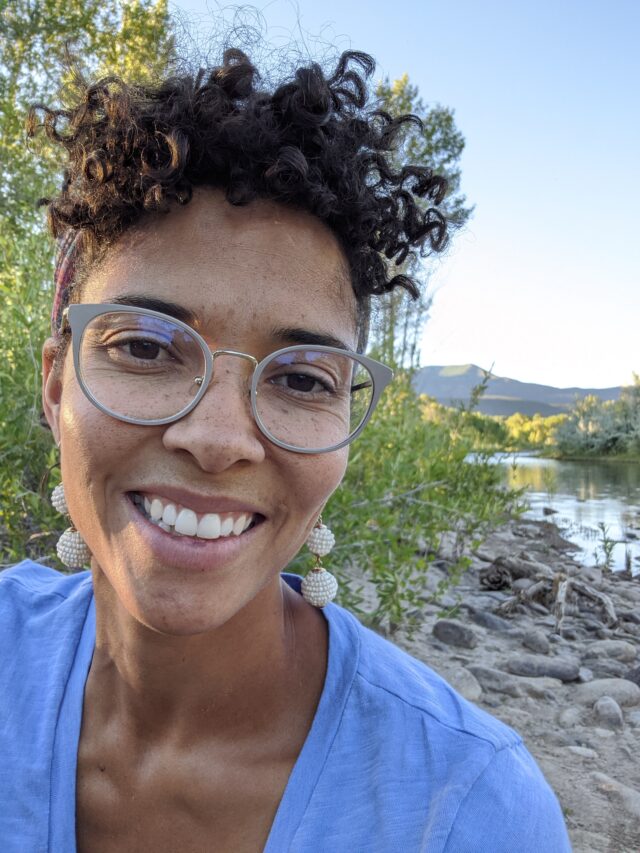 We've got a new team member at the Better Bike Share Partnership! We're excited to officially introduce Tangier Nadean Barnes Wright to the bike share equity world. 
So you can get to know our new program manager with us, we interviewed Tangier to learn more about her background, what she'll be working on, and what her superpower skill is for bike share!
Get to know Tangier
Q: How did you land in this field and what are some previous roles you've held?
Tangier: My background is in urban planning, so I went to grad school and got my Master's in urban planning, then went into the field of planning for environmental justice and social justice. I wanted to focus on the people and communities who hadn't benefitted from the so-called benefits of planning, who in fact bear the burden of poor air and water quality, freeways and bad transportation planning. I wanted to work in the realm of undoing some of that and helping to improve the quality of life for communities of color. After grad school, I was lucky enough to get a job with Groundwork Denver … [I was brought on at Groundwork to project manage and lead the visioning and design process for a five and a half acre brownfield site.] … That's what I worked on my entire duration groundwork, which was just over 10 years. [During that time], I sort of accidentally got into the realm of access to parks and open space and mobility. We got grant funding to specifically work with communities on accessing the South Platte River Trail, so I dove into this realm of biking and walking and outdoor recreation, and what in the physical environment was preventing people from biking, walking and accessing parks that were really close.
Q: What do you hope to achieve as BBSP's program manager?
Tangier: I'm super excited to be helping manage a cohort of grantees who are working to improve the spaces where they are and connect people to biking. The thought that we could have a hand in funding projects that are impactful, especially in the era that we're in, it's just nice to know these on-the-ground projects and programs and activities are continuing. All the while, there's all this negative stuff happening, but here we are and here I will be getting to know communities across the nation, which excites me. I hope to also support, which I've enjoyed in my previous roles, more than providing funding actually help connect communities to one another and help them be as successful as they can be in this work. But also learning about the different needs and how different cities and communities and community organizations operate.
Q: What part of BBSP's work are you most excited about?
Tangier: I think I'm most excited to work with communities of color outside of Denver and Black people, specifically. I have worked predominantly in Latino communities, Spanish-speaking communities and in white communities. I have partnered with and done projects with Black people, but I am excited to see what feels like these masses of Black people across the country who are interested in biking — because there's not a lot of people on bikes [in Denver]. So, excited, specifically, about working with communities of color in this world because it is a world that feels so often inaccessible and unwelcoming. But it's getting better and people are entering, people are being welcomed. I have many passions, but biking is one of those and working with people of color, working to see others who look like us on bikes.
Q: What is the superpower skill you bring to bike share equity work?
Tangier: I have a unique ability to help people of varying backgrounds feel comfortable getting on a bike. No matter what kind of rider they are, no matter what kind of bike they have or their previous experience, I can relate to the completely inexperienced and the very experienced rider.
Q: Do you have a favorite bicycling memory?
Tangier: One incredible memory of biking is being in New York City with my husband. We had a habit of doing foodie bike tours wherever, but New York City was really special. We started in Brooklyn and then rode our bikes over the Brooklyn Bridge, then came into Manhattan. We had lunch in a brewery in Brooklyn, we stopped in a couple of places in Chinatown and had little small bites; we ate in Little Italy and rode across the island to the west side and to the Highline Canal. Once on the Highline Canal, we got off on our bikes. It was an epic foodie bike tour in New York City … and we used CitiBike.
— — — — — —
Welcome to the team, Tangier! 😍
The Better Bike Share Partnership is a JPB Foundation-funded collaboration between the City of Philadelphia, the Bicycle Coalition of Greater Philadelphia, the National Association of City Transportation Officials (NACTO) and the PeopleForBikes Foundation to build equitable and replicable bike share systems. Follow us on Facebook, Twitter and Instagram or sign up for our weekly newsletter. Story tip? Write farrah@peopleforbikes.org.