Findings From Indianapolis' Free Bike Share Pilot
November 20, 2023
Thanks to the City of Indianapolis' Office of Sustainability, Pacers Bikeshare was able to fund 100 annual passes — and learn a lot in the process.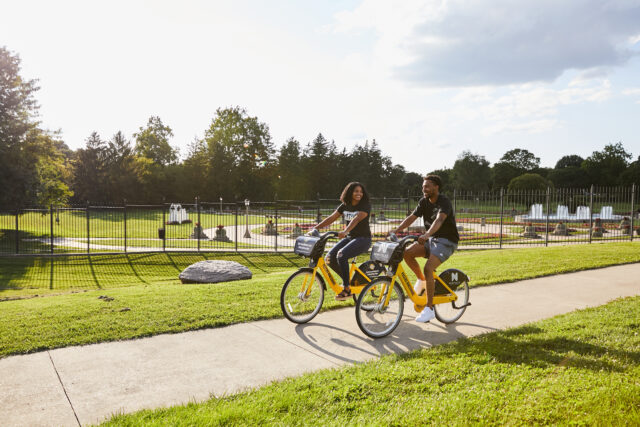 Many people with access to bike share have yet to try it — anecdotally, that's true of most of my community, and for years, it was true of myself. What finally got me using bike share? A free pass. 
Despite being someone who could not only benefit from bike share but who could afford an annual pass, it took a complimentary pass — courtesy of my employer — to get me to start checking out bikes and using my local system in earnest. Today, it's hard to imagine my life without bike share, which I use multiple times a week. 
"One of the barriers of bike share, or anything really, is the cost," says Kären Haley, executive director of the Indianapolis Cultural Trail, which oversees Pacers Bikeshare. With that in mind, Haley approached the City of Indianapolis' Office of Sustainability with an idea for a pilot program that would make bike share free. "One of their goals is to increase transit options and reduce single-occupancy vehicle use, so this really fits within their plan." 
The pilot was eventually funded through the Knozone program, an air quality effort managed by the City's Office of Sustainability, and in the spring of this year, the "Take a Free Ride" pilot program launched. The pilot offered annual Pacers Bikershare passes completely free to residents of Indianapolis on the condition that they agree to share their bike riding data for six months. Passes typically cost $133.75 a year and almost 200 people applied for the program, which only had funding for 100.
"One of the things we looked at was people's zip codes — did they live or work near a station," says Haley. "We also looked at people who had never ridden the system or had an annual pass before, because we also wanted folks who were new."
Accounting for those two factors, as well as the people who naturally self-selected out, helped whittle down the applicants. The final group of participants was chosen using a random generator. Pacers Bikeshare also held a few passes back for partner organizations that help oversee its EveryBody Rides program, which offers those living on low incomes a reduced rate of $5/month. This helped ensure that those from historically underrepresented groups, including people experiencing homelessness, would also be able to take part in the pilot. 
For all participants, one of the conditions of that pilot was that they had to agree to use bike share several times a week. That meant that in addition to needing to live near one of the 50 Pacers Bikeshare stations, participants needed to be committed to bicycling as a mode of transportation, recreation, or ideally, both. Luckily, near every Pacers Bikeshare station, there are plenty of safe places to ride, thanks in large part to its synergy with the  Indianapolis Cultural Trail, an 8.1-mile-long urban shared-use path and linear park that runs in and around downtown Indianapolis and connects to various everyday destinations and greenways. 
In addition to agreeing to use bike share regularly and share data periodically, participants were required to attend a group orientation, where they learned from staff about how the system works. Essentially a "Bike Share 101" class, participants learned how to shift gears, adjust their seats, and check out bikes using an app or an RFID card. Staff also made it clear that folks could still incur fees with a free pass, and how they could avoid them. Participants were asked what their comfort level with riding a two-wheeled bike was and for those who needed additional instruction, staff provided that support. After every orientation, there was an option to participate in a group ride.
"We took this pilot program as an opportunity to collect both demographic data and ridership data to get a better understanding of who was using this program and how they were using it," says Haley. "It's been much more diverse In just about every aspect than we anticipated."
For one thing, roughly 90% of people who applied for the pilot had never had a bike share pass before, while another 42% had never used bike share before. Some 61% of folks were female, which is surprising given the gender gap we often see in shared micromobility. About 62% of applicants identified as white, 14% as Black or African American, 6% as Asian, 7% as Hispanic or Latino, and 6% as multiracial — while some people declined to answer, this demographic breakdown is roughly representative of Indianapolis as a whole (Black and African American riders remain underrepresented). From an age perspective, 50% were between 18 to 35, although 6% were 65 and older.
When it came to annual income, there was the largest spread among applicants, with almost 75% of respondents earning less than $75,000 a year and roughly 19% earning less than $25,000 a year. 
"Some were on the high end of the earnings spectrum but we were pleasantly surprised with how many folks applied who were low-income," says Haley, who believes the ridership data from those enrolled in the program bares out the fact that bike share helped fill a transportation gap for many. 
Additionally, only 20% of people said they primarily traveled by bike yet 85% of respondents said they planned on using bike share 1-5 times per week, indicating that the free pilot could also lead to mode shift among participants. 
"Bike share offers a mode of transportation and travel that's attractive to people and not just the those who made up our typical ridership back when we started in 2014," says Haley, noting that at the outset, the demographics of Pacers Bikeshare skewed educated, high-income, white, and male. "This data paints a different picture and that is very exciting to us."
The pilot is almost at its halfway point and although participants still have half a year of free riding to enjoy, much of the tracking and data collection is slowing down. When participants initially enrolled in the pilot, they agreed to receive a survey monthly and have their data tracked for six months. While participation in the surveys has waned over the months, participants are continuing to use bike share often.
"It's been pretty successful — in terms of the people who are riding, they are riding a lot," says Haley. "They just might not be filling out the survey on a regular basis."
By collecting ridership data, Haley and her team have been able to pinpoint where people are riding to and from, which could help with improving bike share operations in the long run. Many of the participants appear to be students, as a lot of the data has shown trips in and around Indianapolis' main university campus. Other popular stations include those near two downtown grocery stores and the public library, echoing how EveryBody Rides participants also tend to use the system.
"Mostly we're seeing people who are clearly riding to places versus one-off joy riders, who tend to stick to trails," says Haley, emphasizing that this data also shows different behavior than Pacers Bikeshare's typical riders. "These riders are truly using bike share for transportation, to get to places where you can receive services or buy groceries or attend a class."
Notably, pilot participants are also taking more trips per person than the average walk-up user or regular annual users (their use is on par with that of EveryBody Riders participants), and they are riding for longer periods proportionally. Haley attributes the abundant use to the simple fact that people were given a tool they needed free of charge.
"We gave people a form of user-friendly, reliable transportation that they needed at no cost," says Haley. "For us, this pilot provides ground-tested data that shows just what happens when you make bike share free."
---
The Better Bike Share Partnership is funded by The JPB Foundation as a collaboration between the City of Philadelphia, the National Association of City Transportation Officials (NACTO), and the PeopleForBikes Foundation to build equitable and replicable bike share systems. Follow us on LinkedIn, Facebook, Twitter, and Instagram, or sign up for our weekly newsletter. Have a question or a story idea? Email kiran@peopleforbikes.org.