In Boston, Bike Share Is Public Transportation
October 24, 2023
The new city-subsidized Boston Bikes Pass makes annual Bluebikes memberships just $60/year for new riders and $5/year for low-income residents.

Boston is one of few cities with a publicly-owned bike share system, Bluebikes, and over the years, the city has increasingly positioned the system as an integral part of its public transportation network. Bluebikes now has at least one station in every Boston neighborhood, as well as a presence in the outlying municipalities of Cambridge, Everett, Malden, Medford, Salem, Somerville, and the Town of Brookline. Eventually, the goal is to continue expanding until every Boston resident lives within a 10-minute walk of a station (currently, Bluebikes is at roughly 89% of this goal and there are plans for an additional 100 stations over the next couple of years).
Referring to bike share as public transportation, however, naturally raises questions about pricing and affordability. Other forms of public transit, such as buses, subways, and trams, are highly subsidized by local governments, which makes them considerably more affordable to the public generally and especially for those living on low incomes. To truly embrace bike share as public transportation and promote its widespread adoption, the City of Boston knew it needed to move away from letting market forces determine pricing and dramatically reduce the cost of riding using public dollars. 
Enter the Boston Bikes Pass, a new, city-subsidized pilot program that makes annual Bluebikes memberships just $60/year and $5/year for all low-income residents (the regular rates are $129/year and $50/year respectively). The pilot, which will run through June 2024 or until funding runs out, was made possible thanks to a $550,000 investment from the city and an ongoing title sponsorship from Blue Cross Blue Shield. The $60 plan is only available to City of Boston residents who have not had a Bluebikes membership in the last three years, while the $5 plan is available to any resident who qualifies for federal assistance (or has an income that would allow them to qualify) regardless of their past membership.
View this post on Instagram
According to Kim Foltz, senior bike share and active transportation planner at the Boston Transportation Department, there's a combination of factors that help bring the new pilot to fruition. Chief among them was having a mayor who believes that safe, reliable, affordable, and sustainable transportation is the foundation for shared prosperity and health. When Boston Mayor Michelle Wu was elected in 2021, transportation advocates rejoiced — since her time as a city councilor, she's been focused on fixing a broken and inequitable transportation system. 
"We've always talked about bike share as public transportation but we now have an administration that really gets what that means," says Foltz. "It's really been a new day for our public bike share system."
Another contributing factor included discussions about how to integrate e-bikes into the Bluebikes system equitably. Foltz and her team knew that they couldn't add e-bikes without first addressing the affordability of its current system. Lastly, Boston has undergone several subway closers in the last year, during which residents were allowed to use Bluebikes for free, proving that bike share can help fill in transportation gaps. Just after announcing the Boston Bikes Pass two weeks ago, the city announced another free month-long bike share pass due to partial closures along its Red Line.
"While it was incredibly challenging to have two different pass programs launching simultaneously, we're excited to bring in new people, help them have a good experience with bike share, and hopefully get them into the Boston Bikes Pass once their free month ends," says Foltz. "There's nothing like a transit shutdown to help grow ridership in bike share."
Since the Boston Bikes program is considered a pilot, data around the adoption of the pass will be critical to ensuring it endures. Foltz says that they will not only be looking at how many people sign up for the program but also how often people are using bike share and whether it's serving their transportation and recreation needs. When asked why loyal members weren't included in the pilot discount, Foltz emphasized that they wanted to see the mode shift a subsidized membership would inspire.
"We're hoping to really demonstrate that this pilot helps bring new people into our bike share system," says Foltz. "If we see a really strong demand and we start hearing from long-term members that there should be a discount for everyone, we'll look at how we can best make use of city dollars and encourage as many people as possible to be utilizing our bike share system."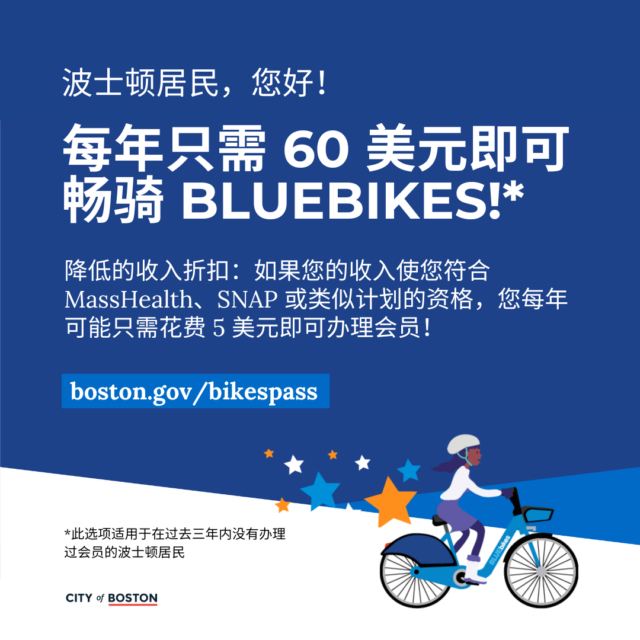 In the next two years, Foltz would like to see the number of Bluebikes users in Boston double as the system grows accordingly. She understands that to get there, community engagement is key. The Boston Bikes Pass was launched in collaboration with multiple community organizations and ambassadors, alongside digital collateral in multiple languages. However, more community engagement and encouragement initiatives are necessary — work that Foltz hopes to pick up come spring. 
"We're so excited to be launching this new discounted pass program," says Foltz, noting that for folks to truly use it, they need to know about it and trust the system. "If we're able to couple that with legitimate on-the-ground engagement and in-person relationship building through community-based organizations — it would be amazing."
---
The Better Bike Share Partnership is funded by The JPB Foundation as a collaboration between the City of Philadelphia, the National Association of City Transportation Officials (NACTO), and the PeopleForBikes Foundation to build equitable and replicable bike share systems. Follow us on LinkedIn, Facebook, Twitter, and Instagram, or sign up for our weekly newsletter. Have a question or a story idea? Email kiran@peopleforbikes.org.