Age Is Just a Number for Indianapolis Bike Share Super User
April 26, 2016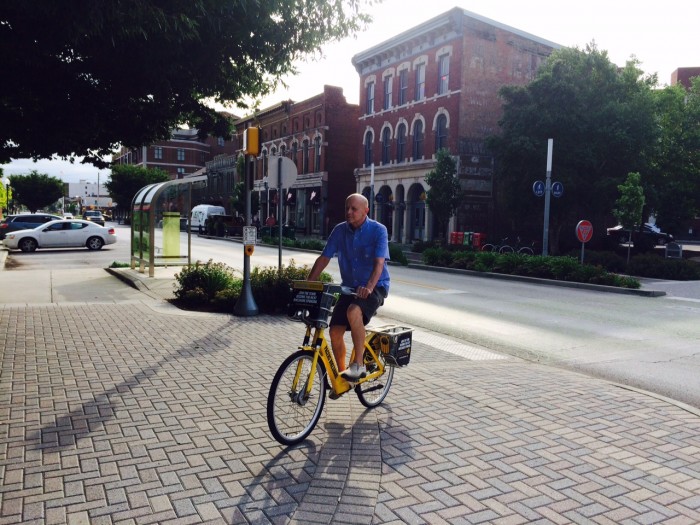 Public housing residents are among the heaviest users of Indianapolis's bike share system. One of them has even become a top-five user.
His name is Greg Kormos. At 70 years old, he is one of Pacers Bikeshare's oldest members. He is also one of its most active. In 2015, he rode 681.3 miles across 691 trips. That makes him a top ten user by mileage or a top five user by number of trips.
When bike share launched, Kormos was coming off hip and back surgery and he was worried about his balance. He saw a presentation held at his building about Pacers Bikeshare offering deeply discounted annual memberships for residents of any Indiana Housing Authority property—$10 annually instead of $80. He saw it as an easy opportunity to test his balance and get a little physical activity in.
But bike share wound up being so much more.
"It reenergized me," says Kormos. "This is making me feel like 60 is the new 40. Being hobbled for so many years, it has been psychologically good for me. It's wonderful exercise and fresh air. It came along just when I needed it."
Bike share has also been more convenient, he says. The grid of stations often means more streamlined commutes than the bus, and the existence of dedicated bike infrastructure like the Indianapolis Cultural Trail keeps riders feeling safe. Downtown Indy is home to an eight-mile, world class walking and bicycle path that connects several neighborhoods and cultural hotspots.
"You feel so comfortable there," says Kormos. "You are rarely interacting with traffic. It's just there for the taking."
The Indiana Housing Authority partnership is the largest component of Pacers Bikeshare's EveryBody Rides effort, which focuses on getting everyone onto bike share regardless of age, gender, ethnicity or economic status.
EveryBody Rides launched alongside Pacers Bikeshare in the spring of 2014. However, it wasn't until a year later that the system secured funding through IU Health, a downtown hospital, allowing them to hire a part-time staffer dedicated to the EveryBody Rides program. According to Indianapolis Cultural Trail Executive Director Kären Haley, that made all the difference for the program (so much so that for 2016 the system decided to self-fund the position).
She adds, "It is extremely valuable to have a friendly face for the IHA members to associate with Pacers Bikeshare and to be their main point of contact for questions they have about using bike share, group rides, etc."
Since the launch of the system, 21 people have signed up for discounted IHA membership. On average, those members take 168 percent more trips and ride 118 percent farther during their membership period that the typical full-paying annual members. (In other words, IHA residents average 150 trips per member versus of 56 trips per member for non-IHA residents. IHA residents also ride 157 miles per member versus 72 miles per non-IHA member.)
"There is always room for improvement," says Haley. "I think (the program) is successful because members are renewing and because of the high volume of trips they are taking. Our IHA residents are really using Pacers Bikeshare for transportation."
One stat Haley finds interesting is that 22 percent of IHA member trips start or end at Central Library. (For other annual members, only 5 percent of trips do.)
This year, Haley hopes to expand Pacers Bikeshare's discounted pass program to other low and mixed income housing properties in the downtown area. This summer the system will also adding a docking station at Eskenazi Hospital, the public hospital in Indianapolis.
"One of the first questions our IHA members ask us is if they can ride to see their doctor," explains Haley. "This will now be possible with the new station at Eskenazi."
Kormos is excited about the future of Pacers Bikeshare. He hopes the system's planned improvements bring more people like him to bike share and bicycles in general. He doesn't want to be an atypical user, but acknowledges that he is.
"I think people are afraid," he says. "Maybe of the physical riding; maybe it's balance or something. I don't know. I know a lot of people could use the exercise though. A lot of people are carrying too many pounds. … I have tried to be an ambassador. I can't say I've been doing a good job, but I won't give up. If I can get one person to sign up, I'll be happy."
Haley gives Kormos a bit more credit.
"Greg illustrates the importance of our EveryBody Rides program and the important role that Pacers Bikeshare plays by providing a viable form of public and active transportation in downtown Indianapolis," she says. "Greg's story is one of the many reasons we continue to invest in the program."
The Better Bike Share Partnership is a JPB Foundation-funded collaboration between the City of Philadelphia, the Bicycle Coalition of Greater Philadelphia, the National Association of City Transportation Officials (NACTO) and the PeopleForBikes Foundation to build equitable and replicable bike share systems. Follow us on Facebook, Twitter and Instagram or sign up for our weekly newsletter. Story tip? Write april@peopleforbikes.org