NABSA's 2022 State of the Industry Report
August 16, 2023
The report reflects a year of significant growth in trips, vehicles, and systems, as well as year-over-year metrics demonstrating industry trends in North American shared micromobility.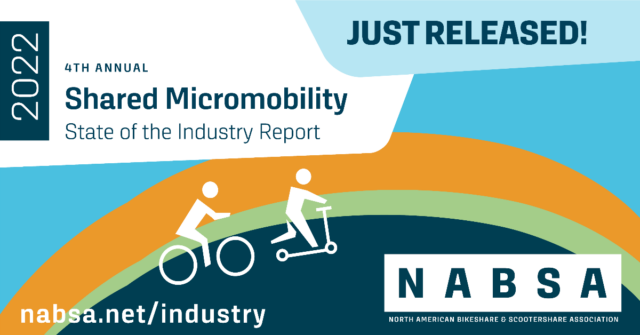 Once a year, the North American Bikeshare and Scootershare Association (NABSA) releases its State of the Industry Report, a comprehensive overview of shared micromobility trends, growth, and success across the U.S., Mexico, and Canada. As a nonprofit, NABSA represents public, private, and nonprofit organizations in shared micromobility, and the organization's annual report is composed of survey results from members, statistics gathered from performance reports released by shared micromobility systems, and data from the General Bikeshare Feed Specification (GBFS).
Notably, the 2022 report showcases the return of shared micromobility to pre-pandemic levels with at least 157 million trips taken across North America. However, the number of cities with shared micromobility and the number of vehicles in operation also hit an all-time high, suggesting that trips per vehicle is down. New additions to the 2022 State of the Industry report include a page with year-over-year trends from 2019 to 2022, a rural shared micromobility feature, and a section on U.S. state tax policies that support shared micromobility, ultimately advancing climate, equity, health, and transportation goals.
Some highlights from this year's report:
In 2022 there were shared micromobility systems in 401 cities in Mexico, Canada, and the U.S., as well as 289,000 vehicles in operation — both the highest to date.

The number of trips taken on e-bikes increased from 18.8 million in 2021 to 30.9 million in 2022, and e-bikes were ridden approximately 56% more than pedal bikes in systems that have both.

By replacing short car trips and making new trips with shared micromobility, riders gained an additional 18.7 million hours of physical activity.

Shared micromobility offset approximately 74 million pounds (34 million kg) of CO₂ emissions by replacing auto trips.

Shared micromobility helped more people to access transit, with 64% of riders stating that they use shared micromobility to connect to transit and 23% of all shared micromobility trips were to connect to transit.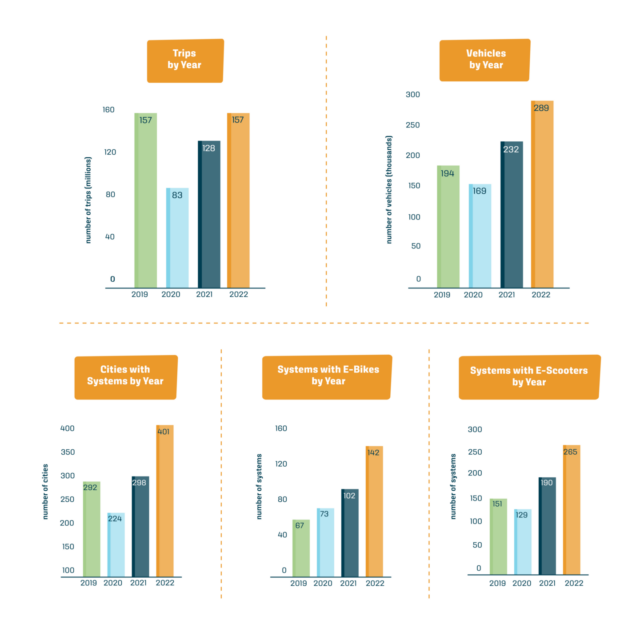 "Shared micromobility has come back stronger than ever, and is, year-over-year, demonstrating its value and importance in the transportation ecosystem," says NABSA Executive Director Sam Herr. "Shared micromobility is poised to make its greatest impact yet, but where we go from here is a choice for policymakers, government leaders, and funders. Now is the time to make big investments in scaling shared micromobility at all levels to realize the full potential of shared micromobility as a climate action tool, and one that fosters more equitable public transportation."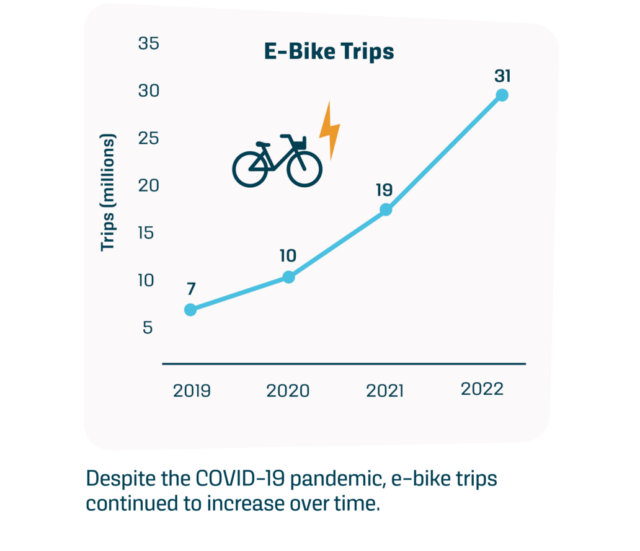 The continued trend and popularity toward the electrification of shared micromobility only amplifies these impacts. About 65% percent of total shared micromobility trips taken in 2022 were made on e-bikes and e-scooters, and they accounted for well over half of the total vehicles deployed across North America. A section of the report also highlights industry trends, many of which have to do with electrification. That includes the incorporation of charging stations for electric bikes and scooters, which helps to scale electric shared micromobility (NABSA will be publishing a paper on this topic soon).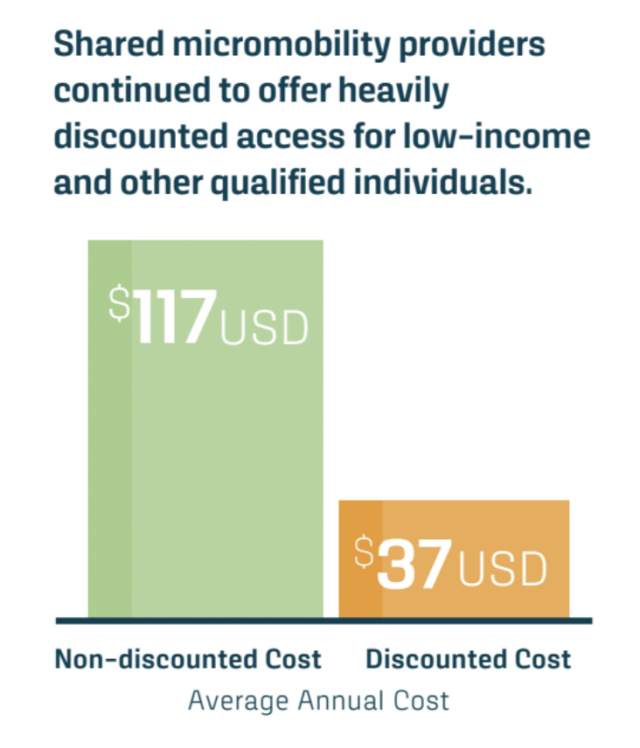 When it comes to user demographics, however, 2022 remains consistent with 2021, reaffirming that there remains work to be done in order to achieve representation amongst all groups. The report notes the following trends:

Income: the highest income earners continued to be highly over-represented in 2022; the lowest earners were also over-represented; low-to-middle incomes were the most under-represented in 2022.

Age: the 18-24 and 25-44 year age brackets continued to be over-represented; older adults were still under-represented.

Race: People of color were slightly better represented in 2022; however white populations were still substantially over-represented.

Gender: female participation continued to be under-represented.

There are so many benefits to having shared micromobility in our cities, towns, and — as this year's report emphasizes for the first time — rural areas. Bike and scooter share systems benefit communities by spurring economic development, connecting people to jobs, transit, and urban centers, increasing access to local and state park nature trails, providing access to bikes and particularly e-bikes, and adding vibrancy, quality of life, and a fun way to engage with the community. The report highlights what's working in shared micromobility and offers an idea of what to work on next.
---
On August 22, join NABSA and research partners Toole Design and UC Berkeley's Transportation Sustainability Research Center for a webinar outlining key findings, trends, and insights for the 2022 report. Register for the webinar here.