Ithaca Stands By Bike Share
July 10, 2023
After Lime pulled out, this college town in Upstate New York reimagined bike share to better serve its community.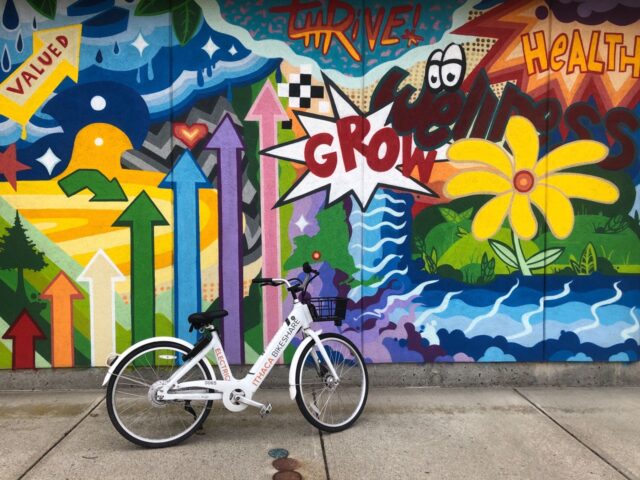 To best understand the evolution of bike share in Ithaca, New York, you need to talk to Jeff Goodmark. Not only does Goodmark oversee Ithaca Bikeshare, the town's current, all-electric system, but he served as operations manager for the inaugural Lime system, which launched in 2018. When Lime first approached Ithaca about launching its bike and scooter services, the city was intrigued but had a few stipulations: Lime needed to hire someone locally to run the system and the company needed to offer some sort of low-income program.
"The person they hired was me and the program that we created is what's now become Lime Access," says Goodmark, referencing the affordability program that eventually grew beyond Ithaca to include all of Lime's markets. "I worked for Lime from 2018 until the pandemic."
When COVID-19 hit, Lime pulled out of Ithaca and many of its other markets, eliminating jobs alongside some people's only form of reliable transportation. Because bike share had been successful in Ithaca, the city decided to find a way to bring it back. Goodmark was brought on to consult for The Center for Community Transportation (CCT), an overarching not-for-profit that supports shared and active transportation that's healthy, safe, affordable, and convenient for all. CCT began exploring what a new bike share system should look like in Ithaca, determining that it would cost about $250,000 to launch and eventually securing the necessary funding from a local foundation.
Goodmark serves as the director of mobility for CCT and oversees the revamped system, which is all-electric, hub-based, and operated by a nonprofit — a ways away from the Lime system, which was also dockless but just a small part of the largest shared micromobility company in the world. When designing the new system, there was no question that it would have a low-income pricing option.
"For 15 years, we have had a service in our town called Ithaca Car Share, which is basically just like Zipcar except for it's a not-for-profit, locally owned business started by Jennifer Dotson, who is now the executive director of CCT," says Goodmark, explaining that Dawson applied 10-plus years of experience from running that system to bike share. "What she learned was that the people you're trying to get to use a low-income program, the people who basically can't afford to own a car, also can't afford to rent one. When we launched bike share, we knew we had to keep that in mind."
The result is that Ithaca Bikeshare's equity program, aptly called Easy Access, is completely free to access. Low-income residents can sign-up the program through a partnership with Go Ithaca, which offers a suite of transportation packages that include local buses, car share, and on-demand services in addition to bike share. Go Ithaca oversees people signing up, which can be done either in person or online.
"It's intentionally low-barrier, so it is very easy to become a member,"  says Goodmark, adding that the system's standard pricing also strives to be relatively affordable: An annual membership runs $150/year and includes unlimited hour-long trips.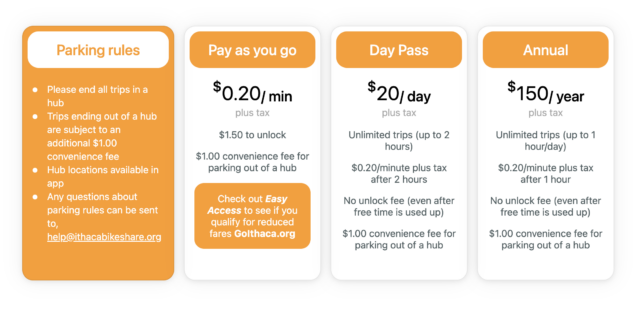 Ithaca Bikeshare launched in November 2022 and in the months since has seen more than 34,000 trips (a number that just exceeds the town's total population). Now that the weather is nice, the system's 85 bikes are averaging 250-275 trips per day, most of which are short, utilitarian rides.
"Our bikes are in constant motion and get used by every kind of person," says Goodmark. "It's been wildly successful — way above our projections, as well as the numbers Lime had while they were here."
Since launch, there have been a few kinks to work out related to parking and the new hub system. Goodmark's initial plan was to incentivize people's parking in the hubs by offering $1 off their ride, but for months he was only seeing 17% compliance. After speaking with Jeff Coates, the CEO of Blue Krewe, which runs New Orleans' Blue Bikes, Goodmark decided to try a different tactic.
"He said we tried that and no one does it — you have to charge people a penalty for doing it wrong," says Goodmark, who began doing just that on March 15. "We changed our model so now all trips must end in a parking hub or you pay a $1 convenience fee." Overnight, Ithaca Bikeshare's parking compliance shot up to 70%. 
The system has also had to raise prices in general since launch, adding a $.50 unlocking fee and going from $.15 to $.20 on per-minute rides. He attributes this largely to the exorbitant cost of credit card fees, which charge the same percentage whether you're dealing with hundreds of low-cost fees or large ones. Luckily, ridership was unaffected.
Goodmark attributes much of Ithaca Bikeshare's success thus far to its top-notch customer service, which goes especially far in a small town. "We really know our riders and we answer almost every email directly," says Goodmark. "In turn, people tell us what's working or where they'd like to see a new station hub."
As the system evolves, Goodmark hopes to eventually expand to the Cornell University campus (and possibly work out something with the school so students can use it for free). There are as many Cornell students as non-students living in Ithaca and on an average day during the semester, about 60% of Ithaca Bikeshare trips are already taking place on campus. The campus's roads and infrastructure are small though and figuring out where to place hubs will be tricky. "Cornell didn't want anything to do with Lime but I hope we can get there," says Goodmark.
Regardless of what happens with Cornell, there are plans for Ithaca Bikeshare to expand, thanks to funding from the New York State Energy Research and Development Authority (NYSERDA). The grant was awarded to the Ithaca Electric Transportation Access, which Ithaca Bikeshare is a part of, and in addition to new bikes and hubs will fund electric buses, on-demand electric car service, and electric charging stations, all with a focus on serving historically underserved communities in Ithatca's West Hill and Southside areas. 
"Our goal will be to provide full service to this underserved area and report on that," says Goodmark, explaining that community feedback and outreach are integral to the project. "This program's success is measured by how many people we help. We're trying to close the gap between what people need and what we're offering — we want to make owning a car in those areas obsolete."
---
The Better Bike Share Partnership is funded by The JPB Foundation as a collaboration between the City of Philadelphia, the National Association of City Transportation Officials (NACTO), and the PeopleForBikes Foundation to build equitable and replicable bike share systems. Follow us on LinkedIn, Facebook, Twitter, and Instagram, or sign up for our weekly newsletter. Have a question or a story idea? Email kiran@peopleforbikes.org.