Best Practices for (Equitably) Regulating Shared Micromobility
June 12, 2023
We've critiqued guidance from Bird, Lime, Spin, and Superpedestrian to ensure equity — and BBSP's mission — is incorporated throughout.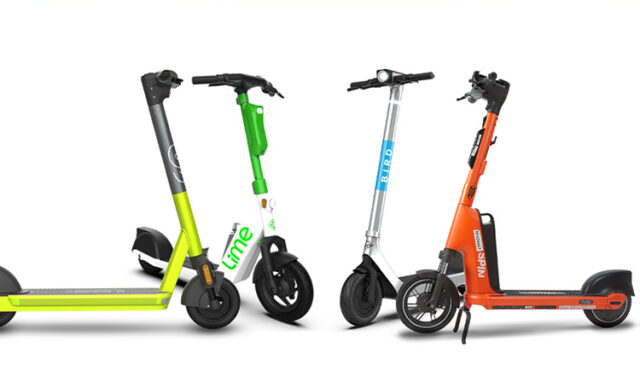 Last month, in the midst of the National Association of City Transportation Officials' annual Designing Cities Conference, a coalition of four major shared micromobility companies —  Bird, Lime, Spin, and Superpedestrian — released a best practices guide for regulating shared micromobility in North America. Of course, the timing was no accident: The 10-point guide is written specifically to nudge North American cities to regulate shared micromobility systems based on principles agree-on by the companies.
Over the last five years, these four companies have provided shared micromobility services for hundreds of millions of trips throughout North America. As such, much of this advice is based on lived experience working with different municipalities and determining what makes sense when it comes to operating efficiently and sustainability (at least when it comes to finances). To be clear, there's nothing wrong with that, it's just one perspective.
Cities, operators, and the public are not far apart: As a partnership that's focused on increasing equity in shared micromobility, we agree with many of the points outlined in the best practices document (especially those that overlap with NACTO's Shared Micromobility Working Paper). That being said, BBSP staff still went through it with a fine-toothed comb, keeping the main headings while tweaking the recommendations themselves to position historically underserved communities at the forefront. We hope this critique will help cities design safe, well-managed systems that work for everyone.
1. Select an appropriate number of operators to avoid oversaturation of a market and provide healthy competition, customer choice, and easy administration for cities.

In order to ensure that users don't have to download five different apps, cities can limit the number of operators that can operate in any given market. When done well, one operator can make for the best user experience, especially if they offer a low-income membership option and are required to rebalance in priority zones. Multiple operators, however, can cover a larger area and can help drive healthy competition, ensuring that winning over customers remains a priority (it can also help prevent a transportation void if an operator is forced to pull out).
A caveat: When cities are launching pilot programs, they may have different priorities than when designing long-term agreements. Not limiting the number of operators can be a time/cost-efficient way of understanding the local market potential with a pilot program.
2. Set a fleet size that balances reliability with tidiness 
We agree that it's important for cities to start with a manageable initial fleet size and scale up from there based on program success. However, we all too often see initial deployment happening only in wealthier areas where there are already other transportation options available. We believe that systems should serve a diversity of users and socioeconomic from the start. 
In addition to positioning devices near essential and popular destinations, we suggest providing service in neighborhoods with low vehicle ownership and unreliable transit. By serving destinations with the highest potential usage and underserved areas, systems naturally create a functioning network where people can get where they want to go from anywhere in the city. Dockless systems need to be continuously rebalanced to ensure that communities are served equitably.
We also suggest that cities and operators develop comprehensive community engagement plans around shared micromobility in order to break down any barriers to use. Ideally, things like tabling events and learn-to-ride classes are done in partnership with local nonprofit organizations that have already gained the trust of local communities.
3. Specify a program and contract duration that is long enough for operators to provide sustainable service that riders can rely on over the long term.
By setting long-term contracts, companies may be more committed to building lasting relationships and investing in your city. It will also encourage them to develop their local workforce — we urge all cities to require companies to hire full-time staff locally, and that can make more sense with multi-year contracts. 
While long-term contracts can also provide transportation reliability for users, cities should also consider safeguards to ensure operators deliver as promised. In order to guarantee compliance throughout the term of your contracts, cities can write in various requirements like penalizing operators with fleet reductions if they don't comply or incentivizing them with expansion opportunities if they do. 
4. Define fees prior to vendor selection and set them to cover the reasonable and transparent costs of program administration and public space occupancy.
The fees a city charges an operator should be determined before requesting proposal applications and should be based on what makes the most sense for each locale and system. To create an equitable pricing structure, cities also need to play a role in determining the cost of a trip. 
At a minimum, cities can require that all selected operators have a low-barrier membership program for low-income users. To further increase mode shift, consider requiring companies to offer membership discounts, cap fares after a certain amount of money is spent daily, or offer discounts for routes that help alleviate traffic congestion. To further break down barriers to use, at least one operator should offer a cash payment option or a way to use their services without a smartphone.
5. Share data in a uniform, automated manner using MDS and GBFS protocols, which are designed by and for cities and considered the industry standard.

With uniform data-sharing requirements, operators are able to spend more time working with cities to provide valuable data for monitoring and evaluation, and less resources on building bespoke data reports. 
That being said, occasionally a city may have an interest in a specific piece of data, like how many income-eligible sign-ups there were or rides were taken — cities need to consider the intensity of their requests but also ask for the data they need to build better systems. Good data can help cities identify who's being underserved by a system and whether or not initiatives to get certain populations riding are working.
We especially like that MDS and GBFS are designed to protect rider privacy by excluding directly identifiable personal data, keeping personal information safe, and protecting cities from the threat that hackers will gain access to sensitive information.
6. Create selection progress that will most readily identify the operators best suited to provide quality service over the long term, tailored to a city's unique needs.
Before requesting proposals from operators, get clear on what your objective is in bringing shared micromobility to your city and what a successful outcome would look like. If your goal is to reduce greenhouse gas emissions from transportation, fill in gaps in your transit landscape, and better serve transportation-insecure individuals, then you need to build your system around those needs. While reliability, safety, sustainability, and fleet management may be core criteria for selection, prioritizing equity and showcasing a track record of impactful community engagement is also important.
7. Set operating areas and hours that maximize access to destinations throughout the city and for residents with non-standard hours.
Like cars and public transit, when shared micromobility is available at all times, it supports everyday use for any number of activities. Because transit services run less frequently at night and many who rely on them don't have personal vehicles, from an equity perspective, 24/hr operations make sense. After all, for a worker engaged in shift work, 1 am may be prime commuting time. Equally important is ensuring that operators always maintain vehicles in designated equity zones, or parts of the city with historically marginalized populations.
8. Allocate parking areas that are conveniently located close to where riders start and end their trips to increase program use, reliability, and tidiness.
In order to keep sidewalks free of vehicles and maintain reliability, cities are using expanded regulations to organize streets, like designating dedicated parking areas that are conveniently located close to where riders start and end their trips (and ideally, also near safe infrastructure for riding). 
Charging people a small fee for not returning vehicles to a designated area can help with compliance; the flip side is offering discounts that incentive folks to comply. Including asphalt art as part of the design of your parking corrals can also help promote safety and help build system buy-in.
9. Implement a 15 mph speed limit to ensure the safety of riders, consistent with other vehicles.
Many cities have opted to cap shared micromobility at a lower speed limit, such as 15-20 mph, in order to promote safety and in some cases, a slower speed may be appropriate. Some cities limit the speed of a user's first few rides and others have created reduced speed zones in crowded pedestrian areas. 
However, we believe that educational initiatives that help people learn to use shared electric scooters and bikes appropriately are also important. These include first-time instructional videos, as well as group rides. The number one way cities can ensure the safety of those using shared micromobility is to build protected, all ages and abilities infrastructure for people to ride on — and to build it equitably across neighborhoods.
10. Encourage helmet use, but do not impose mandates.
Cities can encourage helmet use and build a community around shared micromobility by hosting helmet giveaways alongside operators. Operators should also encourage riders to wear helmets and practice safe riding helmets through educational campaigns, social media, and other forms of direct engagement with riders. 
Cities should avoid helmet mandates, which are rarely enforced. When they do get enforced, it's usually to the detriment of Black, Indigenous, or people of color (BIPOC) or those experiencing homelessness. Not only do helmet-wearing mandates exacerbate existing social inequalities but there's also evidence that repealing helmet laws doesn't have negative effects: A 2023 study also found that after a helmet law was abolished in Seattle, helmet use actually increased.
---
The Better Bike Share Partnership is funded by The JPB Foundation as a collaboration between the City of Philadelphia, the National Association of City Transportation Officials (NACTO), and the PeopleForBikes Foundation to build equitable and replicable bike share systems. Follow us on LinkedIn, Facebook, Twitter, and Instagram, or sign up for our weekly newsletter. Have a question or a story idea? Email kiran@peopleforbikes.org.