Lime Partners With the Orlando Bike Coalition
May 17, 2023
As part of its Lime Hero program, the world's largest shared electric vehicle company will help raise funds to create safer streets in Orlando, Florida.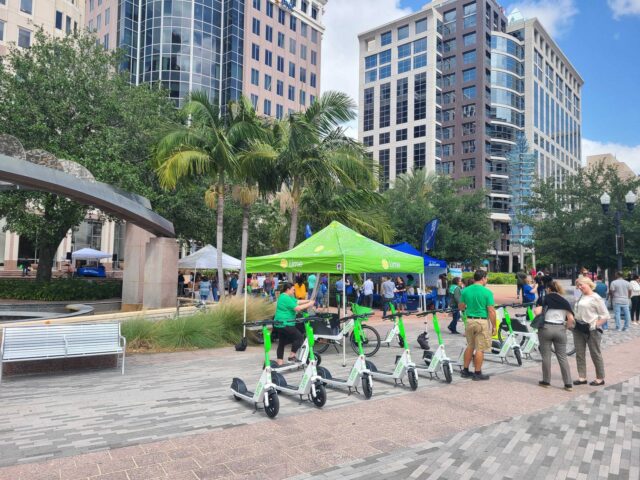 Last month, Lime, a shared micromobility company with systems around the globe, announced a partnership with a small bike nonprofit in Orlando, Florida. The new initiative, which is part of the larger Lime Hero program, will allow Lime's e-scooter and e-bike riders to opt-in to round up the cost of their rides to the nearest dollar. The funds will then be donated to the Orlando Bike Coalition. 
The Orlando Bike Coalition (OBC), founded in 2014, advocates for the development of world-class bike infrastructure in the Orlando area. Orlando is a classic sunbelt city, with year-round weather that's ideal for bicycling but also a sprawling car-heavy footprint. Completely volunteer-run, OBC has been actively trying to build a safer, more connected bike network in Orlando, focusing its efforts on creating a culture where bicycling isn't just for recreation but rather something that's seen as an option for transportation. 
"We have a lot of rail-to-trail programs in the middle of nowhere and they're awesome, but they serve a very different population than those people trying to get around the city or trying to get to the farmers market with their child," says Hannah Gutner, president of the OBC. "We have a lot of Main Street districts in Orlando — places that are population heavy with lots of businesses — and we want to build a network to connect them."
Early on, OBC was involved in Juice, Orlando's first bike share system, and over the years has partnered with Lime on other occasions, including a November 2022 Roll to the Polls event. When Trisha Botty, senior manager of government relations at Lime, began overseeing the Orlando area, she made a point of connecting with OBC and seeing if there was a way the two organizations could work together.
"There's a really high demand for better bike infrastructure here, whether you're renting Lime bikes or not, and Tricia was really proactive in wanting to improve it for everyone," says Gutner. "We started there and explored different ways that we could work together. They already had the Lime Hero program in place and it ended up being a natural fit for us."
Lime Hero is a community empowerment program that currently partners with more than 50 organizations in upwards of 90 cities around the world. Riders can opt-in to the program by tapping the "Donate" button in the Lime app and joining — by signing on, riders are able to donate a small amount with each ride, helping to improve their communities in the process. To date, more than 85,000 Lime Hero riders have already helped to raise more than $260,000 for nonprofits addressing clean air, safe streets, youth programming, services for the unhoused, and more.
"We're excited to launch our Lime Hero program in Orlando, and we're honored to partner with the Orlando Bike Coalition as we work towards our shared goals of making it easy and safe to get around on two wheels," said Botty. "Lime Hero is a great way to help to support the important work the coalition is doing to build the safe streets infrastructure required to make Orlando truly walkable and bikeable for all, which aligns closely with our mission to decarbonize transportation and make it easy for people to choose bikes and scooters over cars."
While both parties have shared about the partnership on social media, adoption will largely come by word of mouth (since people use their phones to book rides, there's not a lot of room to convey additional information about OBC's work). While there's no saying how much the program will take in, OBC plans on using the funding, which will be paid out once a year, to support basic operating costs. As the only advocacy group in Orlando, OBC also plans on continuing to partner with Lime for group rides and other community events. 
"A lot of people in the southeast only ever engage with bikes in a limited way, if at all — sometimes people just need some education around what bikes can do," says Gutner. "The City of Orlando has a really ambitious bike plan and a decarbonization plan, so we're really well primed."
The sort of public-private partnership like the one between Lime, OBC, and the city is key, especially in the midst of a climate crisis. By working together, the three entities can help create a positive feedback loop, whereby people riding shared micromobility can help support the advocacy work that encourages safer places for riding, which in turn, creates a larger pool of users. It's a win-win-win for Orlando.
---
The Better Bike Share Partnership is funded by The JPB Foundation as a collaboration between the City of Philadelphia, the National Association of City Transportation Officials (NACTO), and the PeopleForBikes Foundation to build equitable and replicable bike share systems. Follow us on LinkedIn, Facebook, Twitter, and Instagram, or sign up for our weekly newsletter. Have a question or a story idea? Email kiran@peopleforbikes.org.