Assessing the Environmental Impact of Shared Micromobility
April 5, 2023
There's now a framework for determining how dockless e-bike share reduces vehicle miles traveled. Plus, e-scooter companies are creating a standardized environmental assessment.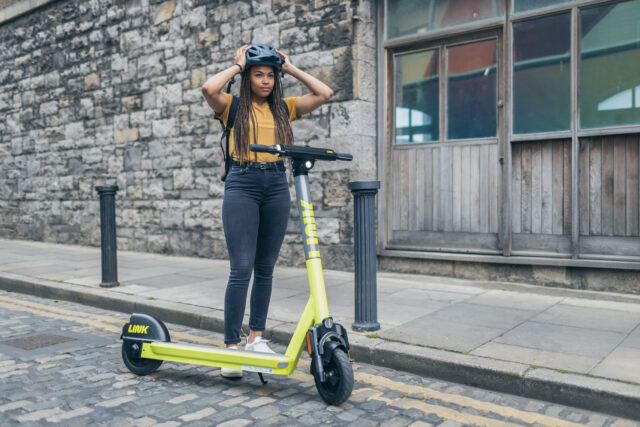 Calculating How Dockless E-bike Share Benefits the Environment
Three researchers out of the University of California, Davis, have found that the introduction of dockless electric bike share can reduce vehicle miles traveled (VMT) and related greenhouse gas emissions if it substitutes for car travel. The team developed a framework for estimating VMT reduction due to bike share and applied it to the Sacramento region based on ridership data. The findings of that research were published this month, marking an important step in assessing the environmental value of dockless bike share in cities.
In the past, we've covered other research that speaks to the environmental benefits of a docked bike share system, as well as research that found dockless shared micromobility programs have not achieved desirable reductions in greenhouse gas emissions. Both of the studies linked above measured reductions in greenhouse gas emissions and this new study stands out because it's measuring VMT reduction, something most cities are keen on (and have set goals around) to reduce their overall carbon footprint. VMT reductions, however, depend largely on the degree to which bike share trips replace car trips, rather than other sustainable travel modes like transit, walking, or a personal bike. 
What the researchers found was that while bike share sometimes replaces more environmentally-friendly modes of transport, such as walking, it also can replace car trips, leading to an overall reduction in greenhouse gas emissions. The study found that on weekdays, bike share most often replaced walking, followed by ride-hailing, driving private cars, riding a personal bike, taking transit, and joining a carpool. 
Prior studies have shown varying estimates of the driving substitution rate but they've neglected to also account for the VMT emissions from maintaining a bike share fleet (the driving around to swap batteries, rebalance, and conduct maintenance). Previous work has also made a fair amount of assumptions about user behavior and transportation choices. The first of its kind, this study develops a framework that cities can use to estimate the environmental benefits of a new bike share system, a win for any official or advocate looking to bring shared micromobility to their town. 
To develop the framework, researchers relied on data from 2018 to 2020, when Jump operated one of the largest bike share systems in the country in Sacramento, West Sacramento, and Davis, California (the system later shut down due to the pandemic). Not only do the results of this research speak to the important role dockless bike share played in the region but it provides a basis for developing promotional and operational strategies that support the beneficial outcomes of bike share, as well as a methodology that other places can use to assess the impact of their own systems.
A Standardized Environmental Assessment for E-Scooters
In the future, cities will also be able to better assess the sustainability metrics of various e-scooter companies before dolling out permits. Early last month, a group of e-scooter companies, city employees, and other experts announced that they were working in collaboration to create a standard method for assessing the emissions of e-scooters throughout their lifecycle. The brainchild of e-scooter company Superpedestrian, the group also includes the New Urban Mobility Alliance (NUMO), seven cities around the world, and representatives from Lime, Bolt, Tier, Bird, Lyft, and Spin.
Speaking to how the working group came about, Superpedestrian Director of Communications Jamie Perkins pointed to the industry's need for a standardized process to measure shared micromobility's environmental benefits. "We know that micromobility is making a positive environmental impact in cities by displacing car traffic," he told Cities Today. "However, the industry lacks ways to fully capture the environmental impacts, which makes it difficult for cities to draw a direct connection between human-scale transportation and their sustainability goals."
To coincide with the announcement, Superpedestrian released a new white paper, which speaks to why the group formed and how its environmental assessment can help move the shared micromobility industry forward. Like the working group itself, the white paper showcases learnings from operators, government representatives, and researchers. It also provides specifics on some of the ways operators are already working towards a more sustainable industry.
The transportation sector remains the biggest source of pollution in the U.S. and passenger cars make up 57% of those emissions. The more ways we can reduce vehicle miles traveled through shared micromobility, the better. That will require methodologies that help us quantify greenhouse gas emissions saved, as well as standards for continuously reducing emissions within the industry itself. When it's eventually published, the e-scooter assessment will join the VMT reduction study in being a useful tool for any city that's interested in creating a more sustainable future.
---
The Better Bike Share Partnership is funded by The JPB Foundation as a collaboration between the City of Philadelphia, the National Association of City Transportation Officials (NACTO), and the PeopleForBikes Foundation to build equitable and replicable bike share systems. Follow us on LinkedIn, Facebook, Twitter, and Instagram or sign up for our weekly newsletter. Got a question or a story idea? Email kiran@peopleforbikes.org.