Portland's 2022 Shared Micromobility Snapshot
May 12, 2023
It was a historic year for the city's bike share and e-scooter programs, complete with expanded footprints, an uptick in equity memberships, and new ridership records.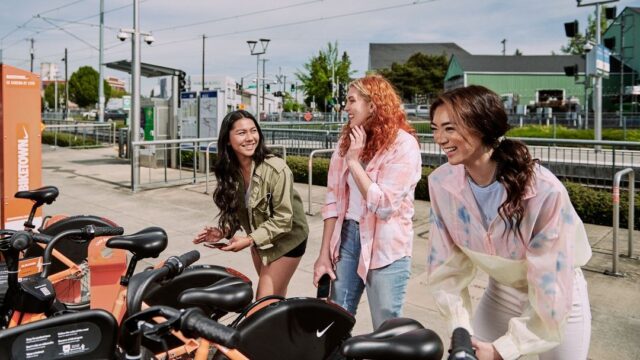 Last month, the City of Portland, Oregon, released its 2022 Shared Micromobility Snapshot, which offers a summary of the city's Biketown bike share and its three e-scooter programs. Featuring data from Ride Report, the snapshot highlights ridership records for both systems, which combined had more than 1.5 million trips and surpassed pre-pandemic levels.
The three e-scooter companies — Bird, Lime, and Spin — operate under a Portland Bureau of Transportation (PBOT)-issued permit, while Lyft operates Biketown under a contract with PBOT and through a public-private partnership between Nike and PBOT.​ The e-scooter program first launched as a pilot in 2018 and has since grown into a permanent year-round fixture, with just under 3,000 e-scooters in operation and a 145-square-mile service area. In 2022, there were 1,011,000 trips taken on e-scooters, 146,000 of which were taken by the system's 6,229 equity users. That means equity trips made up a cool 14.44% of all e-scooter trips in 2022.
Biketown on the other hand is comprised of 1,500 e-bikes and 232 stations, with a service area of 41 square miles. In 2022, there were 565,000 Biketown trips taken and 202,000 of those trips were taken by Biketown for All equity users, which includes those living on low incomes as well as residents 65-plus and high school students 16-plus. That means that equity riders made up a whopping 35.75% of all trips, the highest we've seen from any system to date. Additionally, Portland has 245 rentals for its Adaptive Biketown program, which increases access to cycling for folks with disabilities.
Unsurprisingly, Biketown hit a number of milestones last year that contributed to such impressive ridership statistics. In 2022:
Biketown ridership

increased by 65% from 2021
24 new Biketown stations were added,

primarily in historically underserved areas in North Portland and East Portland

Biketown hosted or supported

80 community events

The

Prescribe-a-Bike program expanded bike share access

to

Multnomah County Health patients and Parkrose, McDaniel, and Roosevelt High Schools.
Regular readers will recognize Portland's Prescribe-a-Bike program as one of our five Living Lab grantees (all of our Living Lab projects were chosen to address a specific barrier to the access and use of shared micromobility in low-income communities of color). Now, two years in, it's cool to see how Prescribe-a-Bike has evolved and the impact it's had in bringing more historically underserved riders to bike share. 
Similarly, another BBSP grantee, the Community Cycling Center, partnered with Andando en Bicicletas y Caminando in 2022 to increase Biketown's Latine representation. In the last two years, Biketown also upped its college outreach, opening up Biketown for All memberships to students receiving financial aid and offering $20 credit to Portland State University (PSU) students that don't qualify for the program. Another outreach strategy included strategic partnerships with affordable housing sites to connect residents to shared micromobility. 
All three e-scooter companies have equity programs of their own, which they promoted through helmet giveaways and events hosted in conjunction with nonprofit organizations. Spin and Lime in particular partnered with multiple community-based organizations to promote free and discounted trips (last year, Portland became Lime's fourth-largest equity program globally).
While the 2022 Snapshot shows that Portland's ridership peaks in the summer, people are still using micromobility to commute year-round. While more e-scooter rides were taken overall, the data demonstrates that bike share was used to travel further distances. Both bikes and e-scooters, however, were used for short trips (three miles or less), potentially serving as a crucial first and last-mile connection to transit. 
In 2023, PBOT will launch a permanent e-scooter program, instituting a "lock-to" requirement for e-scooters to reduce pedestrian conflicts and promote safer sidewalks. As part of the new program, the city plans on reducing the number of operators in order to promote a better user experience. It will also require all e-scooter companies to only staff W-2 employees to promote equitable hiring practices and workforce development.
In April, Biketown added 500 new e-bikes to its fleet and the city plans on making more e-scooters available city-wide to further increase transportation access. PBOT has also continued to engage community stakeholders around Adaptive Biketown and is in the process of convening its second working group to help improve the program.
Overall, Portland's e-scooter and bike share systems saw robust year-over-year growth in 2021 and 2022. In 2023, the city expects ridership for both systems to grow even further.
---
The Better Bike Share Partnership is funded by The JPB Foundation as a collaboration between the City of Philadelphia, the National Association of City Transportation Officials (NACTO), and the PeopleForBikes Foundation to build equitable and replicable bike share systems. Follow us on LinkedIn, Facebook, Twitter, and Instagram, or sign up for our weekly newsletter. Have a question or a story idea? Email kiran@peopleforbikes.org.