Building Mobility Justice in Pittsburgh
October 26, 2022
A new Community Day celebration helped build camaraderie for the new POGOH system and shine a light on its low-income Mobility Justice Pass program.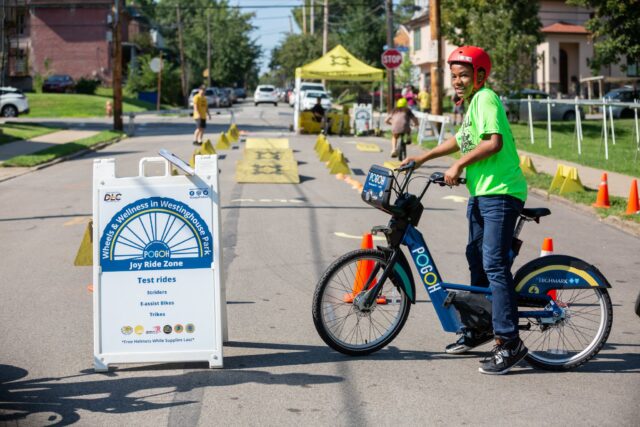 In May of this year, Pittsburgh Bike Share launched a whole new system, switching providers and rebranding as POGOH. While the rebrand was a smart decision for the Pennsylvania city, it also meant a reduction in the system's footprint (there were 106 stations previously and now only 38 remain). There are plans for 23 more stations to be installed in 2023 but building the system back up is going to take time. 
When planning for its downsizing, Pittsburgh Bike Share, a nonprofit operator, prioritized as many of its equity stations as possible, as well as stations near essential services like grocery stores and pharmacies. The system has also compensated for the changes in other ways by continuing to engage community stakeholders (in planning its new system, POGOH relied heavily on a Community Planning Coalition) and utilizing community ambassadors (trusted nonprofit organizations as opposed to individuals). POGOH also now offers a $10/year low-income Mobility Justice Membership and this summer, held its first Community Day celebration.
The Community Day celebration came about after a conversation Erin Potts, the director of marketing and community outreach at Bike Share Pittsburgh, had with Stephanie Ridgeway, the community coordinator for Indego, Philadelphia's bike share system. Indigo had begun transitioning its ambassador work from rides to engagement activities that didn't require being on a bike. Coupled with feedback from her own ambassadors, Potts decided to reduce the number of community bike rides per ambassador to two and focus on planning a Community Day that would emphasize wellness.
"We wanted it to be really family-friendly and we wanted it to be connected to the ambassadors' communities," says Potts. "So the location that we chose is a park in Pittsburgh called Westinghouse Park."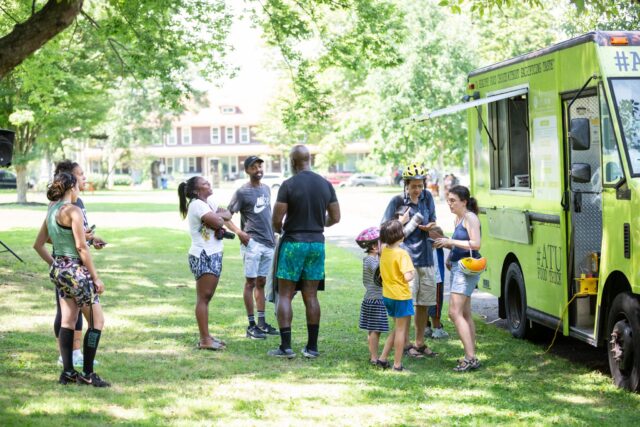 Westinghouse Park has traditionally been a passive park. Passive parks are less developed, meaning they have fewer amenities which some view is a way to mask a set of racist policies meant to restrict use by certain populations (namely, low-income, people of color). Pittsburgh reversed the park's designation a few years ago and Potts chose it in order to help write a new story there alongside residents who might have felt unwelcome in the years prior. The park connects the Pittsburgh neighborhoods of Point Breeze, Homewood, and Larimer, areas with traditionally underserved communities where most of the system's ambassadors are located. It's also beautiful with vast open green space.
"We chose it because we really wanted this to not necessarily be the next big Pittsburgh event, but be a way to activate the communities around this park and to get them to come out and enjoy a day of fun, wellness, and community connection," says Potts.
Pittsburgh Bike Share was very intentional with the vendors it selected, inviting an indoor bike park to set up an outdoor course alongside massage therapists and instructors facilitating yoga and exercise classes. 
"We wanted to emphasize that even if you're not going to get on a bicycle, that's okay," says Potts. 
Of course, POGOH also had bikes available and gave away some 140 helmets (courtesy of sponsor Duquesne Light), which Potts has been seeing all over town since. There was also an opportunity for residents to learn more about POGOH's Mobility Justice Membership, sign-up, and even test-ride a bike. Overall, the event was a success, thanks in large part due to outreach from the community ambassadors. Residents came out, engaged, and went home feeling more connected to bike share and to one another. The city's new mayor, Ed Gainey even showed up to e-bike with his son. 
BBSP grant funding helped support the event, along with other aspects of the POGOH bike share system's equity initiatives, including cash payment administration and support for its Mobility Justice Pass. Specifically, money was used to help cover a lot of the promotions and pop-up events in low-income communities that offered free test rides and helped people sign up on the spot.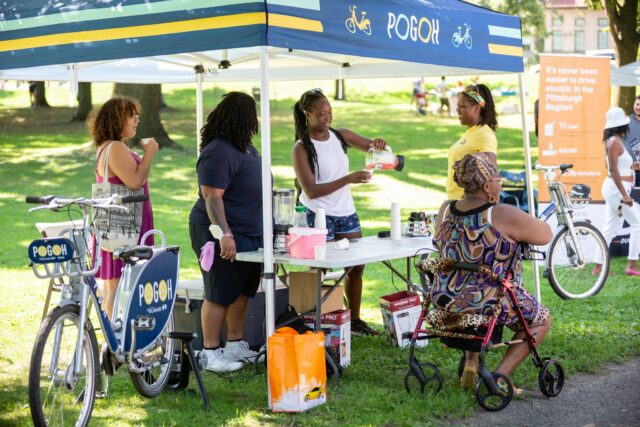 Pittsburgh Bike Share was strategic in working with partners like the Housing Authority of Pittsburgh to help promote the Mobility Justice Pass — the pass automatically links with SNAP, LIHEAP, Medicare, or Medicaid, and partner organizations can also refer individuals. Unlike other low-income programs, residents can pay the $10 fee in cash, aren't required to have a smartphone to use the system (all members receive a free membership card), and receive unlimited 30-minute rides on regular bikes and e-bikes. 
To date, POGOH has more than 100 Mobility Justice Pass members and is looking for more sponsors in order to eventually make the program completely free. Currently, another 100 low-income Pittsburgh residents have six-month access to all participating modes of transportation in Move PGH, a mobility-as-a-service collective that includes POGOH bike share. The selected individuals are part of the city's Guaranteed Basic Mobility Research pilot program, which is working to break down one of the biggest barriers to mobility: cost.
From low-income mobility programs to a free Community Day event, a lot of work is underway in Pittsburgh to help make bike share more inclusive, equitable, and diverse. Pittsburgh Bike Share hopes to do the event again next year and already, the community ambassadors are itching to make it bigger with talk of live music, extended hours, and even a Ferris wheel. Potts made the smart decision to invest in photo and video this year so that they can continue to tell the story and get more folks interested in coming out. Thus, as the POGOH system footprint continues to expand, the bike share community will too.
---
The Better Bike Share Partnership is funded by The JPB Foundation as a collaboration between the City of Philadelphia, the National Association of City Transportation Officials (NACTO) and the PeopleForBikes Foundation to build equitable and replicable bike share systems. Follow us on Facebook, Twitter and Instagram or sign up for our weekly newsletter. Got a question or a story idea? Email kiran@peopleforbikes.org.