Bike Share Gets Street Wise in Boulder
October 12, 2022
In Colorado, a partnership between BCycle and a local nonprofit resulted in three new art bikes.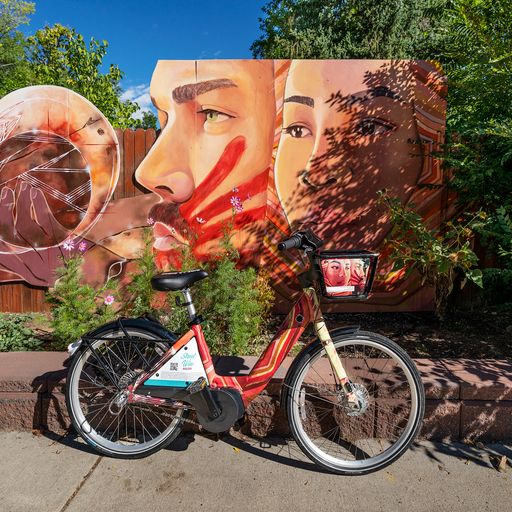 While art bikes aren't a particularly novel concept, they're a valuable marketing tool for any bike share system. Not only do they stand out on city streets, receiving more ride time than standard bikes, but they can also help generate important relationships with community members. In the past, BBSP has funded a variety of art bike programs that have helped engage historically underserved communities — two recent ones include a youth program in Omaha, Nebraska, and a project in El Paso, Texas, that adapted larger-than-life murals to bike share. This year in Wisconsin, the Madison BCycle Art Bikes program raised money and awareness for important local causes.
It was the Madison program that inspired another BCycle employee, Sara Michaels, to merge art with bike share in Boulder, Colorado. Michaels, who works as a marketing and business development specialist for Boulder BCycle, immediately thought to partner with local organization Street Wise Arts on the project. "I've always had my eye on Street Wise because I really love the organization's social activism and focus on inclusivity," says Michaels. "Everything just aligns with our beliefs at Boulder BCycle."
Michaels reached out to Leah Brenner Clack, the founder, president, and executive director of Street Wise Arts in order to move forward with the collaboration. Street Wise is a nonprofit organization that creates mural projects, community events, and youth education programs that seeks to amplify diverse voices and engage urban dwellers in activism and dialogue. The organization's main event is "Street Wise Boulder," an annual mural festival created to amplify mural arts through the lens of social justice. Thanks to the festival, more than 100 murals have been installed throughout the city of Boulder since 2015.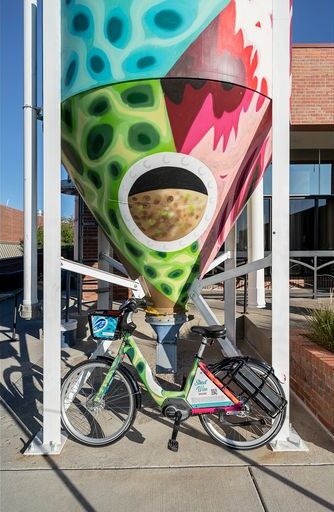 In order to help promote the festival and celebrate all of the work Street Wise has done, Boulder BCycle decided to work with three artists to transform their murals into art bikes. In the weeks ahead of the festival — which took place Sept 29 through Oct 2 — the art bikes were introduced into the larger bike share system, helping promote the festival and reminding people that e-bikes are a great way to participate and take part in a mural tour. At the outset of the festival, BCycle also made its entire system free, hoping to further encourage bike share adoption and entice a new demographic.
"The mission of our mural festival is to amplify arts and culture and represent diversity, equity, and inclusion through public art, all while encouraging conversations around social justice and community resilience," says Clack. "We prioritize representation for BIPOC, emerging, and LGBTQIA artists and invite local, national, and international artists to participate in our festival."
Street Wise doesn't charge any fees for its artists to apply and distributes its briefs calling for submissions in as many places as possible, translating materials into Spanish and other languages upon request. The organization also has a benchmark of selecting at least 50% artists of color and womxn artists. This year, Street Wise improved its efforts to provide access to the deaf community by providing ASL translators at its artist panel event, a key component of the festival, and plans on adding closed captions to all of its recorded artist workshops. 
In selecting what murals would become art bikes, Michaels likewise emphasized projects that represented a diversity of voices and showcased a theme of sustainability, something that underlies everything BCycle does. The chosen murals were photographed and sent to a printer, which was able to transpose the images onto custom bike wraps. Each basket includes information about the artist, and each chain guard has more information about Street Wise Arts.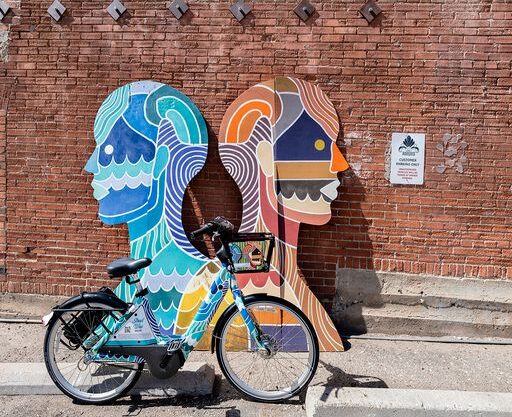 While Street Wise doesn't identify just one theme for its mural festival, climate justice shows up often. This year's themes also included women in STEM, disability awareness/promoting American Sign Language, community resilience, cultural heritage, and Indigenous activism. "We create a platform for activism and community through murals and public art," says Clack. "So we invite the artists who apply to be a part of the festival to consider our mission and propose an idea that is meaningful and relevant to them in the current moment."
While BCycle was just a small part of this year's "Street Wise Boulder," Michaels hopes to continue to build the relationship and possibly, introduce more art bikes down the road. Boulder BCycle currently offers a library program, where anyone with a library card can use the system for free, and has a robust partnership with Boulder Housing Partners in order to better serve the city's lower-income residents. Still, Michaels says the system is always trying to support new projects that reach diverse communities and build a more inclusive bike share community — when it can partner with an organization like Street Wise that shares its values, that's a win-win.
---
The Better Bike Share Partnership is funded by The JPB Foundation as a collaboration between the City of Philadelphia, the National Association of City Transportation Officials (NACTO) and the PeopleForBikes Foundation to build equitable and replicable bike share systems. Follow us on Facebook, Twitter and Instagram or sign up for our weekly newsletter. Got a question or a story idea? Email kiran@peopleforbikes.org.